Guide bites
Capt. Josh Fritz (352-345-9304): Capt. Josh is finding it hard to ignore the abundance of mangrove snapper offshore, and loading up on good numbers of large fish has just been easy. The water has been very clear, which as veteran anglers know can slow the bite, as the crafty, keen-eyed snapper can easily spot the line and will avoid baits. Right now, Capt. Josh is down to 8-pound-test mono leader on the line-shy snapper. Small, live sardines (if you can find them) or live shrimp is the ticket. He's been working rocky bottom between 15 and 40 feet of water and has been finding them in excellent numbers. The gags get a bit shy in clear water, as well, and he's dropped to 50-pound-test mono leaders. Inshore, fishing around rocky points, bars and creek mouths for reds and snook has been good, but there too he's dropped down to 20-pound-test leaders in the clean water.
Capt. Mike Senker (352-584-6297): Capt. Mike has been going very well in 90 feet of water west and a little south of Hernando Beach. His most recent trip saw a limit of America red snapper 20 to 30 inches, and some big mangrove snapper to 5 pounds. The water was clear and a beautiful blue. He passed lots of schooling bait in 70 feet of water. None of the spots he hit gave up gag grouper, though he finds that the red snapper are so aggressive that if there are gags on the bottom, the snapper snap up baits being dropped before they get down to them.
Capt. Chaz on the Thunder (352-597-3900): The 12-hour deep-water trips on the Thunder are producing some great catches of American red snapper in 80 to 100 feet of water. Shorter trips to shallower water have been tough, as the water is very warm and very clear. He has his anglers rigging with lighter leaders to draw more strikes from mangrove snapper and grunts. Live shrimp has been best, and always has the chance of enticing a hogfish or two.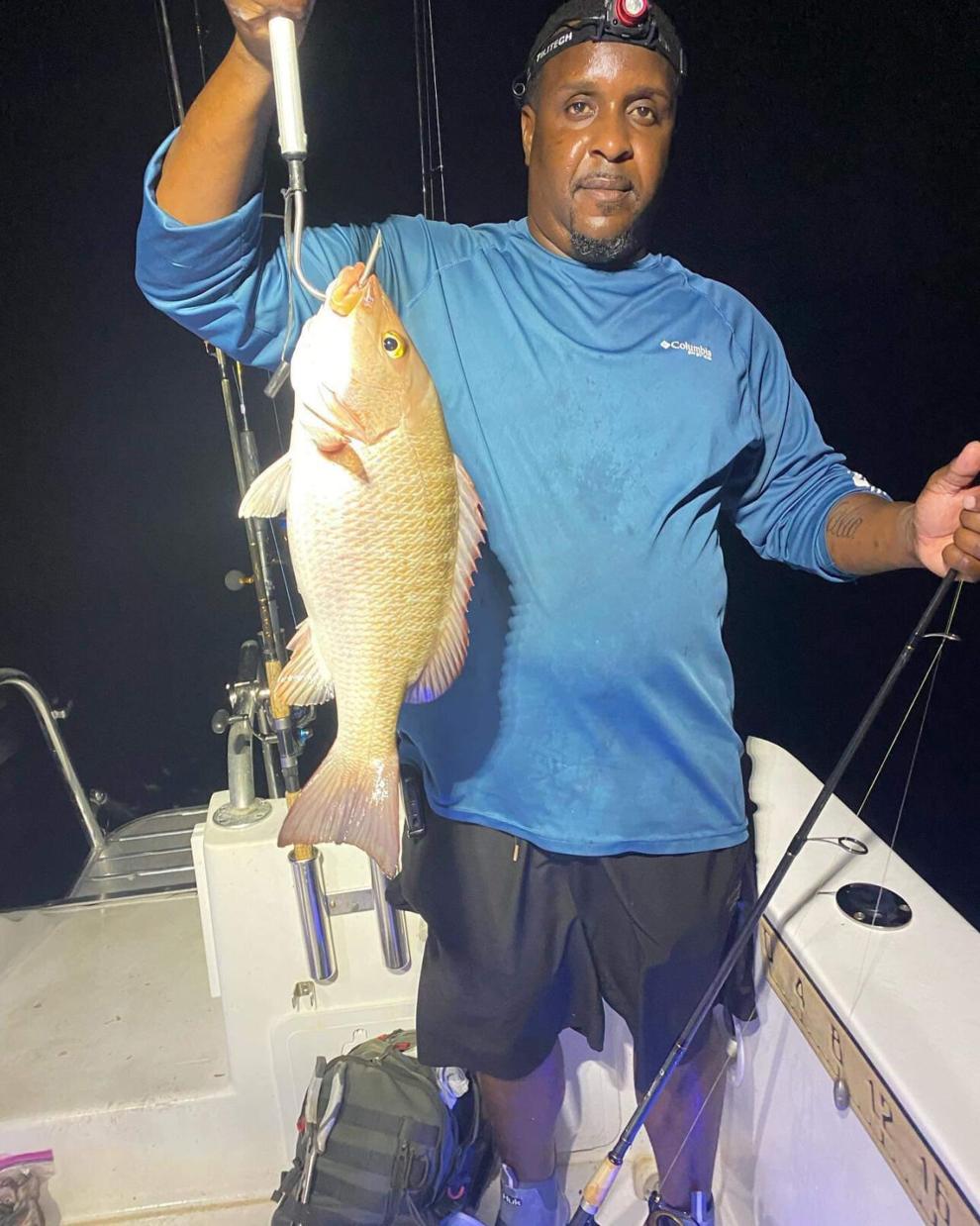 Pasco/North Pinellas tackle shop roundup
The Rusty Bucket (727-645-6598): Bill reports a solid inshore bite. He recommends fishing early on the flats for reds, as they are more active in the cooler part of the day. Some monster snook are being taken on the beach at Anclote Key on live sardines, croakers and grunts. They are out of season and there for the spawn and must be released. The offshore mangrove snapper bite has been great, with the night bite particularly good. The American Red snapper in deeper water, and those getting out far enough are seeing some great gag grouper action. Bill has been fishing offshore a lot lately and says it is one of the best bites he's ever seen, with consistent limits of gags and both snapper species.
Tarpon Trading Company (727-937-1488): Larry reports he's been out for some fishing himself, and for the second consecutive week has been scoring on trout to 22 inches using jigs in 8- to 9-foot-deep holes near the sunken boat at Anclote Key. Red jig heads and light-colored paddle-tails have been working. Scouting the shallows along the beach, he spotted many snook in as little as 2 feet of water. He wasn't able to draw a strike, so it likely is a situation where patience and the right tidal flow is needed. Anglers fishing along the Fred Howard Park causeway are landing a few snook and reds at the bridges, and some have seen the schools of large tarpon rolling. The backside of Honeymoon Island has produced a few snook over the past week, along with a few flounder. Offshore anglers are reporting the hot Gulf temperatures mean they are fishing in very deep, with some have going to 100 feet for their gags.
One Stop Bait and Tackle (727-842-5610): Joe says anglers are finding cobia on the flats along the Pasco coast, as well as over rocks and reefs offshore. The water is hot and the cobia typically have moved north by now, but no one is complaining that they seem to be sticking around this season. Chumming is the way many attract them, but be ready for being visited by loads of sharks. Redfish have been reliable between the Cotee and Anclote rivers, with fish liking the shade of mangroves when the water is high. Snook are scattered around the same areas and creek mouths, and the big females are on the beach at Anclote Key for the summer spawn. Offshore anglers have been reporting a slow grouper bite inside of 65 feet of water. The warm Gulf temperatures seem to have them turned off, as divers are reporting that there are plenty of fish on the rocks below.
Hernando tackle shop roundup
Bait & Tackle of Hernando Beach (352-610-4315): Sven reports inshore anglers have been doing well on large snook and redfish. The better action has been north of Hernando Beach to Chassahowitzka, where the reds seem to be clumping up in small schools. Trout are on the deeper grass beds. The 8-foot depths around St. Martins Reef area have been producing some nice fish for those bouncing jigs long the bottom. The water is hot, so concentrate on deeper holes, shady spots along the coast and try to fish moving water early and late in the day. Cobia remain in the area despite the late stage of the season. For whatever reason they have not pushed north to cooler water, and they are being caught from the shallow flats out to rocks in 10 feet of water. Offshore anglers are finding the gag grouper bite slow, but the mangrove snapper fishing has been pretty good. Red snapper have been a good bet in 90 to 100 feet of water.
Dixie Lee Bait (352-596-5151): Eric says the redfish bite has been very good from Weeki Wachee to Chassahowitzka. Many have been reporting oversized fish. The tarpon remain on the deep flats north of Weeki Wachee, and fish to 100 pounds or more are being hooked. Trout fishing has been a little slow, but a few have done well fishing 10 to 12 feet of water over grass bottom using jigs. Offshore anglers continue to be disappointed by the gag grouper bite. Moving water and the early and late part of the day is when they have been biting best. Those fishing 90 feet of water out to the Middle Grounds have been doing well on large red snapper and big mangrove snapper.