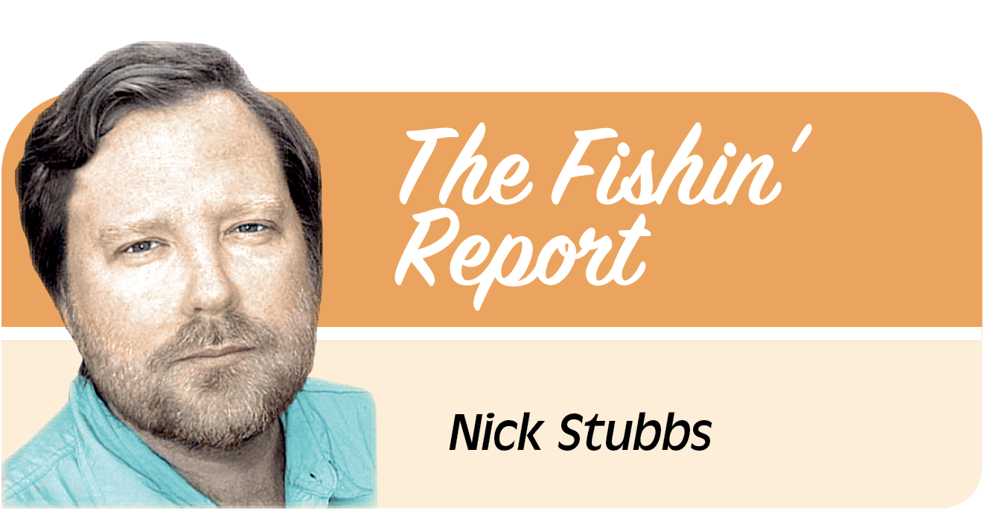 Guide bites
Capt. Josh Fritz (352-345-9304): Capt. Josh is sticking with what's working, and that's mangrove snapper on rocks northwest of Hudson around the 15-foot depths. The water remains very clear, and that means lighter leaders are needed to make them less visible to the line-shy fish. He's using 10-foot mono leaders as light as 12-pound-test some days. Chumming is the best way to get the fish feeding. Live sardines are a good bait choice. The Gulf temperatures are high, and it's making the gag grouper fishing tough. The fish are there, but the bite is slow and the fish are moving deeper in search of cooler water. Inshore action has been around the rock points and bars, with reds and snook taking live pinfish or sardines.
Capt. Chaz on the Thunder (352-597-3900): The gag grouper bite is between 50 and 60 feet of water, and live bait, like pinfish, is the way to go. The clear water means the fish are better able to spot the angler's leader, so downsizing to lighter mono and line is something else that can be done to increase the action. As grouper try to get into rocky caverns and crevices once hooked, anglers will be at a disadvantage in being able to put on a lot of pressure to hold gags off the bottom. On the bright side, it's a better problem to have than not hooking fish. The red snapper bite is on fire in 120 to 140 feet of water. Capt. Chaz said he's booked solid for his extended snapper trips for the rest of the season, though anyone looking to go should check in case of a cancellation.
Hernando tackle shop roundup
Bait & Tackle of Hernando Beach (352-610-4315): Sven says anglers will do well hunting scattered redfish around rock and oyster bars from Hernando Beach to Pine Island. Oversized fish are being reported by some. Trout fishing is best in 10 to 12 feet of water, and working jigs near the grass is the way to get them. Scallop season is open, and from everything he's hearing, it appears the shellfish are going to be in deeper water than most had hoped. Sven said the better hauls are going to be coming from 8 feet of water and deeper. It can be a tough day of snorkeling in those depths, so he recommends long-handled crab nets like those stocked at the shop so wearing one's self out diving all the way to bottom to scoop up the scallops can be avoided.
Dixie Lee Bait (352-596-5151): Eric says it's hard to go wrong working outside rock points, creek mouths and flooded mangrove lines for redfish and snook. The reds are a bit scattered, and running in pairs or just a few fish at most, but persistent hunting will turn up some nice fish. The snook fishing has been exceptional, and a much better bet than the reds over the past week or so. Fish are on rocky points, channel spoils and creek mouths. Trout anglers are finding their fish over grass bottom in 8 to 12 feet of water, as is typical in warm weather. Work baits near the bottom, where the fish hang out in the cooler water. Gag grouper fishing has been so-so in 30 to 60 feet of water. It seems the hot Gulf temperatures have them turned off to taking baits. The summer scalloping season is open, but a couple of local guides reported its slim pickings for the shellfish on the shallow grass flats off Hernando.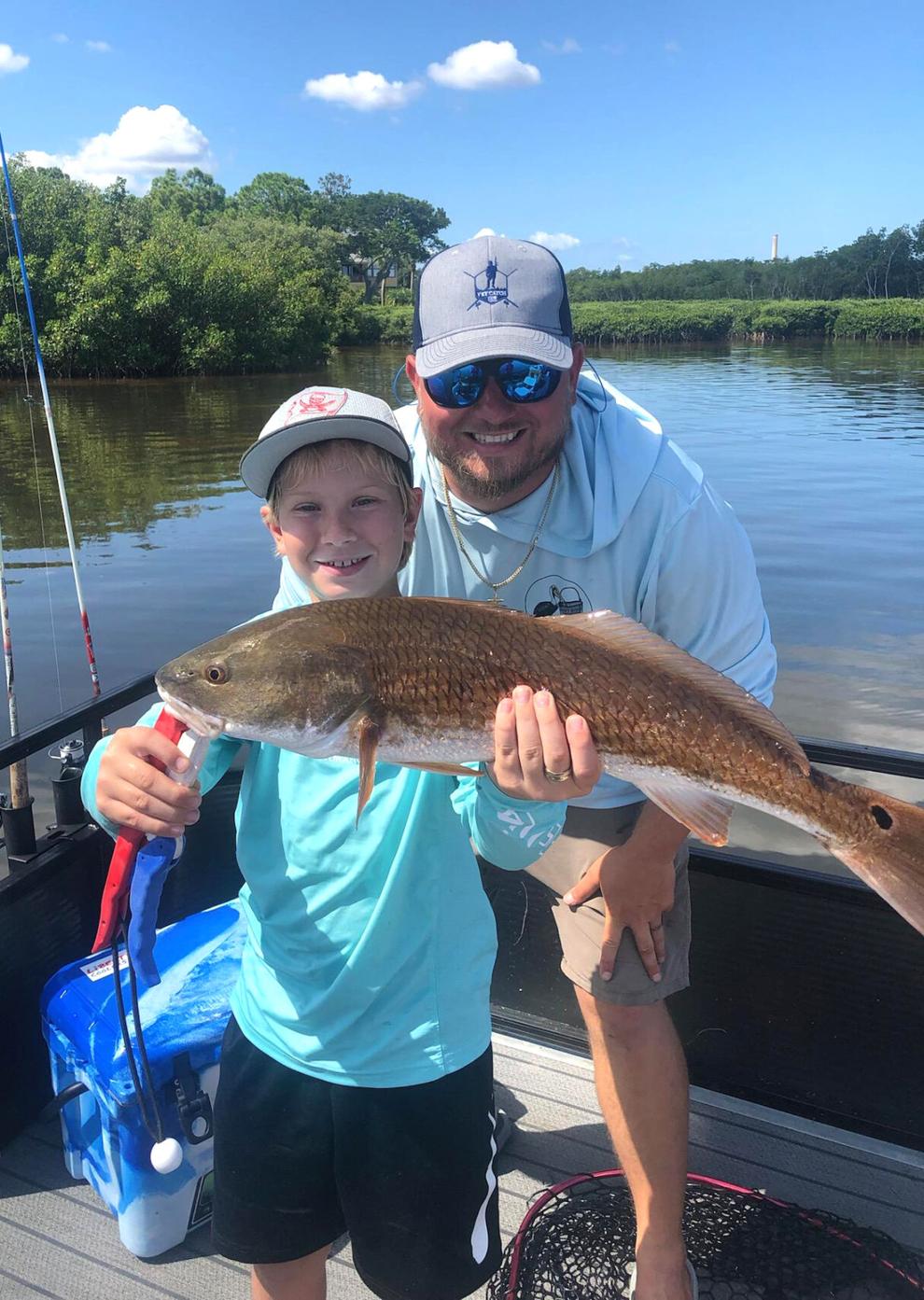 Pasco & North Pinellas tackle shop roundup
Armed Anglers (727-945-1808): Capt. Griff says anglers are catching a lot of trout on the grass flats in north Pinellas and Pasco waters. The fish are running small, though staying at it will produce some keeper-sized fish. Spanish mackerel have been mixed in with the trout in many areas, with some of the better catches coming from the flats off Fred Howard Park, around Three Rooker Bar and at Anclote Key. Redfish action has been decent, with some nice catches reported by anglers fishing the rock spoils at both Gulf Harbors channels. Tarpon are being hooked by anglers using live crabs off the beach at Fred Howard Park and in the cut at Three Rooker Bar, as well as off the south end of Anclote Key. Lots of sharks are taking dead bait at the north Anclote Park pier at night. Offshore anglers fishing 80 and 100 feet have been scoring big American red snapper. Fish 15 to 20 pounds have been common, and limits within 30 minutes are not unusual. The gag grouper bite has been sluggish. Mangrove snapper fishing has been good on ledges in 40 to 60 feet.
The Rusty Bucket (727-645-6598): Bill says the red snapper bite has moved deeper and Bill found them in great numbers in 150 feet, where the water was 83 degrees. It's the same for gag grouper, and fishing between 50 and 100 feet has been best. Blackfin tuna are nice bonus offshore. Inshore, the redfish and snook bite in Pasco waters is solid, with reds taking cut pinfish around oyster bars and the snook liking live sardines. The largest snook have been on the beach at the south end of Anclote Key, with many catches of fish 35 inches and larger reported. The season is closed, so the must be released.
One Stop Bait and Tackle (727-842-5610): Joe says the best thing going is redfish. Work the creek mouths, mangrove lines and bars when the water is up. Live pinfish or shrimp gets them, but dead bait can be effective in the warm-water conditions we have now. Trout are over the grass beds, but start in 8 feet of water and work deeper for keeper-sized fish. Live shrimp or jigs worked near the grass bottom are producing. Lots of mangrove snapper are in the residential canals, with Gulf Harbors holding plenty. There are some bigger sheepshead with them.
J&J Bait and Tackle II (727-940-7928): James reports offshore anglers are reporting the gag grouper fishing begins around the 50-foot mark, though every mile west beyond that improves the odds of keeper fish. The red snapper are deeper, and trips to at least 80 feet are in order. Trout anglers will want to look for deeper holes on the shallow inshore flats, as the fish seek the cooler water at the bottom of them. The deep grass beds in St. Joseph Sound have been producing. Redfish are scattered, hanging over rock and oyster beds. The area from the Anclote power plant north to Gulf Harbors is a good zone to fish.