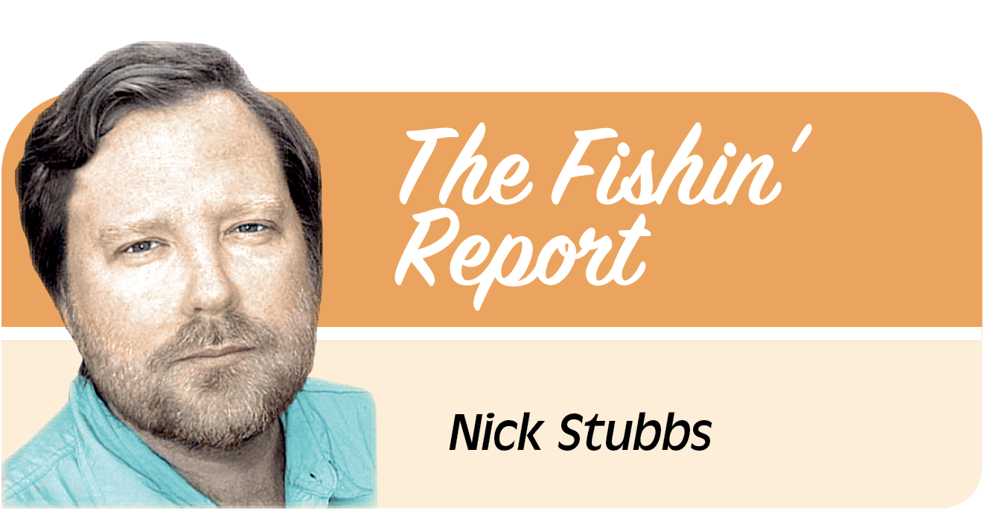 Guide bites
Capt. Josh Fritz (352-345-9304): Capt. Josh says it's 80 feet and beyond for the best action on gags, red grouper, and red snapper. His anglers also are boating some mangrove snapper and lane snapper on the deep trips. If mangrove snapper are the main target, anglers don't have to go so far, as the near-shore rocks northwest of Hudson are holding plenty of nice fish. The water remains clear, so downsizing leaders to as little as 8- to 12-pound-test mono is needed to coax the line-shy fish to bite. Their eyesight is just too good and heavier leaders spook them. A light-wire 1/0 hook makes it harder for them to spot the hook. Inshore, moving mid-incoming tides around rocky points, mangroves and bars is producing some nice catches of redfish. Live pinfish are working better than any other bait right now. A few snook are mixed in with the reds.
Pasco & North Pinellas tackle shop roundup
The Rusty Bucket (727-645-6598): Bill says the red snapper bite had moved to 150 feet of water, but now is back on around the 100-foot mark thanks to some rain that cooled the Gulf. The gags and red grouper are there, as well. Cut bait is working. Look for floating debris and grass patches offshore. Lots of small dolphin fish are schooling around these floating patches and anglers have been catching as many as they want. Some have been trolling large plugs around rocks in as little as 10 feet of water and taking some keeper gag grouper, defying all logic. Normally the gags move to much deeper water when the Gulf is hot in the summer, but while many have, there seems to be a number of fish that have stayed put in the shallows. Inshore redfish action along the creek mouths, bars and mangroves of New Port Richey has been great thanks to cooling rains. Capt. Bill has been having 15- to 20-fish days on reds to around 25 inches or more. Cut pinfish are working best. Smaller snook are in some of the same spots. A few snook to 30 inches have been taken in canals in Gulf Harbors around docks. The big female snook are on the beach at Anclote Key.
One Stop Bait and Tackle (727-842-5610): Joe got out for some night fishing and did well hitting creek mouths between Dunedin and the Cotee River. Redfish made up most of the catch, with live pinfish working best. He and his fishing partner also used the smaller pinfish on the open grass flats, where they landed a few nice trout. Night fishing may be a good bet now, as the fish are more active when it's cooler and it's also a lot easier on anglers. Offshore anglers are reporting fishing "very deep" for gags and red snapper.
J&J Bait and Tackle II (727-940-7928): James reports anglers are taking some nice trout over the deeper grass near spoils in St. Joseph Sound. Closer to the Anclote River, the grass bottom in 5 to 7 feet of water is where to find them. Redfish action has been pretty good from the river mouth north, around the corner to Bailey's Bluff and up to Sand Bay just south of Gulf Harbors. Offshore anglers are fishing in as least 75 feet of water for red snapper, and moving deeper may be needed to get to a reliable bite.
Tarpon Trading Company (727-937-1488): Larry reports the hot Gulf temperatures can make fishing tough. Live shrimp are tiny due to the warm water and many have been using live pinfish. He got out and fished around the sunken boat at Anclote Key and bagged a couple of trout but the action was slow overall. On the west side, he and his wife were wading in less than 3 feet of water when a hammerhead shark of about 13 feet came in so shallow near them it had to wiggle itself off the bottom. He said he and his wife got back into the boat "like a couple of 20-year-olds" when the big fish appeared. He noticed feeding birds and bait being crashed about 100 yards off the beach there. He didn't check it out, but suspects schooling mackerel or bluefish feeding.
Hernando tackle shop roundup
Bait & Tackle of Hernando Beach (352-610-4315): Sven says the best thing going inshore is redfish. They seem to be everywhere right now, with anglers finding them around creek mouths, rocky points, oyster bars and around channel spoils. Anglers walking west along the trail on Jenkins Creek from the pier have been catching plenty from shore. A few reported catching some barracuda in the creek. A number of anglers working the Hernando coast have been finding some black drum. They generally are found in the same kinds of spots the redfish hang out. Trout fishing has been decent over grass bottom in 8 to 10 feet of water. Fishing shallower produces some fish, but they generally are undersized. Lots of mangrove snapper are in creeks, canals and around pilings along the coast, though lots of undersized fish are being landed for every fish large enough to keep, which is 10 inches. Shrimp or cut bait works. As of 10 days into the scalloping season, the word is the shellfish are few. Two people working half a day might get enough for a meal, but no one coming in the shop has reported good scalloping. The season runs into September, so the hope is things will pick up before it's over. Offshore anglers have been taking nice mangrove snapper and hogfish in 55 feet of water. The best action on gag grouper has been in 70 feet or deeper, which is about the shallowest anyone is reporting American red snapper. The snapper are running up to about 6 pounds in that depth, but those getting out to 150 feet have been taking red snapper to 20 pounds.
Dixie Lee Bait (352-596-5151): Eric reports anglers have been doing pretty well on redfish up and down the rocky coast points, creek mouths and mangrove shorelines. The early and late part of the day has been best. Trout are on the grass bottom in 10 to 12 feet of water, with fish hugging the grass beds and taking jigs. Scalloping has been very slow in Hernando waters, and no one coming in the shop has reported a limit. Offshore anglers have been taking some nice mangrove snapper on rocks in the 30-foot depths. Gag grouper action has been in 50 feet and deeper, though some are reporting keeper-sized fish on rocks in as little as 10 to 12 feet of water. Normally these fish have moved deeper in search of cooler water, but a portion of the population seems to be spending their summer in the shallows. Problem is the hot water has sapped their appetites. Divers are able to spear them, but getting them to take a bait has been futile for the most part.
Mary's Fish Camp (352-597-3474): Fishing in the Mud River off the seawall at the camp store has been limited to early and late in the day, as anglers try to avoid the heat. The cool spring-fed river is giving up some fair catches of mullet for hook-and-line anglers, though the summer bite is never as good as in the cooler months. A few have been taking some sheepshead and mangrove snapper using frozen shrimp on the bottom. Most of both species have been small and it takes some patience to connect with keeper-sized fish.