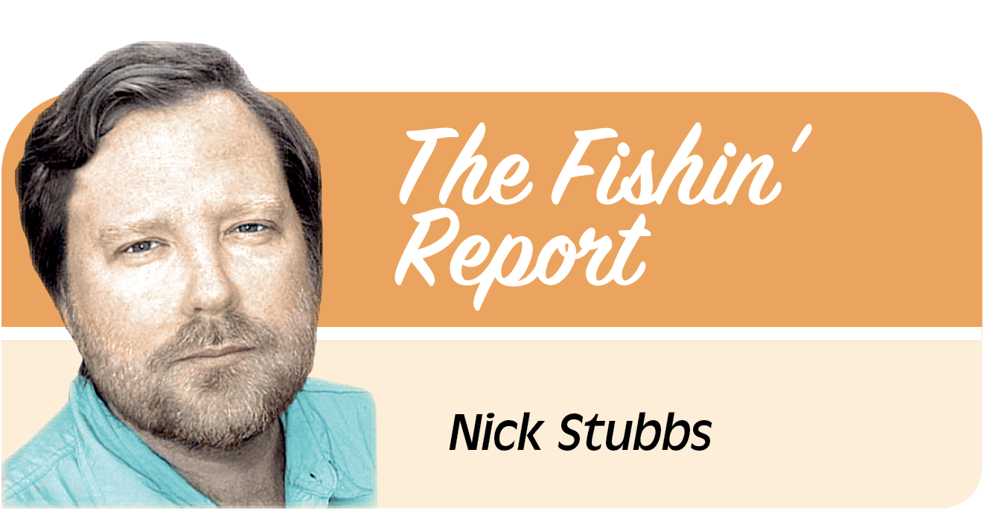 Guide bites
Capt. Josh Fritz (352-345-9304): Capt. Josh is doing well on gag grouper between 12 and 22 feet of water northwest of Hudson. Chumming with live sardines has been putting the fish in the right mood. Once they are chewing, cast a live sardine on hook, though cranking large diving plugs also can produce. He's hitting several rocky patches on his trips to get his limits, as the fish remain a bit scattered since the hurricane. Lots of schooling mackerel are in the same depths. A chum block is the way to draw them close. The chum may bring in a cobia or two. Inshore, the redfish action is great right now. Fish are schooling and moving along rocky points, island shorelines and flooded mangrove lines. Live sardines will take them, as will pinfish. The reds typically are running with schools of mullet, so anytime jumping mullet are seen, it's a spot worth checking out. Snook are on the edge between the open gulf and backwaters as they prepare for the transition to cooler weather. Creek mouths are a good place to look for them now.
Capt. Mike Manning (727-243-8918): Capt. Mike says the fishing is great thanks to cooling Gulf water temperatures. He worked the spoils along the Anclote River channel and bagged a number of snook. His anglers were taking six or seven fish on a spoil, then moving the next spoil and repeating. Live sardines were doing the trick. Fishing the mouth of Salt Springs just north of the Cotee River on the high tide, he found good numbers of redfish clinging to the mangroves. He found a live sardine fished right at the mangroves produced, but the fish would not come out if the bait were 5 feet out away from the bushes. His anglers scored a number of fish 24 to 27 inches. He moved to Westport from there and found similar action on reds and the same feeding pattern. For a can't-miss opportunity, the 8- to 10-foot depths over limestone bottom is loaded with schooling Spanish mackerel. Capt. Mike was looking for gag grouper there, and while the gags appear to have moved deeper, there was no shortage of mackerel. Drop a chum block and they will come.
Pasco tackle shop roundup
The Rusty Bucket (727-645-6598): Bill reports the cooling Gulf water continues to fire up the fishing action. Anglers coming in the shop have been reporting pompano, Spanish mackerel, trout and tarpon being caught along Pasco's coast. The area from the Anclote power plant and the mouth of the Cotee River has produced some tarpon to 50 pounds taken on drifted pinfish or shrimp on outgoing tides. Reds and black drum have been taking live shrimp around deeper holes in coastal creeks. Offshore anglers have jumped on the open red snapper weekends, taking fish in 90 to 100 feet of water. Use big baits for the biggest fish. Gag grouper and hogfish action has been good. Capt. Dustin with FishNcrazy Charters has been scoring six-angler limits on gags fishing 40 to 60 feet of water using live pinfish, grunts and frozen sardines when the fish are not willing to chase the live baits.
Tarpon Trading Company (727-937-1488): Larry says anglers at the shop have been taking good numbers of reds fishing along the causeway at Sunset Beach in Tarpon Springs. Fish are around the rocks with rising water and taking live shrimp or pinfish well. It's the same story at the Fred Howard Park Causeway. The fish have been moving in schools along the north side and can easily be seen by the water the school is pushing along the surface as they move. When the tide is low, some have reported seeing tailing reds there. The tactic is to move ahead of the fish and have a live pinfish or shrimp waiting for them. Snookers have been taking their fish around the bridges on the causeway. Fish live baits when the tide is moving. Trout anglers are finding plenty on the grass flats north and south of the Anclote River, though reports are that there are lots of short fish to pick through. Live shrimp and jigs are top fish-getters.
J&J Bait and Tackle II (727-940-7928): James says anglers have been reporting decent redfish action around the mouth of the Anclote River. Fish rocks, spoils, bars and mangroves when the water is high. They've been picking up reds around Sand Bay and at Gulf Harbors, as well. Trout are on the open grass flats off the River, and drifting with live shrimp or casting jigs is working well and leading to limits of slot-sized fish for those putting in the time.
Hernando tackle shop roundup
Bait & Tackle of Hernando Beach (352-610-4315): Sven says the bite is on. Anglers have been doing well on reds up and down the Hernando coast, the fish so shallow sometimes their backs are out of the water. The reds also are falling into potholes in the Gulf when the water drops. Jenkins Creek has been producing some nice catches of trout on live chubs, along with some black drum, which are taking chunks of blue crab best. Snook are in area canals and creeks, though most have been small. Mangrove snapper are on rocks, under docks and around the bridges, where more and more sheepshead are showing up in catches. Anglers have been finding some small barracuda in Jenkins creek and area canals, along with schooling jacks. Small tarpon have been around, and an angler fishing from shore in south Hernando Beach landed her first-ever silver king. Offshore anglers are finding their gag grouper and red snapper between 60 and 70 feet. Large barracuda have been cutting some of the gags in half as they are being reeled in.
Mary's Fish Camp (352-597-3474): Christi reports the mullet bite is on and there are some big ones in the Mudd River behind the camp store. The big mullet on the October leader board is almost 4 pounds, and there have been a couple of 3-pound fish landed. A pair of lady anglers fishing off the seawall at the shop used shrimp to take a large black drum and a big flounder. The flounder was unexpected, as the Mudd River at that point is mostly fresh water and flounder typically like fairly high levels of salinity. Sheepshead and mangrove snapper are a couple of other species taken off the seawall, with live or frozen shrimp good bait choices.