HURRICANES 2 BUCCANEERS 1
TOWN 'N' COUNTRY — A Tuesday night battle between Hillsborough and Pinellas went to the peninsula dwellers. 
Palm Harbor University, the sixth-ranked team in Class 7A, improved to 12-1 overall and won its 10th straight match by holding off host Berkeley Prep, 2-1. 
"Today was a big night," said PHU coach Randy Irick. "We knew it; we circled it. Berkeley's ranked ninth in the state in their classification. Coach Ken (Roberts) is a great coach and I knew he was going to get his girls up and they were going to battle us to the very end." 
The Buccaneers did just that and then some on Senior Night. Berkeley struck first when Alex Truex found the back of the net in the 15th minute. The lead nearly doubled seconds after play resumed, but PHU keeper Nyla Crittenden denied a shot to the left post by Bucs junior Olivia Pielak. 
The Hurricanes regrouped and went right back on the attack. Shortly after the first-half water break, freshman Lindsay Nicholson converted a well-placed cross inside the Berkeley penalty area to tie the game. 
"They got the first goal and they earned it; they worked hard for it," Irick said. "It shows a lot to the composure and leadership of our team where we can come back and battle." 
Coming out of halftime tied 1-1, PHU turned up the head early. A Hurricanes nearly got off a point-blank shot three minutes into the second half, but senior Carsyn Martz hustled back with a slide to thwart thre threat.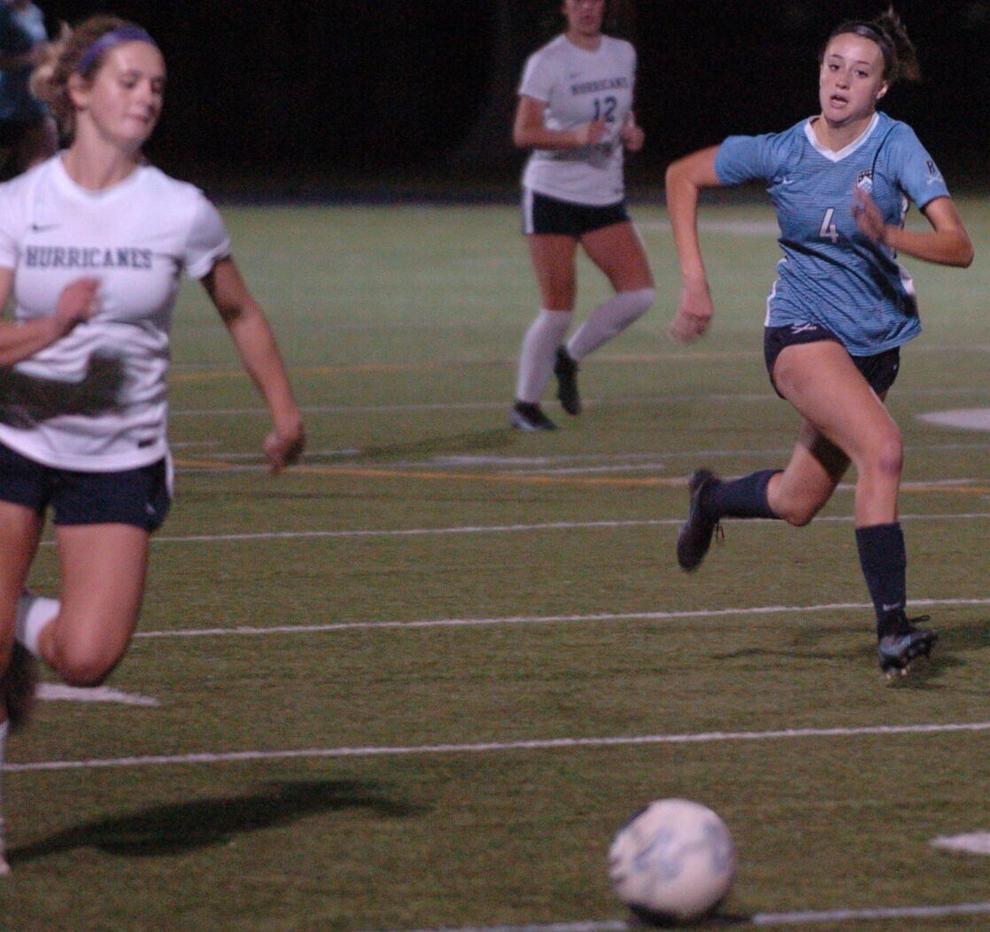 That wasn't enough to slow PHU, however, as the 'Canes kept pressing throughout the first 20 minutes of the second half and netted goal number two when senior Crosby Nicholson cleaned up teammate Kassie Fragale's rebound during the 58th minute. 
Berkeley didn't let PHU cruise to victory after the surrendering the tie-breaking goal. The Bucs' best opportunity came during a sequence with about 10 minutes remaining, but Crittenden couldn't be beat. 
The junior keeper first deflected Meher Irani's solid shot toward the left post out of bounds, setting up a corner kick. Freshman Kate Cunningham then took a shot that got punched over the crossbar for another corner. That second attempt resulted in another decent look, but Crittenden and the Hurricanes escaped unscathed. 
"This was a good test for us when we get into districts and the state playoffs," Irick said after the win. "I'm proud of the girls and the leadership they showed. Big girls show up in big times. It's not just our goal scorers, either. It's everyone that rallies around. Our defense played solid and Nyla came up with two huge saves there near the end of the second half. Berkeley had some great shots and she came up big." 
Berkeley (8-6-1) entered the night on a three-game winning streak, including Saturday's 8-0 blasting of rival Tampa Prep during the annual Headmasters' Challenge. The Bucs get four more matches before getting into their Class 3A District 8 tournament, beginning Friday night at Academy of the Holy Names. 
PHU will go for 11 straight wins Thursday night at Dunedin before wrapping up the regular season at rival East Lake on Jan. 18. 
BOX SCORE: 
PHU – 1 – 1 --- 2 
BP – 1 – 0 --- 1