If there's something strange in your neighborhood, who you gonna instant message?
Ghostbusters — on Facebook, of course.
Spring Hill has its own Ghostbusters team, fully equipped with an Ectomobile, proton packs and ghost traps. The best part, when you message (or call) the Ghostbusters, they'll show up free of charge.
Four Hernando County men, Will Amadeo, Daniel Garcia, Josh Johnson and Brody Frenton, are the Hernando County Florida Ghostbusters, online at www.facebook.com/hernandocountyflghostbusters. And yes, they are officially recognized as one of several Ghostbusters franchises around the country. The authorization means they can use the name, logos and other copyright-protected material.
The producers of the all-female 2016 Ghostbusters reboot held a contest to award franchises nationwide. The Hernando Ghostbusters won a spot. The team appears locally and are regulars at monthly Brooksville Bites gatherings, as well as events in Pasco and Citrus counties. They are not permitted to charge for appearances (though donations to recognized charities are OK); they can accept tips.
One thing they can't do is slide down a fire pole, jump in their purple Ectomobile and immediately rush right to your party or event.
"We like two or three months' notice," said Amadeo, who added as a kid he wanted to be a Ghostbuster. "It was like a dream of mine."
Garcia, who was into cosplay (short for costume play), enjoyed attending comic and fantasy conventions dressed as military-type characters. When a friend suggested he try portraying a Ghostbuster, slipping into the coveralls of the famous spirit slayers seemed a natural.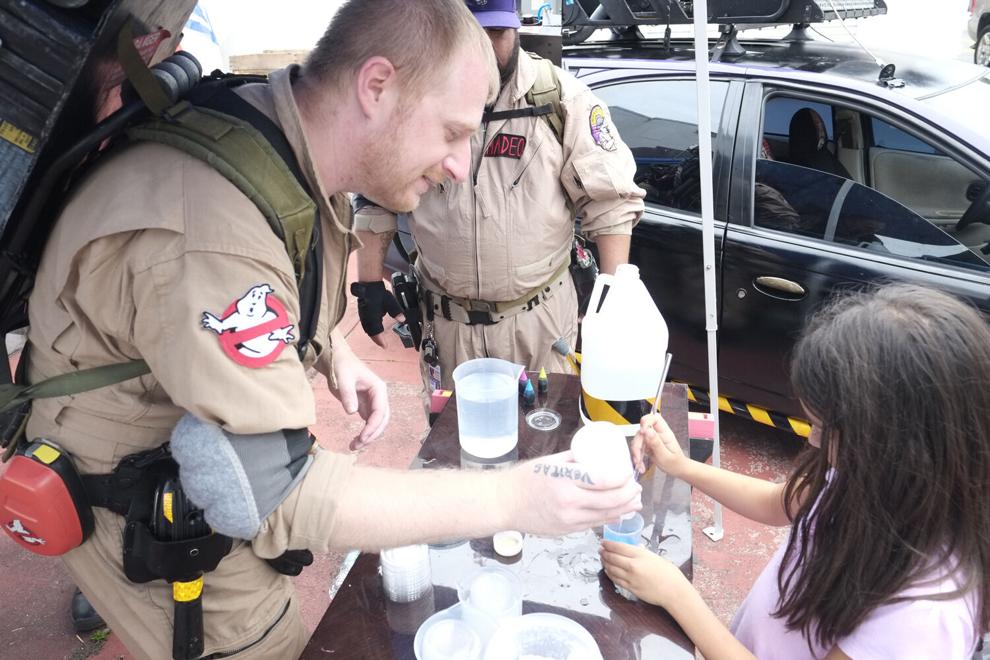 "It fit in with what I was doing at the time, and it was a lot of fun," said Garcia.
Frenton has been a fan of the movies since he was a kid. He has a blast showing up to events and parties strapping a proton pack. He said it's all about "having fun and entertaining kids, but also adults."
The original Ghostbusters movie debuted in 1984, so one might wonder how many kids even know who the Ghostbusters are?
"More than you think," said Frenton. "Over the years, parents keep it alive for their kids."
When asked which characters from the big screen each member portrays, Garcia and Amadeo in unison said, "it's not like that."
"We don't play the characters from the movie," said Amadeo.
"We're our own characters, not the ones everyone knows from the movie," said Garcia.
The team has adopted nicknames, though: Frenton is known on the team as the "Professor." Garcia is "Interdimensional Electrical Engineer," and Amadeo is the "Zip Tie Tech," because he keeps the hardware together.
The hardware includes replicas of the devices and weapons used in the movies, but the team gets a lot of questions about its car. Unlike the white ambulance in the movies, these Ghostbusters get around in a dark purple compact station wagon with all the familiar busters hardware bolted to it.
"That's the original color of the concept car that was going to be in the movie, so we're actually accurate and true to that original vision," said Amadeo.
He said when the film began shooting, it was decided the purple color was too dark to show up well in some low-light scenes, so it was replaced by a white car.
The team is excited about the upcoming new "Ghostbusters: Afterlife" film to debut later this year. It stars the original Ghostbuster actors (minus Harold Ramis, who is deceased) and is the story of one of the original Ghostbusters' grandchildren discovering the grandfather was a Ghostbuster. When confronted with some ghostly goings on, they use equipment and the ambulance they find in their grandfather's barn to fight off the supernatural threat.
"We're expecting a lot of new interest and a rush in demand for appearances," said Garcia.
The team believes based on previews, the new film looks great, and will introduce a new generation to the Ghostbusters. They'll withhold final judgment until they see it, and for now are sticking with their favorites from the three released movies. It's "definitely" the first film for Garcia. Amadeo can't choose: "I like them all," he said.
No question, the second installment with the original cast, said Frenton.
So, do the Hernando Ghostbusters ever get requests from people who believe they have a real ghost problem?
"It's happened a few times," said Amadeo.
Frenton recalls stopping to pump gas while wearing a team T-shirt when a man approached him.
"Do you guys handle demons or just ghosts?" Frenton said the man asked.
"He seemed serious; I told him no, we don't. The man seemed disappointed and walked away," Frenton said.