TARPON SPRINGS – Nationally acclaimed artist Leisa Collins selected Dunedin resident Joseph Kokolakis, president of K.J. Kokolakis Contracting, as the recipient of the Leisa Collins Historic Preservation Award for his work on saving a Ring Ave. bungalow from ruin.
The event was hosted by marketing and public relations specialist, and friend to Collins, Gracia Bennish.
The craftsman-style home is at 108 N. Ring Ave., though that is not its original location, according to Phyllis Kolianos, vice president of archives at the Tarpon Springs Historical Society and a member of the Pinellas County Historic Preservation Board.
While touring Collins around in her search for a home and homeowner to present this award to, Kolianos said with the historic nature of Tarpon Springs, they had quite a few choices.
"We're very fortunate," Kolianos said. "Historical preservation is very important to Tarpon Springs."
In the end, the story of the Ring Avenue home stuck with Collins, Kolianos said. It was going to be demolished, but in working with an enthusiastic owner, they were able to relocate the house to its current location.
Collins is working out of Florida, creating a table book of homes like 108 N. Ring Ave. She was drawn to the Sunshine state because of the unique nature and look of Florida homes.
"I don't think anyone else has the boldness when it comes to Florida homes," Collins said referencing the home during the presentation, which was painted a bold green and blue. "I think it's really cool that Florida has this lovely since of vibrancy and color."
Collins, originally from New Zealand, is a watercolor artist whose passion lies in the drawing of architecture. While living in the historic district of Old Town Alexandria, Virginia, Collins created her first pen and watercolor paintings of homes and historic buildings, and it stuck.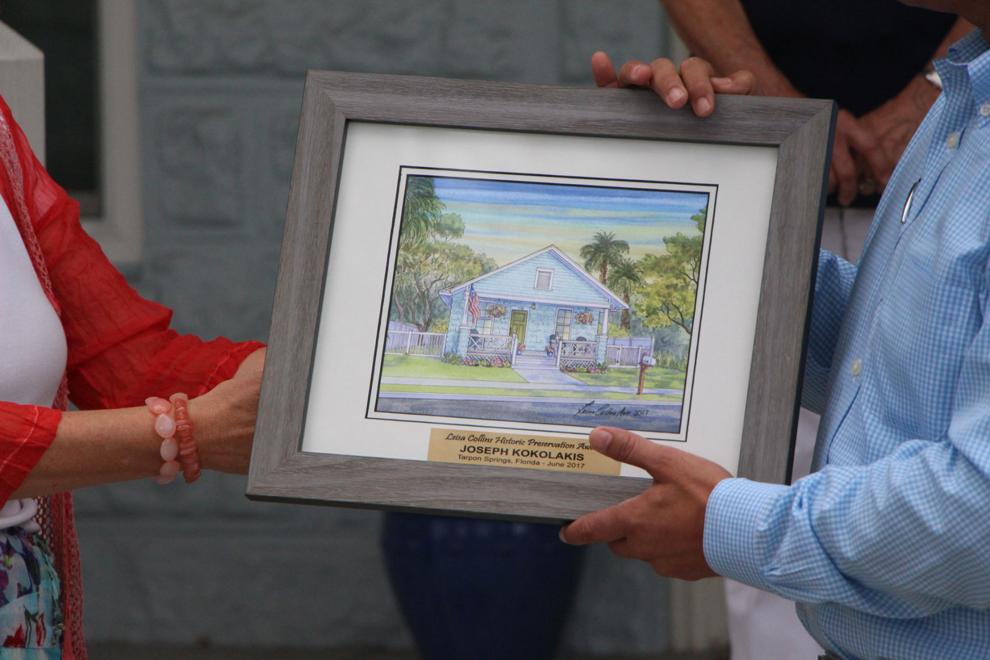 To date, she has painted buildings in 41 states.
During her process of painting these homes, she decided it was time to give back, creating the Leisa Collins Historic Preservation Award, recognizing individuals who set community examples through historic preservation.
The person or organization honored receives a framed pen and watercolor painting of the home or buildings restored during a presentation in front of, or in the vicinity of, the property.
"I wanted to give back to homeowners," Collins said. "Since then, it's evolved." She has given the award to a man, now around 100 years old, who saved his old school house and a women in California who saved the last remaining carriage barn in Monrovia, California.
She said in every case, Collins said four key elements helped save these buildings: residents, historic preservationists, city officials and developer and construction companies.
The last element is a new one on Collins list.
"I've never given my award to a developer," Collins said. "They're usually the villain."
Kokolakis, however, wasn't.
"This is the perfect example of how it's supposed to work," Kokolakis said. "I didn't want to save this in the beginning."
The house on Ring Avenue was in a rundown state and Kokolakis initially decided to demolish it due to the cost of rescuing and restoring the property. His request for demolition, however, was denied by the city, forcing Kokolakis to take a different route. Kokolakis worked with the historic preservation board to move the house to a new location and restore it over a four-month period.
This isn't his first Florida historic projects either.
In Dunedin, Kokolakis completed the Stirling Commons Project in the downtown area, consisting of two abandoned buildings in disrepair and scheduled for demolition. Now, the buildings offer nine storefronts, seven executive suits, twelve art studios and two art classrooms. It also brought the Dunedin Fine Arts Center back to the downtown area, providing its new home on the center of the second floor.
He also participated in two restoration projects in Tampa's Ybor City.
"You're truly setting a good example," Bennish said. "You are not the villain. You are the hero."