The pile of guns looked impressive on the table on May 1 as Hernando County Sheriff Al Nienhuis proudly announced his agency's latest success: the recovery of 35 weapons from a recent commercial burglary in Brooksville.
Four suspects have been arrested, Nienhuis said at a press conference at the Sheriff's Office headquarters, an adult and three juveniles.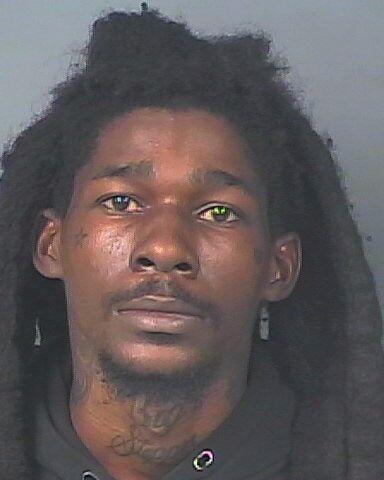 The adult, Devonte Smith, 22, is being held on $50,000 bond at the Hernando County Detention Center, Nienhuis said. He's a gang member with a criminal record, the sheriff said, and appears to have founded a local gang, the "KBM gang" — "Killin' Bout Mine."
The three juveniles are in the custody of the Department of Juvenile Justice in Ocala, Nienhuis said.
"I am told that the State Attorney or our prosecutors are seriously considering charging all of these as adults," he said. "We would certainly be in favor of that because, again, we are going to send a message that if you are going to be involved in this type of activity, if you're going to act like an adult in criminal activity, you're going to be treated as one."
'Say something'
The sheriff added, "You hear law enforcement say it over and over and over again, and in this case it certainly paid dividends, and that is: If you see something or you know something, please say something. This is a specific case where an anonymous citizen saw something that was suspicious and it into a chain of events that allowed us in several hours to be able to get back about 35 guns that were stolen."
Criminals can be intelligent and know that if they give out information it might lessen the charges, and in this case, "we did have some cooperation early on" from suspects that helped law enforcement's efforts.
"These guns were found and back in the custody of law enforcement in several hours," Nienhuis said. 
For criminals, he said, guns are like cash and could have been sold to other criminals all over the local area, region, state and even country, and used to commit crimes had his detectives and other officers not been working so diligently.
Sequence of events
A call came in at about 7:30 a.m. on April 26 that a person saw three suspicious juveniles in downtown Brooksville on Broad Street walking in the area. The caller said one of the juveniles looked familiar to him and gave a name.
That person was not unknown to the Sheriff's Office and they began looking in the area where he lived. He was found about a mile from where the suspects were seen. The juvenile suspect, 15, is believed to be part of the "KBM gang." 
Smith also was found at that location, and another juvenile, also 15.
HCSO later received a call from a local pawnshop that it had been broken into and several guns had been stolen. Sheriff's Office spokeswoman Denise Moloney declined to provide the name of the business or its address, saying that as a crime victim they were guarding the owner's anonymity.
The federal Department of Alcohol, Tobacco and Firearms also was notified and helped the store owner do inventory and figure out what was stolen.
The suspects were seen on video at the store earlier, "casing" the store and figuring out where the guns were.
At about 1:20 a.m. on April 26, another local business's video showed the suspects, and eight minutes later two suspects broke into the business, smashed the gun case, took the guns and left at 1:51 a.m.
Detectives on April 26 encountered an additional suspect, a 17-year-old, and began finding firearms in locations around Brooksville based on that suspect's information, and then more firearms and ammunition from information from the other juvenile suspects.
Smith was charged with burglary of a structure or conveyance while armed, Nienhuis said, and is being held on $50,000 bond.
The other suspects were charged with unlawful possession of a firearm and grand theft.
One of the 15-year-old juveniles has past arrests for aggravated assault with a deadly weapon, burglary and other charges, Nienhuis said. The other 15-year-old and the 17-year-old have previous arrests for petty theft.
"They're not a choir group," he said.
All of the charges in this case will be state charges, the sheriff said.
The sheriff commended the work of his detectives in the case.
"We appreciate the assistance, the speedy response of ATF, as well as their assistance in this investigation," Nienhuis said.