TARPON SPRINGS — Veterans Day is about recognizing and thanking America's military veterans for their service to our country.
Unfortunately, some vets get left out of this annual day of remembrance, including those who are homeless, live alone or reside in a place where Veterans Day is just like any other day.
However, at Market Street East Lake, a purposefully designed memory care residence at 833 East Lake Road N. in Tarpon Springs, officials recognize the facility's resident veterans every day, through personal interactions and wall displays dedicated to their service, as well as annually every Nov. 11.
So it was fitting they invited Sen. Ed Hooper, a longtime advocate for veterans' rights, to speak to and greet Market Street's resident veterans this year. And the former firefighter didn't disappoint, speaking with and handing out paper medals to about a half a dozen former service members.
"Today is the day to honor veterans, but I believe we should do that every day," Hooper told the small group that assembled in the facility's impressive Market Plaza, a high-ceiling atrium featuring a live tree.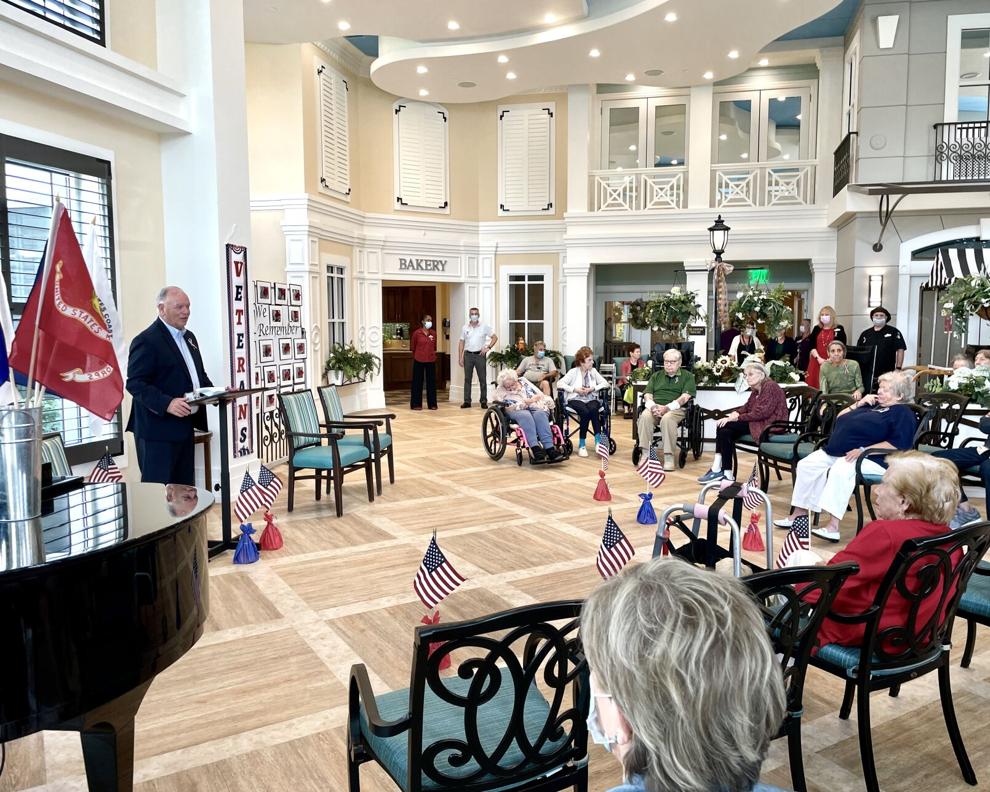 "On Veterans Day the country pauses and reflects on the sacrifices our veterans and their families made for their country, and we can't thank you enough."
Hooper then announced the names of the vets in attendance, walked to their seats and presented them with a handshake, a ribbon and a humble "thank you for your service."
While some didn't understand who the senator was, or why they were there, they appreciated the simple gesture of being recognized for their sacrifices from so long ago.
"We annually celebrate Veterans Day with our residents, and they really enjoy it," Destanee' Batts, Market Street's assistant executive director, said, noting U.S. Rep. Gus Bilirakis has appeared in the past but the event was canceled in 2020 due to COVID. "Usually when we thank them for their service, they blow it off, but they appreciate this and some really light up and thank us."
According to Hooper, the veterans at Market Street and other facilities deserve to be recognized for their service daily, just like all veterans.
"I've always said we should honor our veterans every day, not just two days a year," Hooper said in referencing Veterans Day and Memorial Day, the holiday held on the last Monday in May that honors those military personnel who died in service. "We can't thank them and their families enough, and when I come to these facilities and I speak to veterans on Veterans Day, I don't consider it work. I enjoy it."