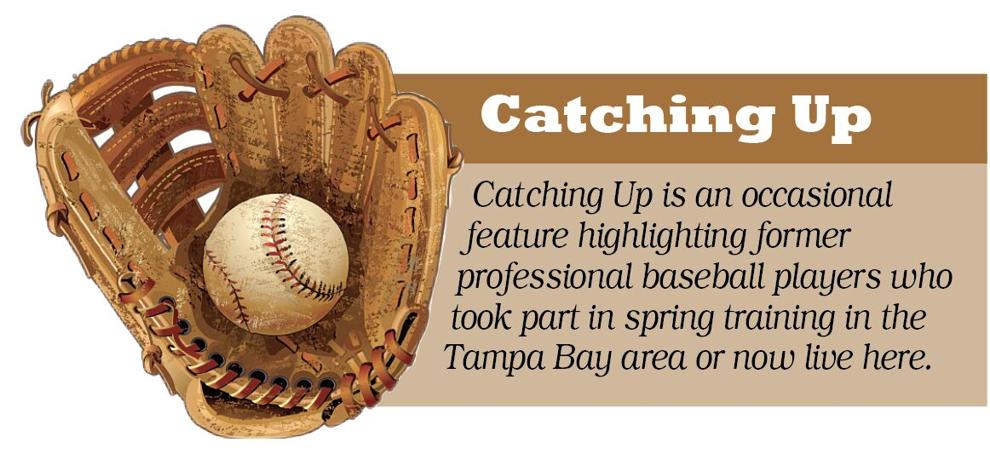 TARPON SPRINGS — How many major league pitchers can say that they struck out Sadaharu Oh, the legendary home run king of Japan?
One of the few would be Hank Webb of Tarpon Springs.
Webb was part of a New York Mets postseason Goodwill Tour to Japan in 1974 when he came face to face with Oh, who cracked 868 homers in his career.
Webb, a righthander who was 24 at that time, remembers the punchout pitch well.
"It was a slider," he said. "That was definitely a highlight for me."
During the regular season that year, while it might not be necessarily have been a highlight for Webb, a late season call-up, his first major league decision came under somewhat rather dubious circumstances on Sept. 11.
"I was on the bench," he recalled. "I was supposed to pitch the next day."
But the game that night against the St. Louis Cardinals went on .... and on, 10 innings, then 20, then 25. 
"They told me I had to warm up," said Webb. "I had to get dressed (in my full uniform) again."
Now it was the early morning hours and in came Webb in the top of the 25th. Bake McBride was on first base and Webb attempted a pickoff throw, but the toss went wild and McBride came all the way around to score when the throw home couldn't be handled by catcher Ron Hodges. The Mets went down in the bottom of the inning and so Webb was charged with the loss in what was the National League's longest game ever played to a decision.
"I think it was 2:30 in the morning when the game was finally over," said Webb.
The following year, after three seasons of limited major league action, Webb finally got a chance to break into New York's pitching rotation and had his most productive campaign, going 7-6 with an ERA of 4.07 and three complete games and a shutout as the team's fourth starter. He and manager Yogi Berra got along well and even though the Mets were in the midst of down years after winning the pennant in 1973, Webb was optimistic about the future. 
Unfortunately things didn't work out the next year (Berra was fired mid-season) and Webb found himself back in the minors for most of 1976 and was traded to the Los Angeles Dodgers at the end of the campaign. He pitched briefly for the Dodgers in 1977, his last season in the majors.
"I played on teams with great pitching staffs, so it was hard for me to stay," Webb said. "The Mets had Seaver, Matlock and Koosman (as starters). When I got to the Dodgers (who won the NL pennant in 1977) they had some good ones, too." The "good ones" included Don Sutton, Tommy John and Rick Rhoden.
"I was very successful in the minor leagues, but I was frozen there," said Webb. "It was difficult to become a starter with the Mets. And later when I got to the Dodgers that was a tough staff to try and break into, as well. I couldn't really go anywhere. It probably didn't help that I was a little worn down from pitching a lot of innings in the minors. I was hurting."
Webb gave pro ball one more shot in 1978 as a member of the Miami Amigos of the fledgling Inter American League. The team was managed by future Met manager Davey Johnson. The league itself featured around 18 former major leaguers. But the league folded after one season.
Webb officially retired from baseball after that and got himself into the radio and TV business as an account executive, first with WPLP-570 AM, and then what is now known as Fox 13. 
While Webb can certainly say that he had been a major league baseball player, clearly an accomplishment, his legacy in Pinellas County will always be remembered more for his work as the Executive Director of Clearwater for Youth, a job he started in 1985 and ended with retirement 33 years later.
Originally established in 1972 (a 50th anniversary celebration was held last year) the non-profit group supports youth athletic programs and other organizations in Pinellas County that emphasize skill-building activities with scholarships, grants and other efforts. CFY's programs support thousands of children a year. 
Webb is proud of the many good things CFY has done over the years, and for him, in particular, his efforts in helping to secure 15.5 acres of land in Clearwater for what became essentially the organization's home base. 
"We basically started with nothing," said Webb. "We added programs, we raised money, we went from supporting a few hundred kids to thousands. We got a building." 
If Webb, whose son Ryan was a successful pitcher in the majors for several years, has any ill feelings these days it is that major league baseball has essentially locked him out of a pension. He is one of about 500 former players who fell between the cracks. The plight of Webb and these other players is the topic of a book, "A Bitter Cup of Coffee by Douglas Gladstone."
"MLB has ignored this," said the 72-year-old Webb.
That sentiment aside, Webb  — who grew up on Long Island, New York — mainly has good memories of his ballplaying days. His first interaction with a major league representative was a bit comical, however. 
"It was 1968 and I was pitching in a CYO game (after the high school season)," remembered Webb. "After the game Hank Kelly came up to me and said we want to draft you. I said I had no interest; I was going to Hofstra University. I thought he wanted to draft me into the Army! He said, 'I'm with the Mets!' I said, 'Oh yeah, sure!' I signed."
In June 1969 Webb went to Rookie Ball, led his team in ERA and other key categories. He worked his way up the ladder, eventually playing in the majors starting with a late call up in 1972 and his first ML appearance on Sept. 5.
"It was fun," said Webb. "I was a young guy playing baseball. I got paid $75 by Topps and had a baseball card. Ed Kranepool (Met first baseman) and I used to drive to games together. Bud Harrelson (Met shortstop) told me that first year that a ball hit by Roberto Clemente off me was the hardest ball ever hit to him. That's something."
And although he did not play in a World Series, he did play for two teams that won NL pennants, the 1973 Mets and 1977 Dodgers. That's something, too.