BROOKSVILLE — Hernando County Schools Superintendent John Stratton says he doesn't know how many different ways he has to say it.
"We are not teaching Critical Race Theory," Stratton said Aug. 10. "We are not doing it in a subvert or covert way … and our current governor would not tolerate it."
Stratton made the impassioned statement to the dozens of residents who attended the School Board meeting claiming the district had to stop introducing the concept in Hernando schools.
"I encourage you to see the reality of the thousands of incredible lessons that are happening every single day in our classrooms," Stratton said, asking the residents to volunteer and see the classes firsthand. "I also challenge you to show me where we're teaching this. Yeah, you can show me where there's words in a training and parse those words out and accuse of something but that's just it."
Arlene Glantz and her husband, Mark Johnson, held a "town hall" at a Spring Hill church Aug. 3, and told people who attended to come to the meeting and put the administration on notice that they are being watched.
Glantz said there's an effort underway to "dumb down" advanced classes so minority children can take them, and that's lessening their value to students who are capable of doing the work.
Steven Goodwin of Brooksville said his brother works at Cape Canaveral and didn't get his job by giving "almost right" answers, which he and others claim is a part of some of the training being given to teachers and staff in Hernando's schools through a book titled "Equity in Education."
"The new woke socialist garbage is not for the betterment of this country, it's for its ruination," he said. "These are our kids, and you work for us."
Johnson, who is running for the School Board in 2022, held up a sign-in sheet with the names of 33 teachers who he said took the "Equity in Education" training.
Even if it's just used for staff training, Glantz said, "equity" concepts are designed to be passed down to the students and indoctrinate them in aspects of Critical Race Theory.
A few people spoke up for the district and the "Equity in Education" materials, including Suzanne Dockery of Brooksville, who called it "a partisan rallying cry." Others said they worried it was political and would start a witch hunt against teachers who have to deal with many different kinds of backgrounds and ways of learning.
Board members defended their training and the teachers, and Stratton said the board has an obligation to close the achievement gap between minority students and white students.
"That is what equity means to us when we talk about it," he said. "Equity is about awareness."
He said he was saddened that so many comments were about race, but there was nothing mentioned about the district teaching disabled students.
Regarding the advanced classes, he said nothing is being "dumbed down."
"Nothing could be further from the truth. We don't control the curriculum, we teach it," he said. "They have to pass that same state, national or international exam. We have no control to dumb it down."
He and the School Board members said the district is obeying the rules handed down from Gov. Ron DeSantis and Commissioner of Education Richard Corcoran, and not allowing the teaching of Critical Race Theory but wanting to see all children achieve.
Member Jimmy Lodato, his voice almost breaking, said of Stratton:
"He has been eloquent and spoken the words of the way we feel. I've talked with our teachers, and asked them those pointed questions. I've asked them if they were teaching CRT, and they said they were upset, that they were accused of this when they are doing their best.
"The governor has made it clear that we are not to teach CRT.
"I respect the governor, the commissioner of education, and I respect you who come out and speak to us. If I found that this was going on, I would handle it. CRT is banned, not only by the governor and this board, but by me.
"I don't know how many more times we have to say it. There are people with agendas. Please believe me, it is not being taught."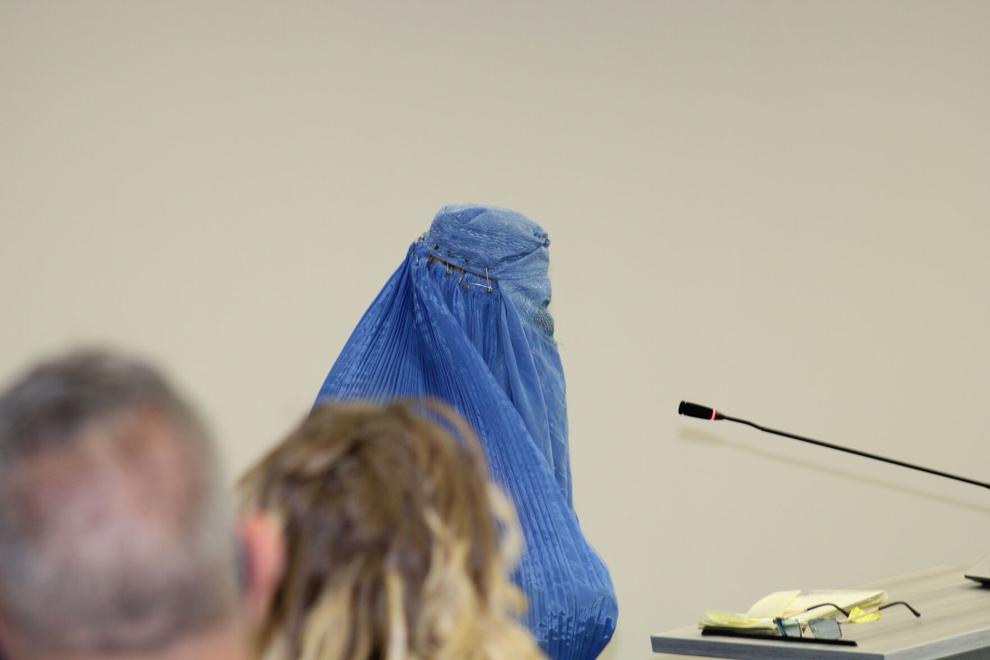 Nadine Castelli, a retired health care professional, said she has seen true oppression in her life, and then pulled on a blue burqa to protest requiring children to wear masks in school.
"I don't believe racism really exists. It's being pushed," she said. "Teachers should be teaching, not preaching indoctrination."
After the meeting, Glantz said she was not moved by the statements from Stratton or the School Board members.
"I don't think they're lying but what they believe is inaccurate," she said. "Every single year, the reading scores and math scores in the United States are going down. They're doing something wrong. If they're not encouraging the teachers to use this, then why did they buy this book?"
In other action
• The board voted 5-0 to approve job descriptions for three registered nurses, a nurse for every school and a custodian, paid for by grant funds for two years to provide extra support for clinics. Lodato expressed concern about what would happen after the funds run out, and was assured that every person hired would know that it was just for two years.
• The board voted 4-1, with Lodato dissenting, to buy workbooks from Math Nation.