BROOKSVILLE — The Hernando County School Board on Sept. 7 voted 5-0 to approve the fiscal year 2021-2022 budget of nearly $361.8 million and approve a millage rate of 6.777.
The budget is $30.7 million more than last year, and the property tax rate is 20.32 percent more than the rolled-back rate, which is the rate that would produce the same amount of revenue as the previous year.
The county's estimated tax roll came in at $12.32 billion, an increase of more than $850 million over last year.
The Local Required Effort millage is 3.5290, a drop of 3.71% from last year; the Discretionary millage is .7480, the same as last year; the Capital Outlay millage is 1.5000, the same as last year; and the Additional Voted Millage is 1.0000, the first time that's showing up.
All totaled, the millage rate is up .8640 from last year's 5.9130.
The district said the total tax revenue from the millage for 2021-2022 is $80.1 million, an increase of more than $15 million from last year's $65.1 million. Of that $15 million, $11.8 million is from the additional voted millage, which is coming in for the first time.
For a home with a $75,000 assessed value and a $25,000 homestead exemption, school taxes will be $338.85, an increase of $43.20 from last year; for a home with a $150,000 assessed value and a $25,000 homestead exemption, school taxes will be $847.13, an increase of $108.
The district's budget for 2021-2022 shows a total General Fund of $228.2 million, with more than $157 million going for salaries and benefits; $14 million for purchased services; $6.4 million for energy; $12.1 million for materials and supplies; $3 million for capital outlay; and $718,334 for other expenditures, for a total appropriation of $193.5 million and a fund balance of $34.6 million.
A big expenditure for the district is turning out to be maintenance and repair of air conditioning systems, Superintendent John Stratton said, noting that the district has had to hire a service to provide a temporary chiller for one school.
Another problem is that the air conditioning systems in some schools are old, and replacement parts are hard to find in some cases. It can cost $8 million to $12 million to refurbish a school's system.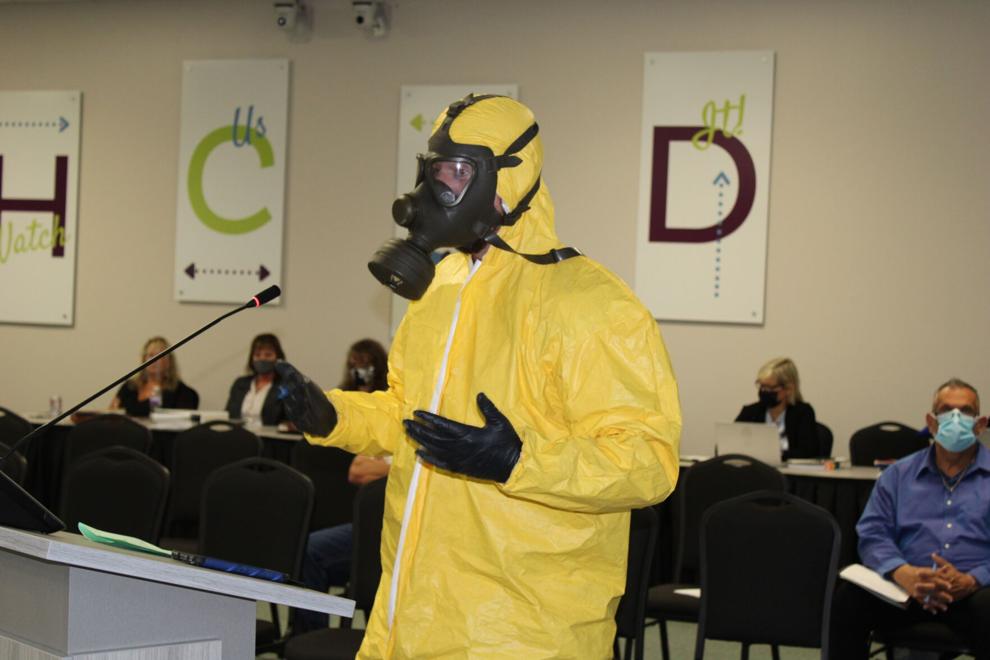 Crowd control
Before the budget meeting, the board held an informal meeting on issues of crowd control. The ongoing debate over measures for dealing with COVID-19 among students and staff has become rancorous, and members discussed possible changes to meetings and public comment before deciding to leave things as they were.
Board attorney Dennis Alfonso, who also is the attorney for the Pasco County School Board, said in Pasco the TV camera that shows the board meetings is turned off for public comments on items that aren't on the agenda.
"The meeting is to conduct the business of the board, paying the bills," said. "The meeting seems to be becoming a forum for people to express their opinions on things that have nothing to do with the board's agenda."
While there was discussion of limiting comments to two minutes instead of three, board members Jimmy Lodato and Gus Guadagnino said they opposed that idea.
"People have a right to speak as long as they don't act belligerent," Lodato said. "I want to hear what they have to say. When we talked about cutting them off, we enraged them. It causes a major problem. I want them to have the full three minutes."
Alfonso pointed out that any change in policy would involve having a board meeting with public comment, and the members finally agreed to stay with the current system.
Regular meeting
The regular meeting was mostly quiet with a small group that came in to speak on several issues during public comment, including student dress codes, mask mandates, COVID and Critical Race Theory.
School board candidate Monte Floyd came into the chambers in a full protective suit in bright yellow, including a full mask and goggles, and told the board that masks are totally ineffective in preventing the spread of COVID, adding that hospitals are classifying deaths as COVID-related to make money.
Outside the meeting, Floyd said he had been told he had to wear a mask in the chambers, and repeated his claim that the masks everyone else were wearing were "costumes," while he was truly protected.
School notes
Lodato reported two deaths among his friends, and asked members and the community to pray for them. His voice breaking at times, he described Hernando County Sheriff's Office Detective Tommy Breedlove, who died of COVID-19 on Saturday, as "one of our guardian angels who was here."
Another sad loss, Lodato said, was Dennis Wilfong. Wilfong worked on the Vo-Tech school, Lodato said, of which the second part of the effort was to bring companies to Hernando County that would provide good jobs and hire the students from the school. "He would want us to continue on," Lodato said.
The board seemed relieved that the crowd at the meeting spoke out with passion but was not disruptive at all during the meeting. One person spoke in favor of the board, vaccines and mask mandates, and against harsh rhetoric used against board members at the last meeting.
COVID stats in schools
School Superintendent John Stratton said on Sept. 7, that as of that evening, the district had received 4,885 opt-out forms out of a total student body of more than 22,800, or 21% of students.
For the year to date, the number of students testing positive is that same as the entire total for last year, he said, and the staff rate is three-quarters of last year's rate.
Still, the student rate was up by 11 positive results, and the staff rate was down by eight.
"We're hoping it's indicative of what might be the turn," Stratton said.