SPRING HILL — Gary Kershaw looks the part of a sheriff's deputy.
He's tall, lean and fit, a 25-year-old Army Reserves veteran with a wife and 5-year-old daughter who works part-time for the Hernando County Sheriff's Office as a Public Service Technician but wants to get certified as a law enforcement officer and serve the community.
Approval was given for the county's first law enforcement academy  on Aug. 12, and if he's accepted into the class he'll have the next 10 months to show instructors that he has what it takes to graduate, and perhaps achieve his goal of being a sworn deputy with the Hernando County Sheriff's Office.
Michael McNeeley, 19, and Michael White, 38, were at Nature Coast Technical High School's media center on a rainy Wednesday afternoon with Kershaw and about 25 other men and women interested in the newly formed Hernando County Criminal Justice Academy, and they seemed undaunted by the pile of forms they had to fill out, the prospect of taking the CJ-BATT test (save for one man, who had already taken and passed it), and 10 months of intense instruction and training (Monday to Thursday, 5 p.m. to 10 p.m.; some Fridays for firearms training; and some Saturdays in Dade City for vehicle training).
And there is physical training, fingerprinting and a background check.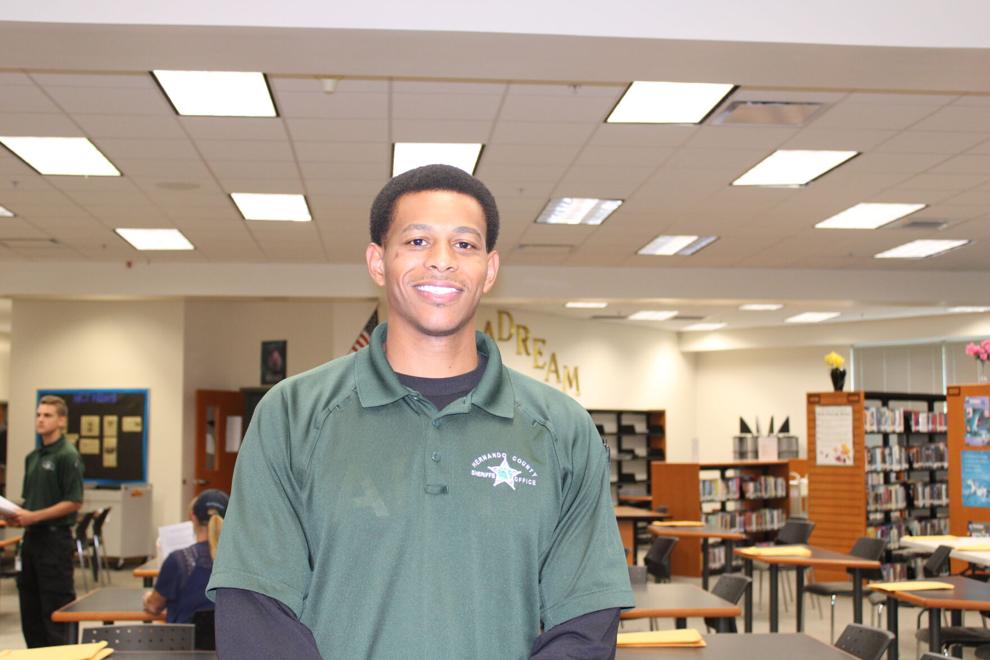 And don't forget tuition of around $3,700, though financial aid is available, including the GI Bill for veterans.
Some details still need to be worked out, and if all goes well, training would begin in mid-September, so the cadets would have to move fast.
Then there's a written exam to become Florida-certified. For some, there's no guarantee of a job after graduation. Some might get their training funded by the Sheriff's Office, but would have to work two years for the department. And even then, there would be work with training officers and a year of probation, but those who were, as Capt. John Cameron put it, "the best of the best," could be at the start of a rewarding and fulfilling career in a county that's growing rapidly and needs deputies.
Most of the hopefuls appeared to be in their early 20s and some were military veterans, so the paperwork seemed routine to them. A few already are employed at the Sheriff's Office, either part-time or full-time, and wore uniforms.
Sheriff Al Nienhuis spoke briefly to the cadets, then Maj. Kenneth Hayden, Capt. John Cameron and Sgt. Lilli Bridge described the details of working as a deputy.
White, of Spring Hill, said he's been working as a cable TV installer but his desire to help people has drawn him to the academy.
"I like to help people. It's very rewarding," he said. "It'll be a lot different from going to people's houses to get their cable hookups working, and that's just fine." He's also in great shape physically.
McNeeley, a public service technician since April, also is a student at Pasco-Hernando State College and he's being sponsored by the Sheriff's Office.
"What's nice about it is it's a guaranteed job, so you don't have to go browsing around," he said. He rides with a deputy so he knows a bit about what the job will be like.
"So far, it's a very good experience being able to get out on calls and work calls," he said.
Kershaw not only grew up in Hernando County, coming back to Nature Coast High School is like a homecoming since he graduated from the school and he's wanted to serve the community.
"Well, honestly, it's been a dream of mine, and my father and grandfather were in the military, they were in the Army, the Navy and the Air Force. Growing up, I've seen them, and it was kind of something that I always gravitated to," he said. "Getting out of college, I still have the dream. I have a family now, so it kind of makes sense for me."
Cameron, the Sheriff's Office captain, liked what he saw in the people who came to the workshop.
"I was very encouraged," he said. "I didn't know who was more excited, us or them. Us, the potential of what I saw, or them, endeavoring for a new course in their life. I was very encouraged by the students I saw come in."
His grandfather was a police officer in Saddle River, N.J., his father started his police career in Miami and the family moved up here after the riots in 1980.
The training is set forth by the state, but the manner in which it's delivered is set by the instructor, Cameron said.
"Hearing the stories of how it was then compared to how it is now, even through the course of my career, it's really evolved," he said. "The job is still the job. We want to make sure we serve the community. In many aspects, it's much more dangerous. But we have a lot of tools and technology that we never had before that makes our job a little easier. We're on the cusp of having more technology to have an effect on how we do what we do."
There are new approaches to training, Cameron added.
"The training I went through was very much more militaristic, very regimented and in your face. I was also in the Army, so there were certain parallels with that," he said. "And now we want to make sure that we're teaching the warrior but guardian as much, because we want to make sure that they're servants out there, serving the community and learning the right way.
"We're going to make sure that servant attitude is taught, the soft skills with the hard skills," he said.