BROOKSVILLE — The Hernando County Commission began a long meeting featuring several public hearings with a housekeeping item and a building naming to honor a resident who died recently.
Commissioner John Allocco ended his year as the chairman, and nominated Commissioner Steve Champion to be his replacement.
"I think you've done a fantastic job over the last year," Champion said to Allocco.
Commissioner Jeff Holcomb recommended Allocco to be vice chairman and Commissioner Beth Narverud as second vice chairman.
The motion passed 5-0.
After reorganizing the seating and the computers to put Champion in the middle of the dais and move Alloccoa and Narverud, the meeting resumed.
New building named
The commission voted 4-1 to officially name the joint-agency project to build a technical training complex at the Brooksville-Tampa Bay Regional Airport the Dr. Dennis Wilfong Center for Success.
He was a local businessman and humanitarian who died at 74 on Aug. 26. He founded Innovative Technology Inc., a world-class manufacturing firm headquartered in Hernando County.
The new center will be on undeveloped county land next to the airport.
Pamela Wilfong came forward to thank the commissioners for naming the facility after her late husband.
"Thank you for recognizing him," she said.
Narverud had spoken up for calling it the "Dr. Dennis Wilfong Citizens Center for Success." Allocco said the center would be for everyone, not just citizens of the area, and made the motion to leave the word "Citizens" out.
Airport growth
Economic Development Director Valerie Pianta presented a request by Pem Air, an aviation maintenance company at the Brooksville-Tampa Bay Regional Airport, for about $104,650 in incentives for the company to grow and build a 65,000-square-foot building on nine acres in the aviation expansion zone.
The company is promising to produce 24 above-market-rate jobs by 2024, investing $7 million into the facility and $10 million in equipment.
"It's concerning to give incentives to a company to come to a community, but this company is this ideal," Allocco said, adding that it would grow in the community and bring in other businesses.
"We're very excited about this opportunity as well as additional opportunities with these hangars," said company representative Simon Benford.
"We're just glad to have you here," Dukes said.
The incentives were approved 5-0.
Also at the airport, Wolfswood Holdings LLC requested a long-term agreement with the county to build a 75,000-square-foot corporate hangar facility for their aviation business. The motion passed 5-0.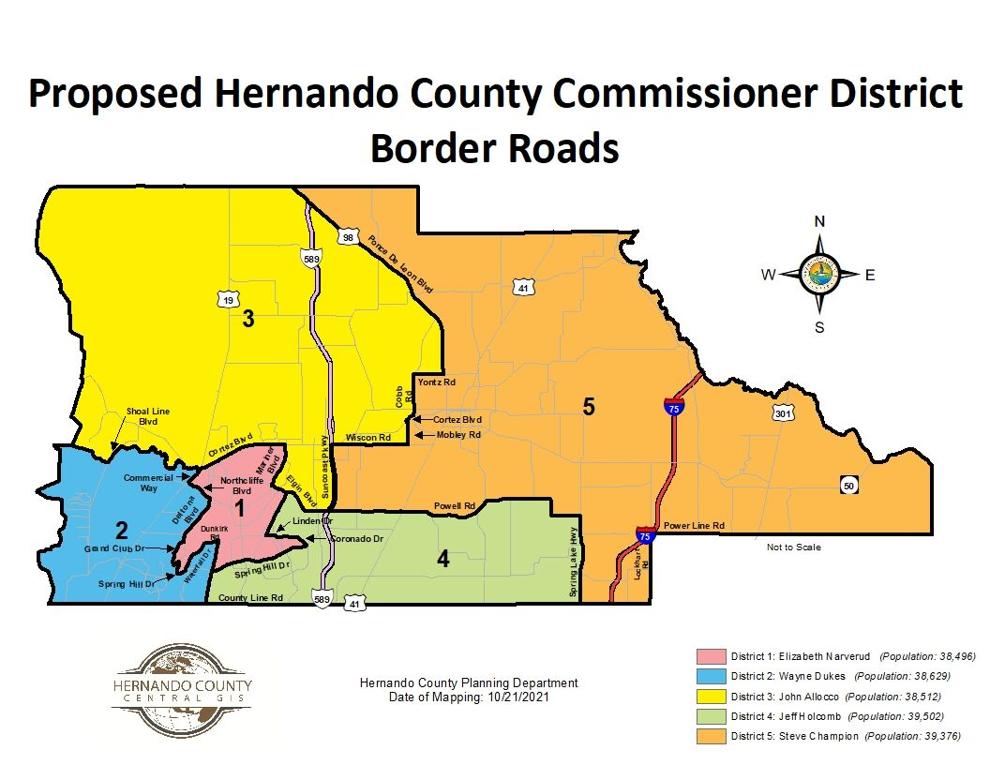 New districts
The commission approved on a 5-0 vote a redistricting to balance population.
There are five County commission districts in Hernando County and each district is as equal in proportion to population size as possible. Because of population increases, the new districts reflect boundary changes that allow for proportionate population size to be maintained. The population distribution and representative for each district is as follows:
District 1 — 38,496 — Elizabeth Narverud
District 2 — 38,629 — Wayne Dukes
District 3 — 38,512 — John Allocco
District 4 — 39,502 — Jeff Holcomb
District 5 — 39,376 — Steve Champion