SPRING HILL — Danish Hasan is no stranger to igniting change in his home community. When he was a junior in Springstead High School International Baccalaureate Program, he organized an annual Autism Festival that ran consistently for five years.
Now a recent graduate of the University of South Florida, Hasan is again at the grassroots of a deeply emotional initiative: combating the opioid epidemic in Hernando County.
According to the National Institute on Drug Abuse, opioids are a class of drugs that include illegal heroin, synthetic opioids such as fentanyl, and pain relievers legally obtained by prescription like oxycodone, sold under brand names such as OxyContin, hydrocodone, or Vicodin, codeine, morphine and others.
If prescription opioids are taken as prescribed, they are generally safe. Unfortunately, because of the euphoria that is experienced along with pain relief, there is a high risk of addiction. When misused, they could lead to an overdose which can be reversed by administering naloxone right away.
Marketed under the brand name Narcan, for narcotic antagonist, injected naloxone can quickly reverse the potentially deadly effects of opioids.
And, of course, there are incidence of opioids being abused or misused. Needle pricks from discarded needles found in public places can cause an outbreak of infection.
Gov. Rick Scott has declared opioid abuse a public health emergency in Florida, and President Donald Trump declared opioid abuse a national emergency Aug. 11.
Hernando County is feeling its own woes, with 52 opioid related deaths in 2016. Florida has seen a significant rise in opioid overdose deaths in recent years, up nearly 23 percent from 2014 to 2015, according to the federal Centers for Disease Control and Prevention.
Hasan accidentally fell into a grant reward, initiated by a friend at the Crescent Community Clinic. The grant was funded by AmeriCorps Vista and was focused on the opioid epidemic in Hernando County. It utilized community partners, including Hernando County Community Anti Drug Coalition, Crescent Community Clinic, and Hernando County Sheriff's Office.
Hasan and his grant partner, Steven Snider, were asked to craft a plan to assist Hernando County's fight against the massive destructive properties of opioid addiction.
With the assistance of Tressa Watson, president of the Hernando County Community Anti Drug Coalition, a plan was enacted, based on a logic model originally developed by the Coalition.
The coalition, known as the Hernando Opioid Research Network, had about 20 initiatives, in response to the opioid crisis, that they wanted to address. Hasan and Snider chose four to work on with the grant. The HORN program includes:
• Needle Exchange Program.
• Naloxone Distribution.
• Baker-Act and Long Term Rehabilitation.
• Physician Outreach and Opioid Prescription Awareness.
Developing a needle exchange program is of vital importance, Hasan said. Many skin diseases are attributed to used needles, often left in public access places, like city parks and public restrooms.
Needle exchange programs are proven to decrease incidents of HIV and hepatitis C, reduce costs of hospital visits for disease transmission, and reduce deaths caused by intravenous drug use.
HORN's second initiative would equip first responders with naloxone and give them training on how to identify overdose and opioid induced incidents, supply a fleet of 200 sheriff's deputies with the life-saving opioid blocker, and educate on how to administer and properly store it.
The third initiative targets the lack of long-term rehabilitative care for opioid addiction in Hernando County.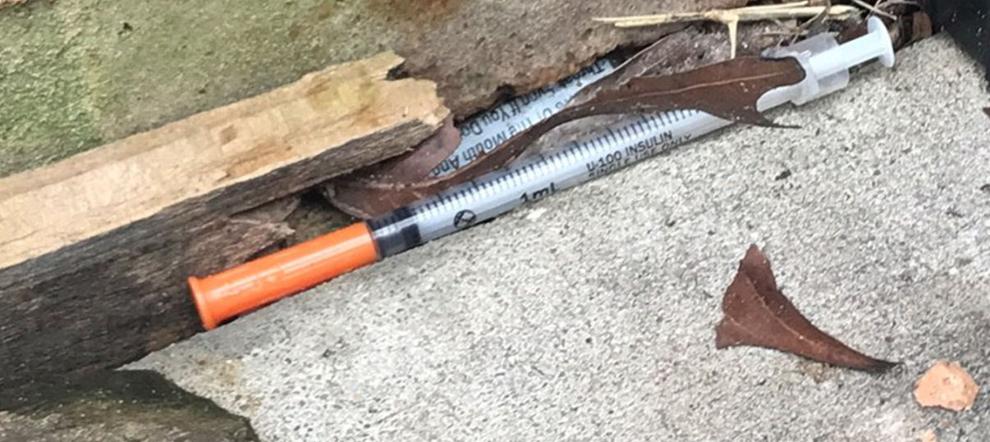 And finally, Hasan hopes to address the need to educate local physicians on the statewide prescription drug crisis. "Educating current and future doctors on good and bad opioid prescribing practices will have a direct impact on the number of overdoses,"
A future initiative will aim to educate middle and high school students on the opioid epidemic in their own community. An education curriculum will be created delivered in a presentation form in local public schools.
Since opioid addiction hits heavily in the older population, it's highly likely students in that age group know an aunt or uncle or other family member who is struggling. Hasan also recognize that students are being exposed to the crisis earlier.
Hasan then recruited a team to help launch the four initiatives. USF graduate Adam Albadawi, USF Senior Adam Shehub, Hillsborough Community College student Paola Perez and Fatima Shuayb, another student at USF, joined the cause to get the initiatives off the ground.
HORN is completely run by volunteers who hope that they can change the future of opioid addiction in their own community by paying it forward.
But they need help from the community they serve. Ideally if they could get other organizations to jump on board and help facilitate the initiatives, big change is expected to happen in terms of opioid addiction in Hernando County.
Hasan hopes to get the initiatives off the ground by laying a foundation for HORN so it can continue building on that platform.
For more information on HORN or to get involved, send as email to thehornfl@gmail.com.