TARPON SPRINGS — For more than a century, the Sponge Exchange at 735 Dodecanese Blvd. has been the physical and spiritual center of Tarpon Springs' historic Sponge Docks.
Built in 1907 to serve as an open marketplace for the area's booming sponge diving industry, the original Sponge Exchange featured a central auction block in the center surrounded by storage bins filled with sponges extricated from the nearby Gulf of Mexico.
In 1981, three Pappas brothers — Jack, Lucas and Mike, along with nephew Mike Houllis — purchased the land for $410,000. With help from local architect Ed Hoffman, they remodeled and repurposed the Sponge Exchange into a popular visitor destination complete with dozens of shops, bars and restaurants. The new additions, plus its central location across from the Anclote River, helped the Sponge Exchange become the central hub for the thousands of tourists who come to the docks every year.
But last month, the Pappas family made headlines when it was announced they sold the Sponge Exchange to a local business owner, Nick Kokkinos, for a reported $7.5 million, bringing an end to an era that Jack Pappas' son, Louie Pappas Sr., said has been a long time coming.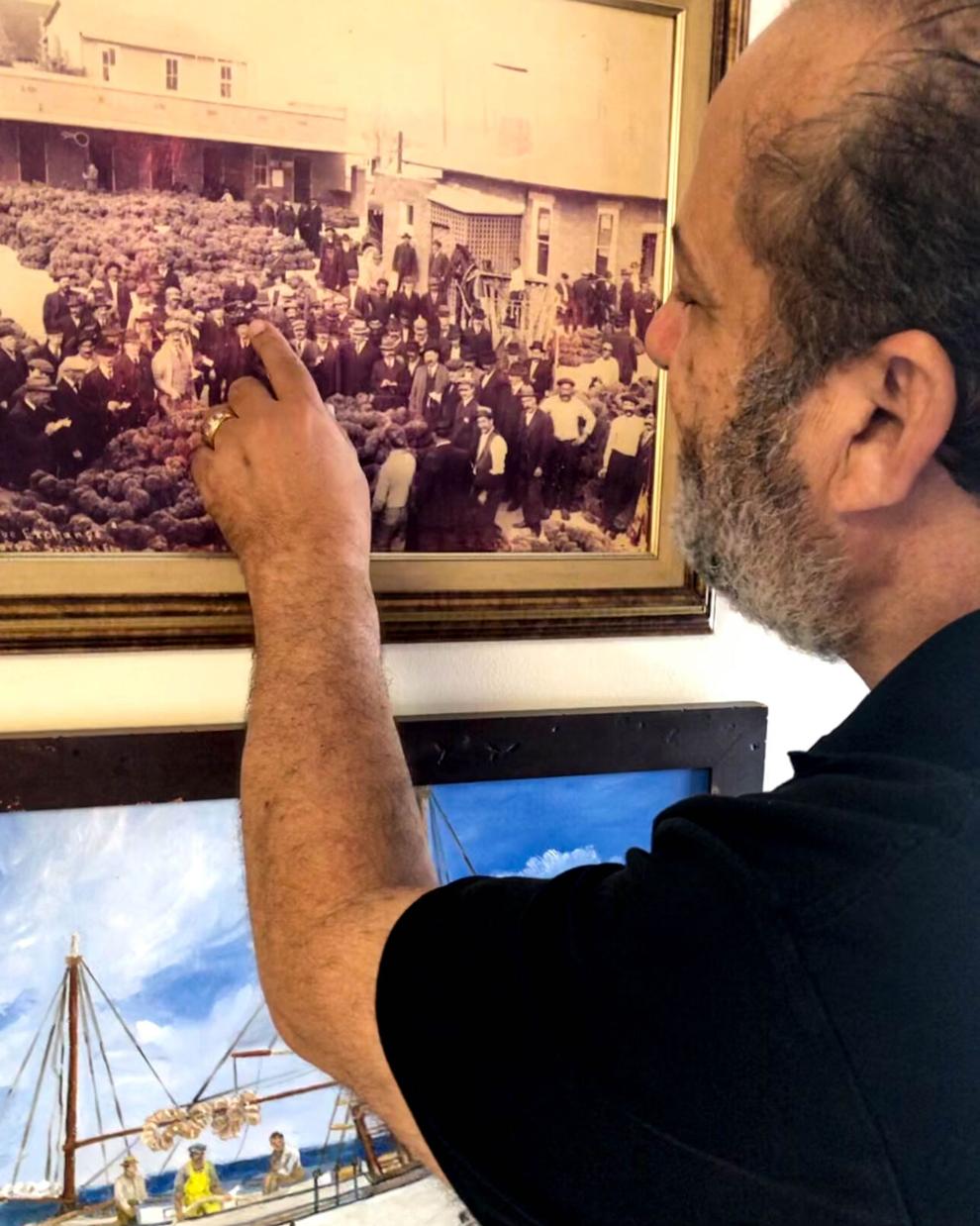 "As my dad would say, nothing is forever," Pappas said Oct. 8, about a week after Townsend Tarapani, a local real estate broker, city commissioner and member of another of Tarpon's founding families, closed the historic sale. "We feel like we had a great run, but it was time to move on. My sisters and I are all getting up in years, and there was a consensus it was time to move on, and everyone feels good about it."
Pappas has worked at the Sponge Docks, either at his family's landmark restaurant or in his office behind the white walls of the Sponge Exchange courtyard, for most of his life, and the 62-year-old admitted the abrupt end to his daily routine has been jarring.
"It's been very weird," he said, adding, "between the restaurant and the office I've been going there every day for the last 50 years. It's truly the end of an era because my dad passed away a week before we closed. So, it was all meant to happen at once, the closing of this chapter."
Louie Pappas said once his family, including sisters Angela, Leah, Flora and Alexandra, and his wife, Rosanne, made the decision to sell last year, they trusted Tarapani to make the best deal for all parties.
"About a year ago when we agreed to sell, there was no doubt Townsend was the guy," he said, noting "my grandfather and his great grandfather did business together in the 1930s, so there was no doubt he was the only guy to do it. So, I gave him a number, Mr. Kokkinos' agent contacted him, and the rest is history."
For Tarapani, the chance to broker a deal between two of Tarpon's most storied families for one of the most iconic properties in the city was like a dream come true.
"It felt fantastic because our families have been doing business together for three or four generations," Tarapani said by phone. "We go back to the beginning of Tarpon Springs' history, doing business as family and friends, so I was happy he trusted me with a deal of this magnitude for the city."
As for the future of the Sponge Exchange, both Pappas and Tarapani said pointed out that Kokkinos and his wife, Patty, are entrenched in the community and plan to make minor renovations, including cosmetic changes, as well as possibly adding a residential component to the sprawling, 33,000-square-foot facility.
"Nick did his due diligence and he saw the potential for growth and partial redevelopment, and I think he'll do a good job," Pappas said. "He has roots here, he's of Greek descent and I think he's a perfect fit for this historic site."
"For the city, this is like any other adaptative reuse project," said Tarapani, who announced earlier this year he will not seek a second consecutive term in March. "It lends value to the other properties to be redeveloped over the next decade, and I think the addition of a residential component will be exceptionally beneficial to the Sponge Docks."
Louie Pappas, who along with his sisters took over ownership of the Sponge Exchange in 2001, said his immediate plans include travel and rest, but he's not ready to fully retire just yet.
"I'm sure I'll do something," he said about the possibility of going back to work at some point. "But if I ever do get back into development, I'll always put the best interests of Tarpon at the forefront.
"It's bittersweet," he added. "We've been here 100 years. But to quote my dad again, nothing is forever."