Redistricting moved Hernando County into the district of U.S. Rep. Gus Bilirakis, and he's been introducing himself to voters mainly through a plethora of "Gus is for Us!" signs along the major roadways.
He's been in Congress since 2013, and the 59-year-old faces four other Republicans in the Aug. 23 primary. In the general election, the primary winner will face a write-in candidate, Charles Smith, and a Democrat, Kimberly Walker.
At the "Politics in the Park" event, Bilirakis was a no-show and a stand-in read his speech.
The other four Republicans and the Democrat showed up and spoke. The write-in candidate was absent. Here are some highlights of their remarks.
Gus Bilirakis
(https://bilirakisforcongress.com/)
Michael Risola, a representative for Bilirakis, said he "is currently in Washington, D.C., fighting for us."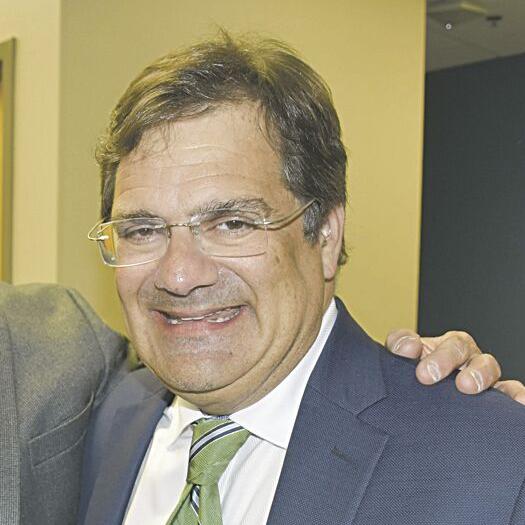 Bilirakis has introduced more than 50 pieces of legislation, Risola said, and is fighting for veterans and their health care. "Congressman Bilirakis is fighting day and night for our veterans, and he wants to bring that fight here to Hernando," he said. "Our seniors deserve the best. Congressman Bilirakis has fought day and night to protect our seniors from the rising cost of inflation so our seniors do not have to pick and choose between going to the grocery store or getting gas."
Like most Republicans, Risola said Bilirakis believes there is a mental health crisis among students that causes gun violence, and he "believes in our Second Amendment" rights. "We don't need to take guns away from law-abiding citizens, we need to help our children."
He's a "true conservative," Risola said, with endorsements from former President Donald Trump and Florida Gov. Ron DeSantis, and he's aligned with the latter's views on keeping Florida free.
Chris Leiser
(https://leiserforcongress.com/)
Leiser is a fourth-generation Floridian from Bartow, in Polk County, and he's running for Bilirakis's District 12 seat as a Republican.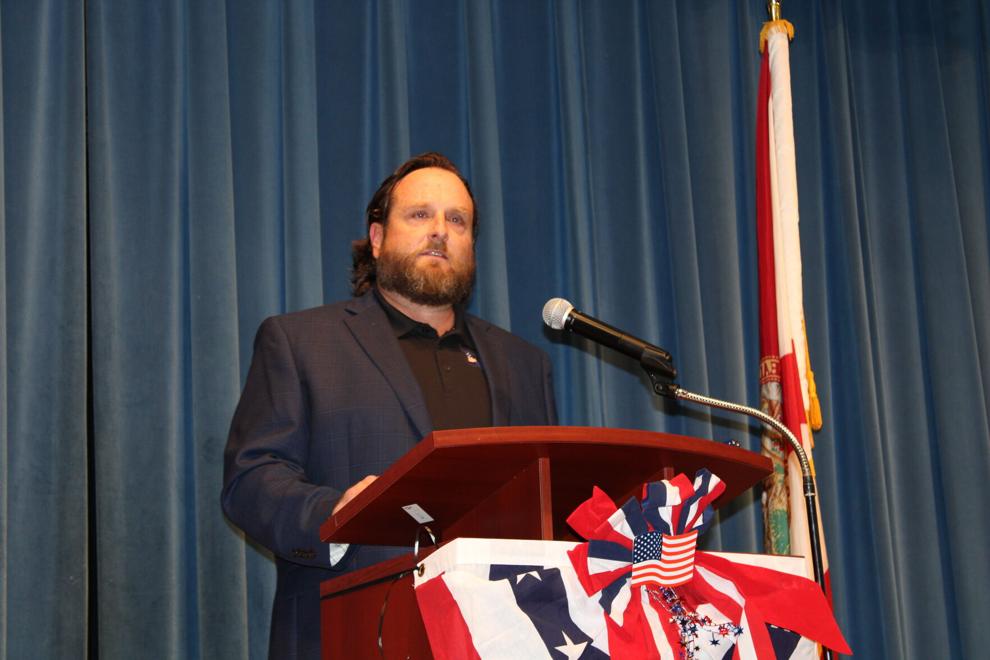 He's lived in Pasco County since 2007 and has been married for 27 years to his wife, Tina. They have two teenage children.
"I felt like our future was being taken from us," Leiser said in his speech about why he's running. Over the past 16 years, he said, "little by little, all of our freedoms were eroding and I didn't believe there was accountable representation in Washington."
Bilirakis has done a great job, Leiser said, but when people stay too long they get complacent.
He's going to fight, Leiser said, for our futures. "When I get to Washington, I'm going to secure the border, I'm going to hold the government accountable and I'm going to make sure we align the government with our priorities, rather than the politicians."
Jack Martin
(https://www.jackmartin4congress.com/)
Jack Martin came to the Spring Hill area in 1997 and said that he was asked to create a fire department chaplaincy for Spring Hill, and later did it for Hernando County.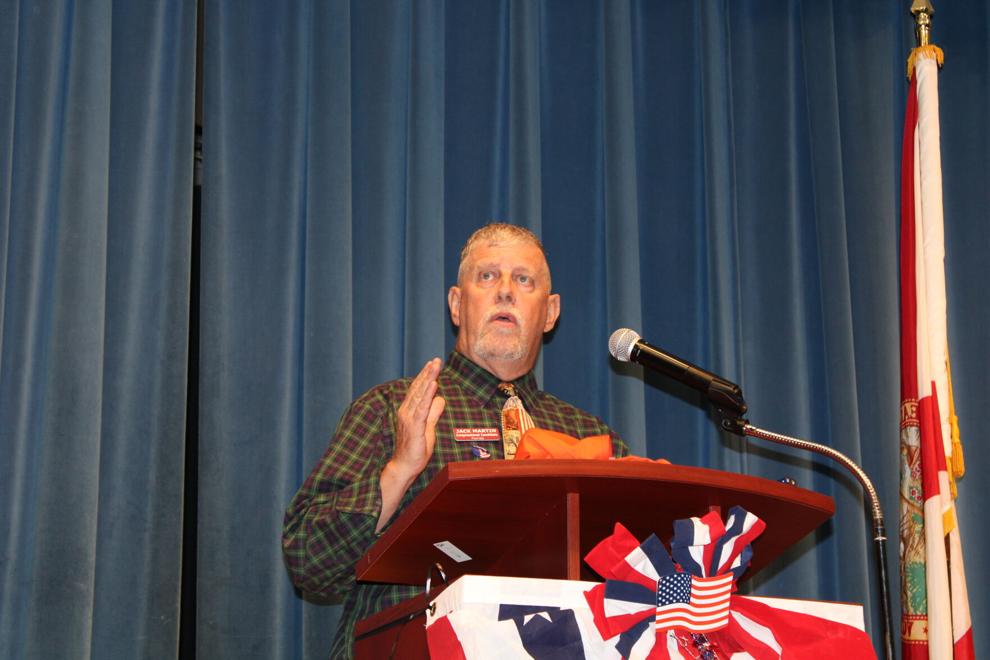 "We have fought over the years issues in three different counties with school boards with Critical Race Theory, the LGBTQ community, we have done a lot of issues in our own areas," Martin said.
The Republican challenger said that if we don't get someone in there to fight the battles we're going to face, "We're going to be the next Venezuela." 
Bilirakis has been in there for 16 years, Martin said, and has a campaign chest of $500,000, while Martin said he has $2,000 in his account. Martin has a 22-point plan based on New Gingrich's "Contract With America" from the mid-1990s.
His plan would seal the border, guarantee election integrity, get rid of the Department of Education and get back to what the 10th Amendment says about rights and laws.
"Stand with me," he said.
Sid Preskitt
(https://preskittforcongress.com/)
Republican Sid Preskitt said "our country is on the precipice of disaster."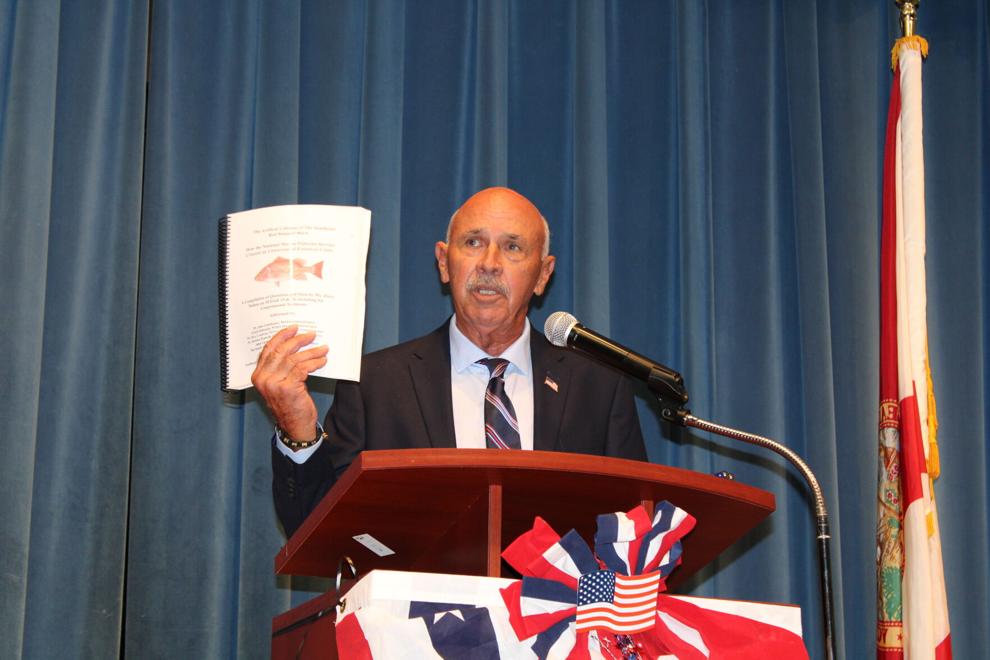 He said he's not a politician but an "America First" candidate and that more candidates are needed who are going to go to Washington and fight for America.
He moved to Pasco County eight years ago and has been in the commercial diving business. 
In his business, his company has trained divers, many of them veterans, who are in demand all over the world for their skills.
"My entire mindset is 'Get things done,'" he said. "That's how I look at things and that's how I look at this."
This is a job that he's applying for and has several things he wants to do.
Overregulation of the fishing industry by the National Marine Fisheries Service has made it hard for business people to make a living because of what he said was fraudulent data in a report he displayed.
For Americans, it means not being able to buy domestically sourced seafood at the grocery store, he said. Likewise, Americans are being barred from the "ample energy" in the ground that could power the country for 500 more years.
"I'm all for a transition to cleaner energy, but you can't do it overnight," he said. "They will wreck this country, and that's what they are in the process of doing."
He said he'd bring more money into Hernando County by auditing foreign aid and bringing it back so taxes won't have to go up locally.
"I know what I'm going to do when I get elected," he said. "And I have a clear vision of that and I want to exceed your expectations."
Brian Perras
(https://perras4congress.com/)
Brian Perras, another Republican District 12 candidate, said he was running for Congress to "fight for we the people. We the people have been sold out by both parties for far too long."
In addition to term limits, he said he supported constitutional carry of weapons and wants the federal Department of Education and the IRS eliminated, plus the government audited.
In January, he said, he was on the southern border and that millions of illegal immigrants are coming into the country. "This is about the new world order. They want us to own nothing and be happy," he said. "So what they're trying to do is have a 'real rich' and 'real poor.'"
It's time to stop being divided and start having discussions. "What party gives a crap about any of us?" he asked.
He's a "constitutional conservative," Perras said, and a Navy veteran who swore an oath to defend the Constitution against all enemies, foreign and domestic. 
"Our government has committed treason and tyranny against we the people," he said.
He said senior citizens should be exempt from property taxes starting at age 65. 
We've had taxation without representation, Perras said, and added that he was in Tallahassee fighting for the "heartbeat bill."
Children are being "brainwashed" in the schools and there's even "organ harvesting" going on, he concluded.
Kimberly Walker
(https://kimberlyforcongress.com/)
Kimberly Walker was one of the few non-Republicans who stood up to speak.
She's unopposed in the Democratic District 12 primary, so in November she'll face the write-in candidate and whoever wins the Republican primary.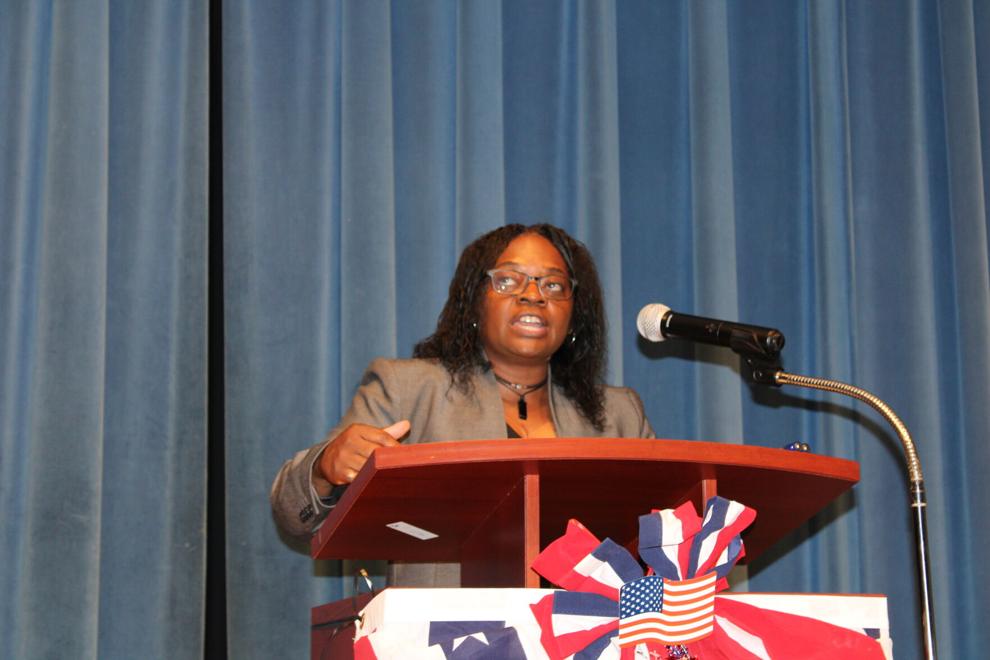 She currently works for the federal government as a contractor, she said, but in the past has served in the military and as a correctional officer.
She was born in Orlando, she said, and has lived in Pasco County for 15 years.
"I am running for Congress because I understand the financial strains we are experiencing due to the rising cost of prescription drugs and the increase in basic necessities such as gas and groceries," Walker said. "Now, I am not here to place blame; rather, I am here to help develop potential solutions."
There is no single solution to high drug costs, she said, but she would like to see options like being able to negotiate drug prices or reform laws so pharmaceutical companies can't extend their patents beyond 20 years.
"I'm sure we all can agree that we should not have to take out a loan just to put gas in our tanks," she said. "The U.S. needs to be energy independent, and we also need to be independent of having to heavily rely on oil and gas companies, who are currently taking in record profits."
More must be done to provide quality mental health care to veterans to deal with their suicide rate, and attract the best psychologists to help veterans, she said.
Attendees plan more research
Rich and Colleen Hotchkiss of Brooksville said they were pretty out of touch with who's running and what they're looking for, but there wasn't a lot of communication going on in the speeches.
Rich Hotchkiss said he has to do more research before making decisions because the speakers didn't have a lot of time to give their views.