PALM HARBOR — The Law Enforcement K9 Memorial Service at Curlew Hills Memory Gardens is one of the Palm Harbor facility's most beloved annual ceremonies, as the service dogs that died over the past year are honored and remembered in front of dozens of fellow officers, family, friends and canine lovers.
Last year, the 12th edition of the event was one of the last events to take place before the coronavirus pandemic brought the country to a sudden halt, and according to Curlew Hills president and chief executive Keenan Knopke, organizers were thankful to learn they would be able to keep the tradition going this year.
"As we watched the numbers late last year, we firmed up the date and we were good to go," Knopke said following the 13th annual service on March 9. "In a year of chaos, this was one of the few things that was normal, and it was great to see people out here today because this is one of the most normal things we've done in the last year."
Indeed, judging by the turnout, which was bolstered by idyllic, early spring weather, attendees were excited the event remained on the calendar.
"This is amazing, like everything they do here," Largo's Marcia Perron said as she watched the ceremony with her 13-year-old rescue poodle, Sophie. "I just moved here from Kissimmee and I know Curlew Hills always does a wonderful job for these dogs."
According to Curlew Hills officials, their pet cemetery is one of the few authentic such resting sites in the state. The company donates all the burial plots to service animals from the Clearwater Police Department and the Pinellas County Sheriff's Department, and there are more than 75 dogs currently buried in the Memory Gardens, including three PCSO pooches that were memorialized this year.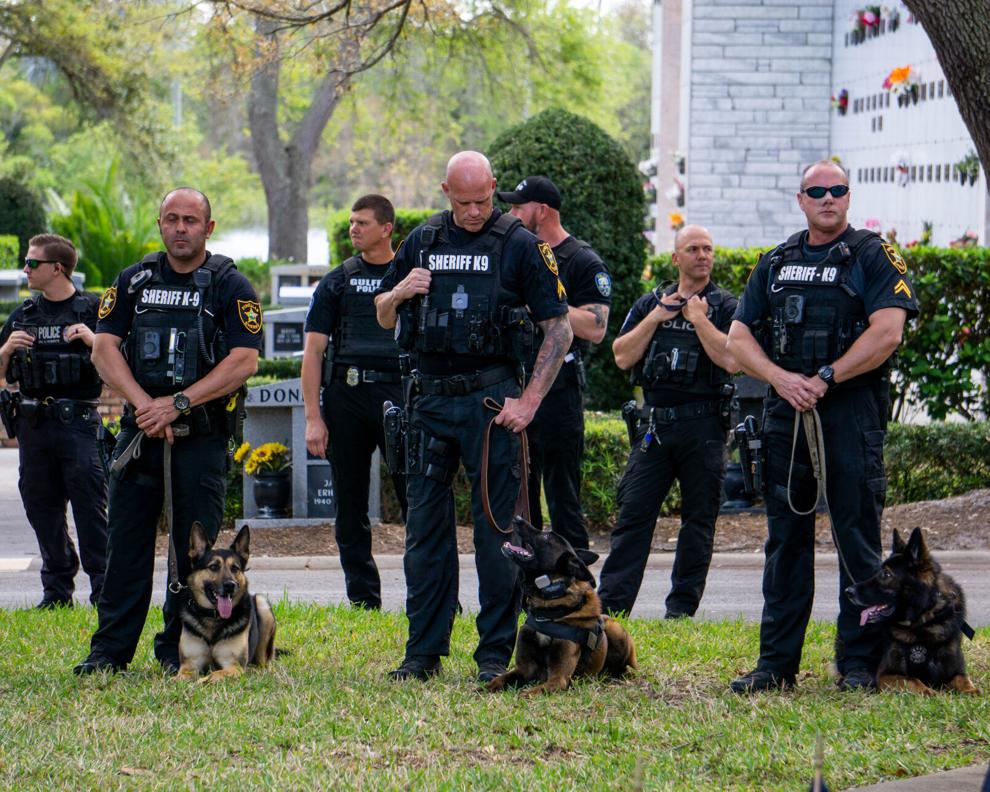 Following opening remarks from Knopke and North Bay Community Church pastor Danny McDonald, several K9 officers spoke about the special, often lifelong bond they form with their partners.
"It's amazing to see these adult dogs who know they have one job—chasing bad guys and getting them off the street — and then time flies by and they retire, and they turn into your pet," PCSO Cpl. Michael Kilian explained. "And they're not very happy about it. But then they realize they have it better at the house than they do at work and they enjoy it!"
Retired PCSO Detective Pat Shea, whose canine partner, Watson, was memorialized this year, said the service and facility offer a stark reminder of the way things used to be.
"This is excellent," he remarked after his speech. "When I was in the military, the dogs' retirement was euthanasia. I know in Vietnam, none of the dogs came back except one. Dogs went from being a piece of equipment to being an equal partner. So to see this is amazing. It's come a long way."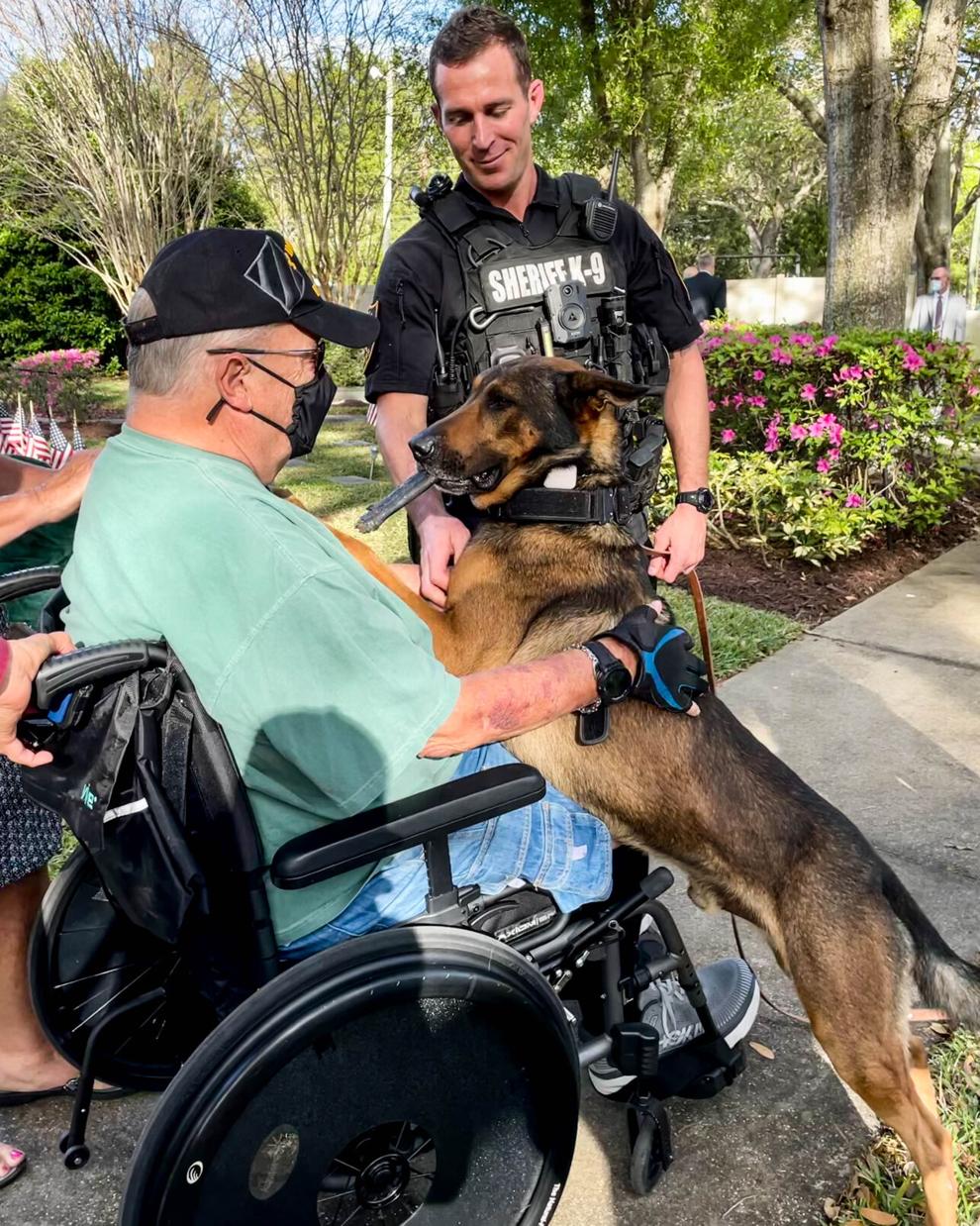 After the speeches, attendees were encouraged to (carefully) approach and interact with K9 units from several area departments, including Gulfport, Largo and Pinellas Park, and that's when Palm Harbor resident Jim Ennis learned just how loving these well-trained canines could be.
"I asked his handler if I could pet him and he just bounded up on my lap," Ennis said after the big and bushy PCSO K9 Devon allowed Ennis to pat him as his friends and family watched in amazement.
"I never saw anything like that before," Ennis' neighbor, Yvonne Gopsill, said. "For that dog to jump up and embrace Jim like that was truly special. It was amazing."
According to Devon's partner, PCSO Deputy Wyeth Whitehurst, the off-duty behavior is part of his nature.
"He's known as the hugger in the unit," Whitehurst said.