With the coronavirus pandemic wreaking havoc around the world, Pinellas County businesses are doing what they can to help their communities. Here's a look at a few.
Tarpon Springs Distillery, 605 N. Pinellas Ave., Tarpon Springs
With hand sanitizer next to impossible to find in stores, Barry and Lisa Butler, owners of Tarpon Springs Distillery, which opened at the end of last year, realized they were in a unique position to help the community.
They had about 31 gallons of 75 percent alcohol on hand for their next batch of ouzo, an anise-flavored aperitif popular in Greece and Cyprus. Instead, they used the alcohol to make hand sanitizer, inviting the public to donate any aloe gel they had at home, which could be used as a base, via social media.
Hand sanitizers need to be at least 60 percent alcohol in order to be effective, Barry said. "Our alcohol is certainly high enough. It fits the bill."
Dozens of customers brought in enough aloe to make about 25 gallons of hand sanitizer March 16, the first day they began producing it, he said. They distributed 4 ounces of sanitizer to anybody who asked for it.
They were surprised to learn that many area health care providers and nursing homes were out of disinfectant alcohol as well as hand sanitizer. Tarpon Springs Distillery donated gallons of alcohol as well as hand sanitizer to these facilities. Since then, they've also donated these items to Tarpon Springs Fire Rescue and the Tarpon Springs Police Department.
"I didn't realize until I started calling the nursing homes how great the need is," Barry said. "They're locked down from ordering more than their normal amount. The amount of disinfectant they've got is not nearly enough to do the job. I was shocked. I guess we'll be making hand sanitizer and disinfectant alcohol for a while instead of making ouzo and moonshine and gin."
They're now distilling basic alcohol solely for this purpose, he added. They'll be open daily, 11 a.m. to 5 p.m., giving away hand sanitizer to anyone in need, and they're still seeking aloe gel donations, as well as containers.
"The more aloe we can get, the more sanitizer we can make," Barry said.
Lisa added, "It's so gratifying. We love the idea of helping the community and being able to actually provide what the nursing homes and home health agencies need to disinfect facilities and keep their people safe. It's a lot better than hoarding and shortages and empty shelves. We wanted to do something positive."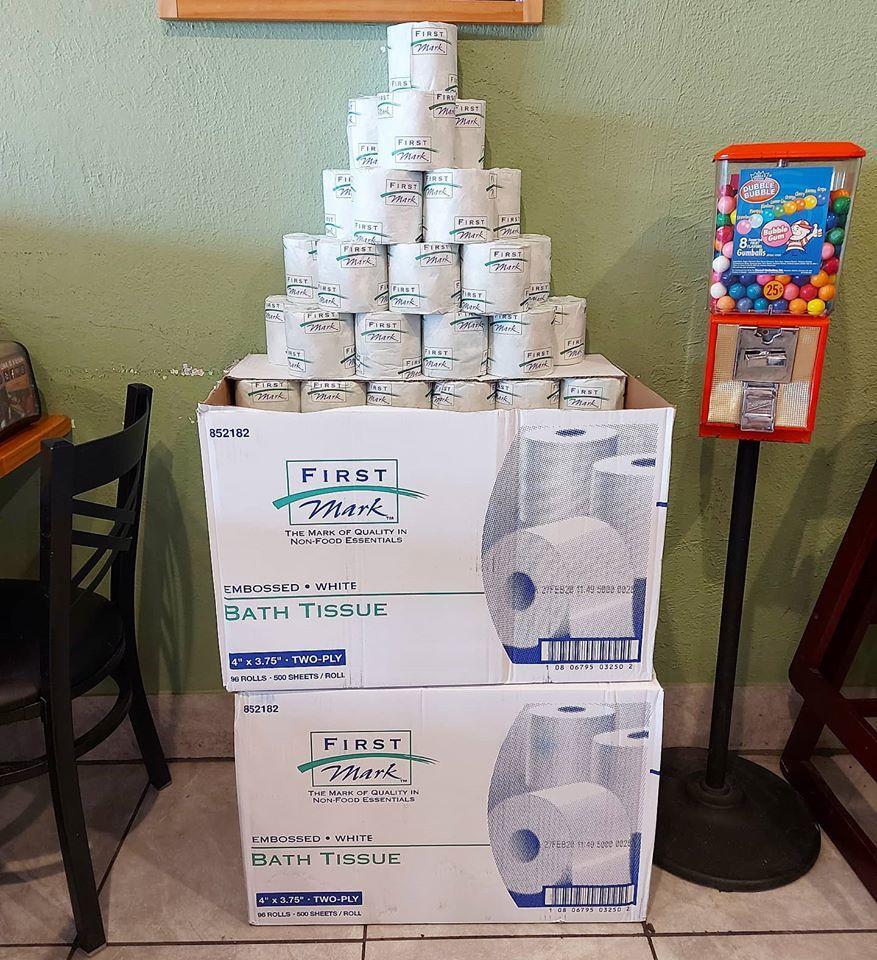 Madison Avenue Pizza, 2660 Bayshore Blvd., Dunedin
After hearing about toilet paper shortages and how some people are even calling 9-1-1 when they ran out, Madison Avenue Pizza owner Sean Ferraro decided to give it away for free.
"People don't need to buy anything. They can just come in and take what they need," he said. "Trying to get toilet paper during the past week or two has been crazy. If you go to any of the stores, they don't have any paper products, no paper towels, toilet paper, nothing. It's just nuts."
He worried especially about Dunedin's elderly population.
"This is a basic need and these seniors shouldn't be out driving to 12 different stores just go get a pack (of toilet paper)," Ferraro said.
As a restaurant owner, he has access to distributors still offering toilet paper.
"I can just order giant cases of toilet paper and have them delivered right to my store," he said. "Why wouldn't I buy something like that and keep it in my store? It's easy for me to get and maybe hard for other people, and not a huge cost or inconvenience."
While some people think the stack of toilet paper in his dining area is a joke, he promises it isn't one.
"Some people laugh or take pictures, but it's actually pretty serious," Ferraro said. "I intend to try and help as much as I can and do anything I can to contribute."
He added, "I hope that everybody can pitch in what little they can to help us all get through this. That's the only way we're going to make it throughout this without losing our community."
Maple Street Biscuit Company, 7756 113th St., Seminole
With children unexpectedly out of school because of the pandemic, the Maple Street Biscuit Company locations in Seminole and St. Petersburg are offering families worried about feeding their kids either a free cinnamon biscuit or free biscuit with jam every day.
"As long as the children are in need, we will provide," said Jalen Dowd, the assistant community leader for the Seminole location. "We collectively have decided to do this because it is what we are about. We are here to help people, serve others and be a part of the community. Without all of you, there would be no us and we want to show grace to our community in any way that we can."
He added, "Something I try to live by is life can be unfair, but that doesn't mean we have to help it along."
Pia's Trattoria, 3054 Beach Blvd. S., Gulfport
Since seniors are the most susceptible to COVID-19, Pia's Trattoria will offer a free pasta dish to Gulfport residents 65 and older daily between 11 a.m. and 4 p.m.
"We have an older population in Gulfport," said Tom Goff, who owns the restaurant with his wife, Pia. "We make it easy for them. They just put in their order. We'll prepare it and bring it out to them. They don't even need to leave their car."
They gave away 126 free meals March 18, the day they began handing out meals.
"It just shows you the need that's out there," Goff said.
The gesture was inspired by his own mother, who is 84 years old, and a recent trip he took with her to the grocery store.
"She wanted to go herself," he said. "She refused to let me pick up stuff for her. I was nervous the whole time I was there with her. It made me realize there might be people who are uncomfortable going into stores and restaurants right now, that there are people who don't want to be shopping or shouldn't be shopping because it's dangerous for them."
Those interested in ordering a pasta meal should call 727-327-2190.
Three Brothers Pizza, 17773 Gunn Hwy, Odessa and 3436 Tampa Road, Palm Harbor
Since kids are out of school for an unknown length of time, both Three Brothers Pizza locations in Odessa and Palm Harbor are offering two free slices of cheese pizza per child every day until 3 p.m.
They were just looking for a way to give back to the community that has supported them so much, particularly with the recent opening of their newest restaurant in Palm Harbor, said co-owner Sean Marsiglia. "We wanted to take care of the community that has taken care of us."
He's been amazed by the response, he said. On the first day they began offering free pizza to hungry families, March 16, they gave away 176 slices between both locations. That's a number he expects to keep growing every day, he added.
"It's crazy how tragedy brings us together," Marsiglia said. "At the end of the day, it's a time to show our true humanity."