SPRING HILL — When one thinks of great wine, images of Bordeaux, in France, the Chianti region of Tuscany or California's Napa Valley come to mind.
But what about Spring Hill?
Once Upon a Vine, a new wine-making shop on Spring Hill Drive, may top them all considering it's where anyone can recreate wines from all of the great regions in the world.
The small shop, which offers wine-making classes, has been helping people make their own since opening in August. It's heading into 2019 on something of a high, proving wrong the skeptics who wondered about the viability of DIY vino in Hernando County.
"It's been going great," said Lori Stover, a retired teacher who opened the shop with partner Pat Bassett, a retired Hernando County sheriff's deputy. So far, customers have produced some 1,500 bottles, and the shop is expecting to top that production pace this year. It may even add home beer brewing before the year is out.
Stover said customers pay a $59.95 fee for the wine making class and purchase the kit of their choice. Each kit produces 28 to 32 bottles. Depending on the quality of the wine chosen, the per bottle cost ranges from $6 to $11.
It takes four weeks before the wine is ready, but customers spend less than four hours working on their wine at the shop.
So just how does a 4-week-old wine taste?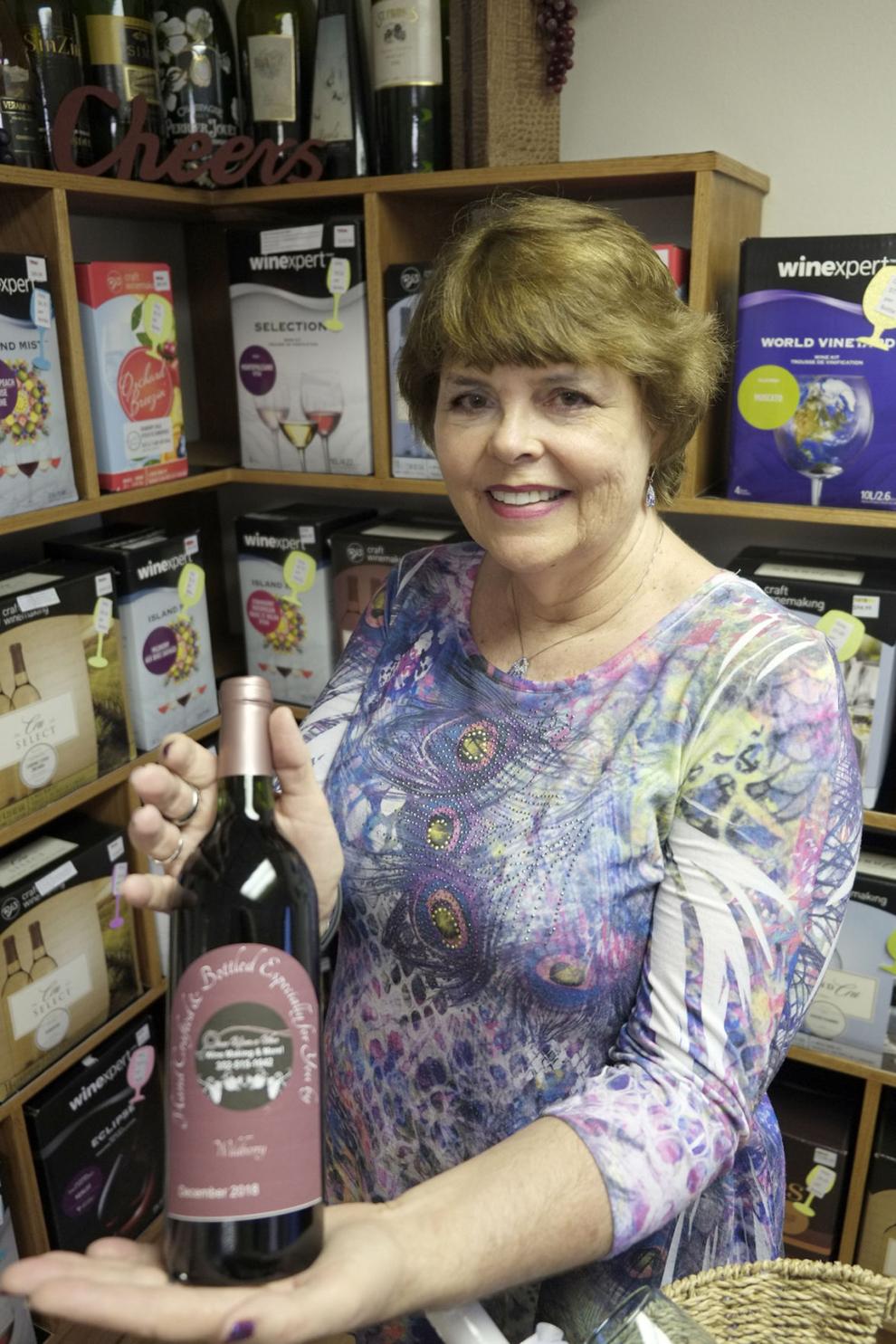 "Very good," said Stover, who prefers the sweeter wines. "There's no bitter bite to our wines."
The flavor is so good, many wonder if there is alcohol in the final product, Stover said.
"Even I wondered, until after I drank some, and then it became clear there was," she said.
The reason for the milder flavor is the limited use of sulfites, which are added to commercial wines to ensure long shelf life. The downside is the wines produced at the little shop have a shelf life of just three years.
"It doesn't really matter," Stover jokingly declared. "It never lasts that long anyway."
Even a wine master on a cruise she took was impressed with her product and was surprised by the quality considering the $6 price and its young age, she said.
"He said it was excellent and said if it aged a year it would be even better," Stover recalled.
Stover likes to age the bottles for at least a couple of months but said it can be enjoyed immediately after fermentation is complete.
When the partners opened the shop, at 13177 Spring Hill Drive, east of Linden Drive, they expected most of their primary customers would be seniors with time on their hands and a yen to dabble in the wine-making hobby. No so.
"It turned out the majority were in their 30s and 40s," said Stover. "Some are having date nights here; others are experimenters."
One customer was a real estate agent who wanted to make bottles to give to clients at home closings. About two thirds of class members are new to the process, while the remainder have some experience. Some opt out of the class and just buy the supplies to make wine at home. The shop is licensed as a restaurant, but doesn't have a beer and wine license, so no finished wine is for sale.
Once Upon a Vine stocks a few dozen types of wine kits but can order from a list of about 1,000 varieties. The top-shelf kits in her shop produce bottles that end up at $11.50 each, which compares in quality to commercially available wines that would sell for $30 to $60 a bottle, Stover said.
"When you consider that, it's a very good value," she said.
The quality of the wine mostly depends on the quality of the grapes, which are shipped as juice. Stover said availability of grape juice from the great growing regions of the world means versions of virtually any great wine are possible.
The character may not be the same as a 40-year-old vintage, but Stover says wine drinkers owe it to themselves to discover wines with less sulfites and tannins.
Once the yeasts have done its job and the wine has fermented for four weeks, students come in for bottling day. They even create or choose their own personalized labels amid what amounts to a party atmosphere that sometimes includes a small spread of cheese and fruit to pair with the wines.
The good cheer follows.