TARPON SPRINGS – For a memorial fundraising event to continue for more than two decades it has to have a few key components, namely being well-run and in honor of a great cause.
Now in its 24th year, the Peter T. Assimack Memorial Fishing Tournament certainly checks both boxes.
More than 250 anglers of all ages and skill sets left the Tarpon Spring Yacht Club before dawn on Saturday, April 27 for the 2019 edition of the tournament, an event that began in 1990 and was renamed in Assimack's honor after the beloved community leader died in 1996 following a bout with cancer at the age of 34.
"This started as a grouper tournament run by the Chamber of Commerce in 1990 and after Peter passed away, we decided to make it a memorial catch-and-release tournament," Dan Carbaugh, Assimack's longtime friend said, noting, "over the years we have given more than $300,000 in scholarships to 88 Tarpon Springs High School seniors. It has affected a lot of kids' lives, which is exactly what Peter did."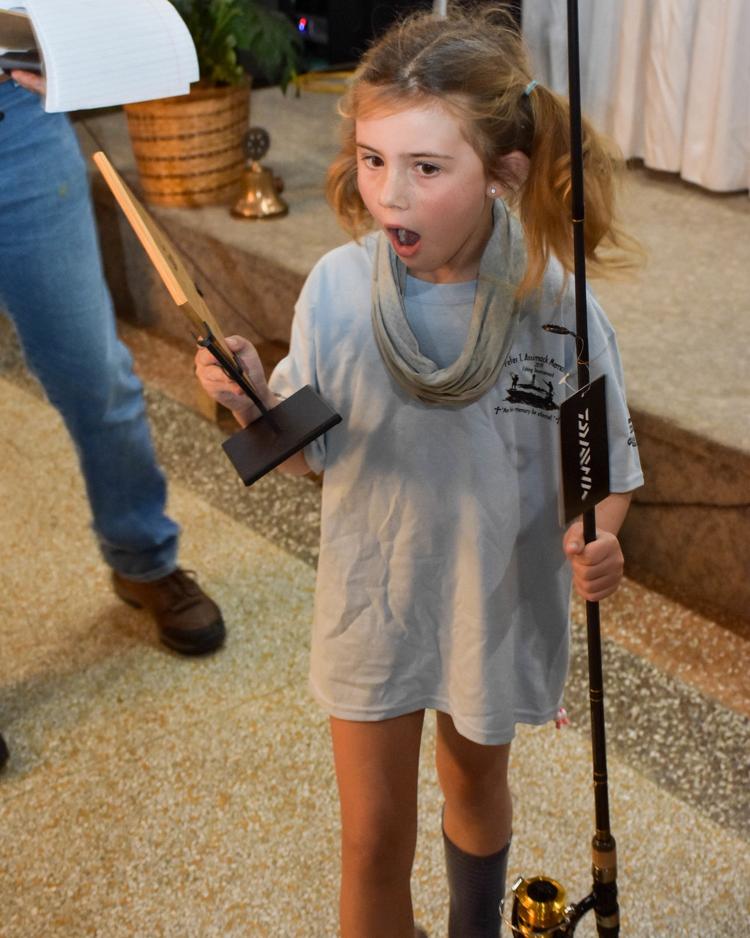 When asked to describe Assimack, who in addition to being a CPA also served as president of the Chamber of Commerce and the Florida Conservation Association anglers group and was a member of the Rotary Club of Tarpon Springs, Carbaugh said, "There's two things you should know about Peter: He worked to fish and he loved kids. He started many local tournaments, including the Cops and Kids event, and was always supplying rods to kids and teaching them how to fish. He was just a great, great guy."
Evidence of Assimack's influence on the community was everywhere Saturday.
As the anglers came off the water in the late afternoon, City Commission Connor Donovan helped Peter's brother, Basil, authenticate the photos of their catches while City Attorney Tom Trask and a team of Rotary Club volunteers sold tee shirts and helped with the dozens of donated items that were raffled off.
By early evening the crowd included kids as well as men and women who were kids themselves when Assimack died, a fact that wasn't lost on Peter's brother.
"A lot of people here didn't even know him," Basil Assimack said as he surveyed the room. "I'm glad this is still going on. It started with his family, and I'm glad to see the community come together for this."
Indeed, many of Assimack's friends in the community were determined to keep the tournament going after Peter passed away.
Gary Gainey, who helped organize the tournament when the chamber stopped running it in 2005, said he "didn't want it to die, so we decided to take the name and form our own group because we wanted to keep it going in his name."
Last year, the task of organizing the event was taken over by the Rotary Club, as Carbaugh and other Rotarians refused to let the event slip away.
"We were not letting this end," he said, noting they had two months to put the event together in 2018 and utilized roughly 50 volunteers, or roughly "half the club."
One person who is thrilled the event is still running is Nina Assimack, Peter and Basil's mom who is also the undisputed leader when it comes to selling raffle tickets.
"I work my butt off to sell these tickets because it's a good cause," Nina said, sheepishly admitting her selling technique often involves asking friends to give her money then handing them a roll of tickets.
When asked if she was surprised the tournament was still around, Nina Assimack said, "I'm in awe, to be honest with you. It's not easy to put this together. But if you knew Peter, you'd know why it's still going. That kid helped everybody, in churches, in schools, and he loved to fish, morning, noon and night. He had a hobby that was a job and I hope this tournament keeps going on forever because it helps so many kids and it keeps his name alive."
Indeed, as Carbaugh handed out awards to the winning anglers, along with free rods and reels to every kid in the house, longtime Rotarian Jean Coleman said "the cool thing about this event is the kids you see here will be fishing in this tournament years from now, just like their dads who are here today did 25 years ago. It really is a community event that's truly helping kids. It's very special."