In a year filled with uncertainty, the historic nature of 2020 is indisputable.
COVID-19 and the global pandemic continues affecting all aspects of life as local, state and national governments struggle to balance issuances of shutdown and quarantine orders while avoiding major economic distress.
While coronavirus is easily 2020's dominant headline, life finds a way to go on and there were plenty of other noteworthy news stories, announcements and openings in West Pasco.
Pasco responds to COVID-19
When Gov. Ron DeSantis issued a state of emergency March 9, counties and cities throughout the state began following suit. Pasco County Commissioners issued their own March 12, and those actions were just the beginning of executive orders and mandates everyone is plenty familiar with by now. The county's mask mandate requiring face coverings when in public areas came down June 23 and remains in place.
Commissioners have received monthly COVID updates from the Florida Department of Health in Pasco County and continue stressing the importance of social distancing and following the guidance of the Centers for Disease Control and Prevention. Pasco has also followed the lead of the state in many instances, such as reopening businesses like restaurants, bars, gyms, hair salons and others that were temporarily shuttered. Florida's three-phased reopening plan rolled out from May 4 to Sept. 25.
Economic relief for businesses, residents
Pandemic-related shutdowns since March caused widespread business closures and job losses throughout Pasco County. The national Coronavirus Aid, Relief, and Economic Security Act, better known as the CARES Act, provided $2.2 trillion in economic stimulus funds to all 50 states.
Pasco County received a total of $96 million in CARES funding and distributed it throughout the community in a variety of fashions. According to the county, the largest chunk of that funding, about $46 million, went toward public safety.
Another estimated $23.5 million went to other government operations, such as the offices of the Supervisor of Elections, Tax Collector, Clerk and Comptroller and Property Appraiser, the Pasco County School Board and various county departments.
About $12 million went to small-business owners in the form of grants and approximately $8 million went toward helping residents make their rent, mortgage and utility payments. County nonprofits and community groups received about $6.5 million.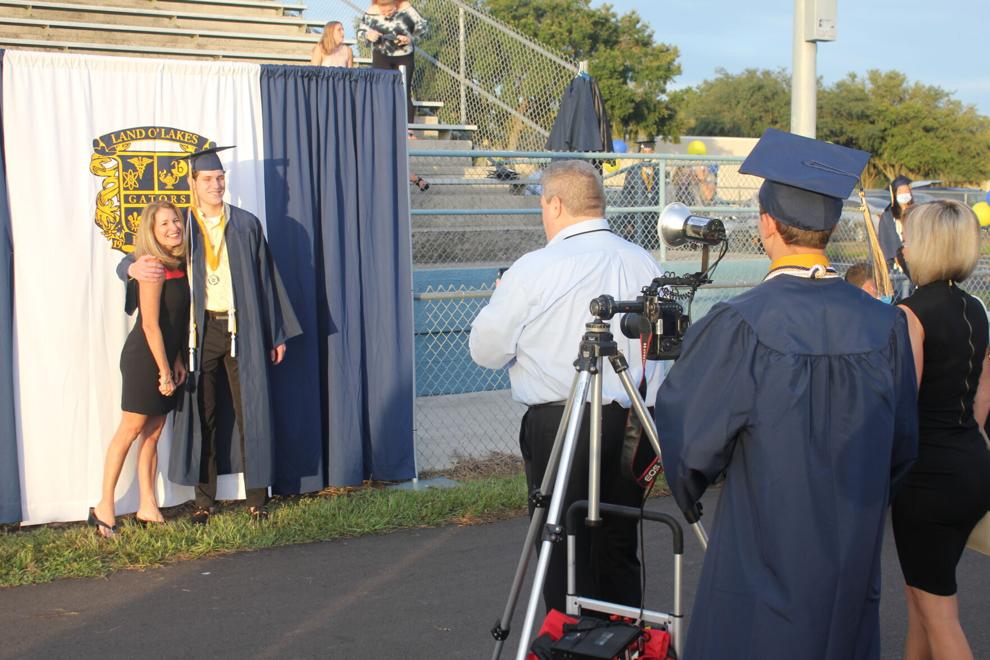 Graduation ceremonies and reopening
It wasn't easy, but Pasco County Schools made it to winter break after the full completion of the 2020-2021 school year's first semester.
Prior to welcoming students back to class Aug. 24, the school district had to grapple with wrapping up the 2019-2020 school year on the fly through remote learning. After that, district and school officials faced the challenge of giving all Class of 2020 seniors proper sendoffs. Graduation ceremonies for nearly all Pasco high schools changed locations and dates at least once, but socially distanced events were hosted by many throughout the county.
Pasco County Schools Superintendent Kurt Browning states often that flexibility is key when dealing with the functioning during the pandemic. Exemplifying that notion is the district's alterations of requirements affecting extracurricular activities. In terms of sporting events, Pasco went from allowing limited capacity to games while following social distancing and mask-wearing guidelines, to banning all spectators, to again allowing a more limited number of people into events.
New Port Richey's continued growth
The long-term vision of downtown New Port Richey's transformation came into further focus throughout 2020. The two big-ticket projects completed recently were residential — Main Street Landing and The Central on Orange Lake. Main Street Landing, a project that began more than 15 years ago, opened in December 2019, and the mixed-use property began filling out this year despite the effects of COVID-19. Businesses located on the first floor generating plenty of buzz include Vampire Penguin, Dented Keg Ale Works and The Butcher's Block. The Central on Orange Lake celebrated its grand opening in early 2020, welcoming new residents to its first phase. Work continues on the second and final phase of the project adjacent to Sims Park.
More New Port Richey future growth
The southeast corner of Main Street and U.S. Highway 19 is in a state of abandoned disrepair no longer. The City Council and Community Redevelopment Agency announced future plans for the site in late January and demolition crews were razing buildings shortly thereafter.
"In the kindest of descriptions, I think it's appropriate to suggest that the buildings are an eyesore to the city," City Manager Debbie Manns said during a meeting in January. "They reflect poorly on the image of the city and they do nothing to advance positive economic development in the area."
The city's answer was to bring an institute of higher education to downtown New Port Richey's western gateway. A 41,156-square-foot Keiser University campus will be built on the 4.61-acre property. The project will include a parking garage and future hotel. Phase I is building the university and that construction is scheduled to conclude in April 2021.
Holiday Mall revitalization
Sprucing up the U.S. 19 corridor has been a challenge for city and county leaders for decades. The New Port Richey City Council made efforts the past two years by addressing rundown motels and cluttered auto dealerships.
A commercial zone south of New Port Richey will soon be getting a facelift, as well. The Holiday Mall, located on the southeast corner of U.S. 19 and Moog Road, was purchased in August by a Wesley Chapel company with big plans. Mishorim Gold Properties bought the property for $8.56 million and described it as a future "boost of life" to the area in a press release.
Part of the $4.6 million to $6 million MGold Properties plans to invest in renovations include bringing a Side Splitters Comedy Club, multiple restaurants, an axe-throwing range and more.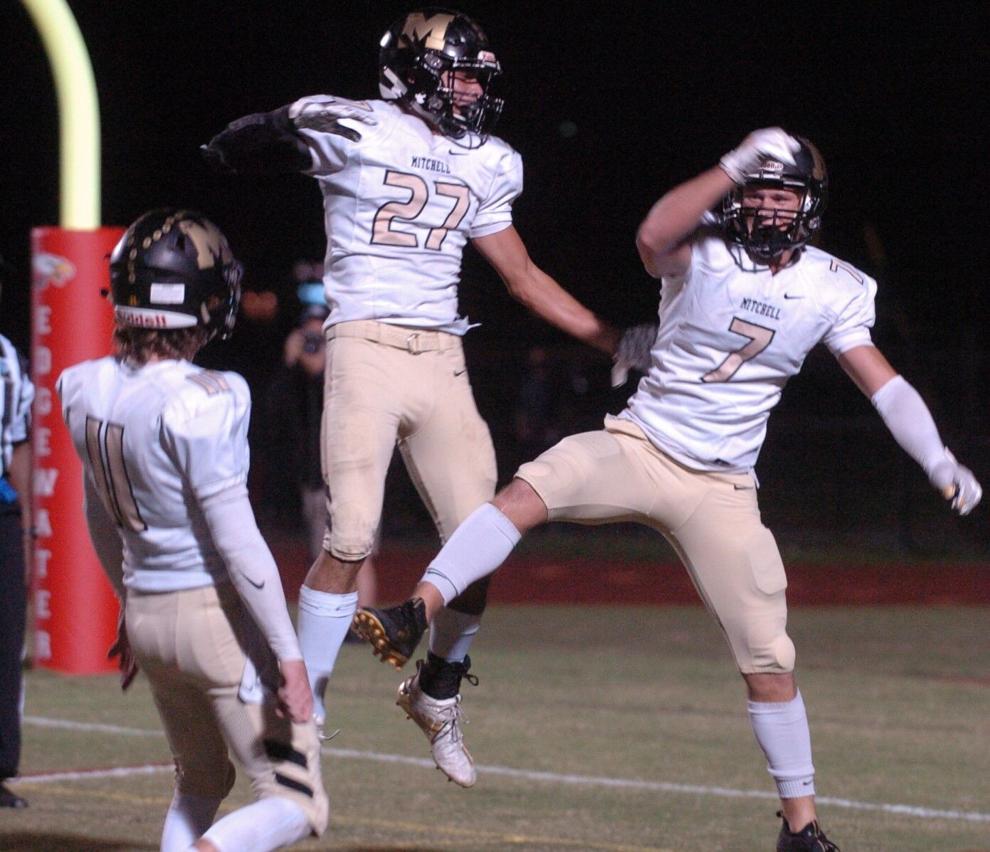 Mitchell High football makes a run
Mitchell High football did something only two other West Pasco teams have ever accomplished and nearly became the first area squad to reach a state final four. This year's Mustangs joined the 2005 Hudson Cobras and 2016 River Ridge Royal Knights as West Pasco's trio of region finalist contenders. Mitchell took Orlando Edgewater, the eventual Class 7A state runner-up, to the wire before surrendering a touchdown in the game's final minute and falling 28-21. Pasco High is the only county team to have reached the state semis, doing so four times and winning it all in 1992.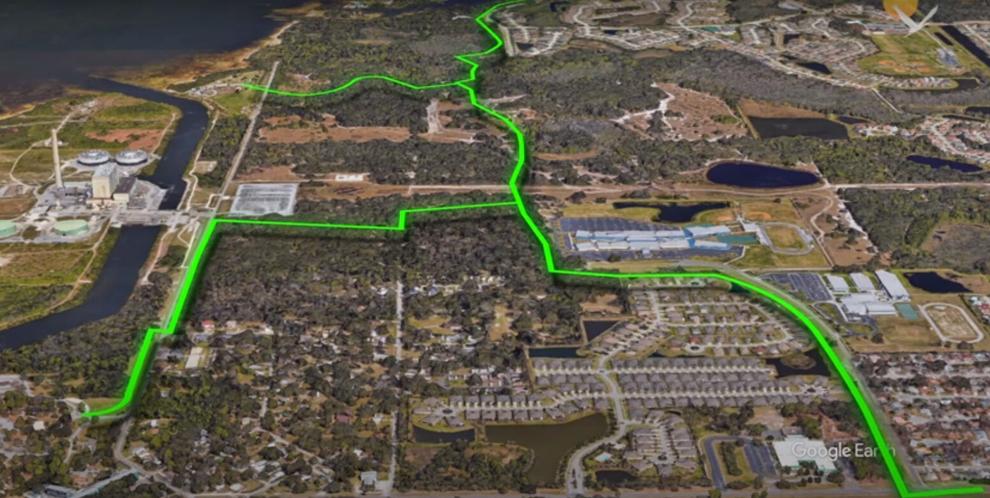 County's trail system expands
Pasco officials celebrated the continued expansion of its trail system twice in November. The Coastal Anclote Trail opened for users and added 4 1/2 miles of paved pathways in the southwest reaches of the county. The Coastal Anclote Trail will soon connect with the Fred Marquis Pinellas Trail when Tarpon Springs completes another segment, the Elfers Spur Trail. Just weeks later, county officials and others participated in a ribbon-cutting ceremony for the Starkey Gap Trail in Trinity. The trail connected the Starkey Boulevard Trail, which is a portion of the Suncoast Trail, to the Pinellas Trail, and offers a contiguous pathway from St. Petersburg to Brooksville.
New faces on municipal, county boards
The city of Port Richey and New Port Richey, as well as the Pasco County Board of County Commissioners welcomed new faces to local government bodies in 2020.
New County Commissioner Christina Fitzpatrick won her seat in the August primary election and replaced Mike Wells, who is now the Pasco County Property Appraiser. County commissioners Kathryn Starkey and Jack Mariano held their seats by convincing margins in the November general election.
New Port Richey Commissioner Jeff Starkey vacated his seat after moving his family outside of city limits. The council selected Mike Peters to fill Starkey's seat on an interim basis until municipal elections set for April 13.
Port Richey hired John Dudte to be its new city manager in late November. Coming to West Pasco from Chapman, Kansas, Dudte will replace interim City Manager Len Sossamon, who filled in when former City Manager Vincent Lupo retired in May.
Progress at Port Richey waterfront
Port Richey continued its work toward revamping its Waterfront Overlay District, which sits on the coast, west of U.S. Highway 19. The area is home to a number of restaurants, bars and other businesses, as well as the Nick's Park Boat Ramp. Future improvements being studied and planned will, among other things, affect the flow of roadway traffic and bring a multiuse path for safer pedestrian mobility. Increasing the area's visibility to U.S. 19 motorists as a destination point for dining and recreation remains a goal of the city's ongoing work, as well.