SPRING HILL — Mike Armani and Justin Marquis are friends who met while bowling at an event put on by the mental health support group NAMI Hernando. The two found things in common, including their mutual need for support while navigating mental illness. Armani was diagnosed with schizophrenia. Marquis has autism.
The two now work together at Vincent Academy Nature Coast.
Armani was the first member to join the newly established clubhouse platform, modeled after Vincent House, in Pinellas Park. Marquis joined days later. Both have been instrumental in getting the facility up and running as a viable support system for themselves and others living with a mental illness.
Founders Elliott and Dianne Steele were the masterminds behind the original Vincent House, which opened in 2003 in Pinellas Park. Like many doers, the Steeles credits a personal need as the foundation for the Vincent House model. Their daughter was diagnosed with schizophrenia at age 19.
And like many parents who find themselves on the path of their child's mental illness, the Steele's were disappointed to discover a severe lack of resources, particularly when trying to transition her into independent living.
Finding meaningful employment for those with mental illnesses can be difficult. And Vincent Academy, which opened at 7473 Forest Oaks Blvd. in June, recognizes the obstacles, works to remove them, and helps members live productive lives.
The facility was modeled after Vincent House in Pinellas Park and adapted a philosophy that "given the right support, recovery from a mental illness is not only possible, it is probable. (Vincent Academy) is a place of dignity and respect where participants are referred to as Members rather than 'patients' or 'clients.' Members are vital to the daily operation of Vincent Academy. They contribute by using their talents and abilities and are valued for a job well done."
The facility consists of multi-level supports in a clubhouse-type environment. Members eat breakfast together, gather for brainstorming meetings, share lunch and work in different areas. Some work the kitchen, preparing meals, serving and completing cleanup.
Others, like Marquis, cover the reception. He answers the phone and takes messages.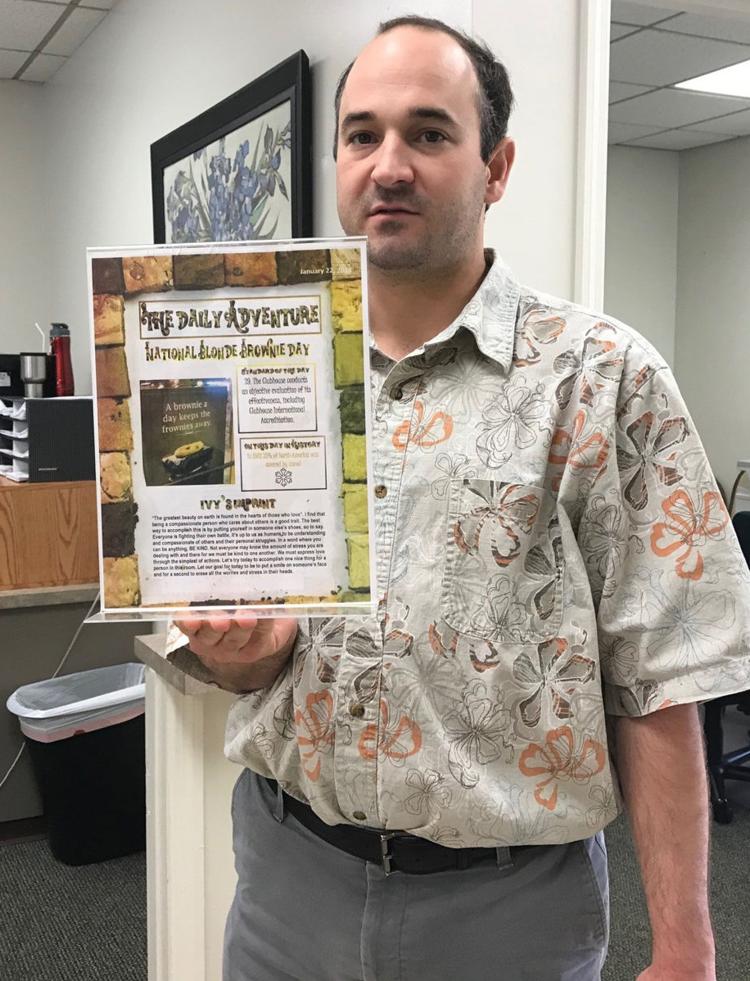 There is a functioning bank, media room and snack bar where Armani runs the cash register.
The purpose is simple. Vincent Academy provides a clubhouse environment, which is simply a community of people who are working together toward a common goal. It is "intentionally organized to support individuals living with the effects of mental illness."
Both Armani and Marquis have lived with isolation because of their mental illness. And that experience is all too often a reality because of the stigma some people still attach to mental disorders. Mental illness has a "devastating effect of separating people from others in society."
Vincent Academy strives to remove those obstacles for members who want to be part of a functioning society, enter or return to the workforce, and network with others walking similar paths.
The plan is to expand to donated land just south of the temporary location, into a 9,000-square-foot building that will house the Academy and NAMI Hernando, along with other resources.
The building is expected to break ground sometime this summer and is estimated to take about a year to complete.
Vincent Academy is the brainchild of several community members who recognized the need for such a resource in Hernando County. David Lambert, NAMI Hernando president, and state Sen. Wilton Simpson, R-Trilby, were instrumental in getting the idea to gain ground, Dianne Steele said.
"We could have waited to open after we had the new building," she added. They instead launched the academy in a temporary location off Forest Oaks Boulevard, the former home of the Florida Department of Health in Hernando. They managed to turn it into a workable clubhouse environment.
Vincent Academy Adventure Coast is open from 8 a.m. until 4 p.m., weekdays, including all major holidays. It offers new member tours at 10 a.m. every Monday and Thursday.
For more information, to volunteer, donate or join, call 352-701-0778 or visit website www.vincenthouse.org.