TARPON SPRINGS — During the city's Sister Cities meeting, there was singing, there was dancing, there was food and there were speeches.
And that was before the official program began.
Proving once again that Tarpon Springs knows how to honor its traditions and heritage, the festivities, held at the Heritage Museum on Jan. 30, kicked off the 2020 meeting of the organization dedicated to the exchange of educational, cultural and economic development ideas and programs between the northernmost community in Pinellas County and its Greek sister cities of Kalymnos, Halki, and Symi, Greece, and Larnaca, Cyprus.
"We're blessed that we can share ideas and goals with each other on opposite sides of the continent," the Rev. James Rousakis, vicar of the Tampa Bay area and St. Nicholas Greek Orthodox Cathedral, said prior to his opening prayer.
Tarpon Mayor Chris Alahouzos, the Sister Cities Committee chair, welcomed the large crowd, which included City Manager Mark LeCouris, City Commissioner Connor Donovan and Commissioner-elect Costa Vatikiotis. The night's guest speakers were the St. Petersburg College director of international programs, Frank Jurkovic, and Jason Dunkel, president and CEO of Advent Health North Pinellas.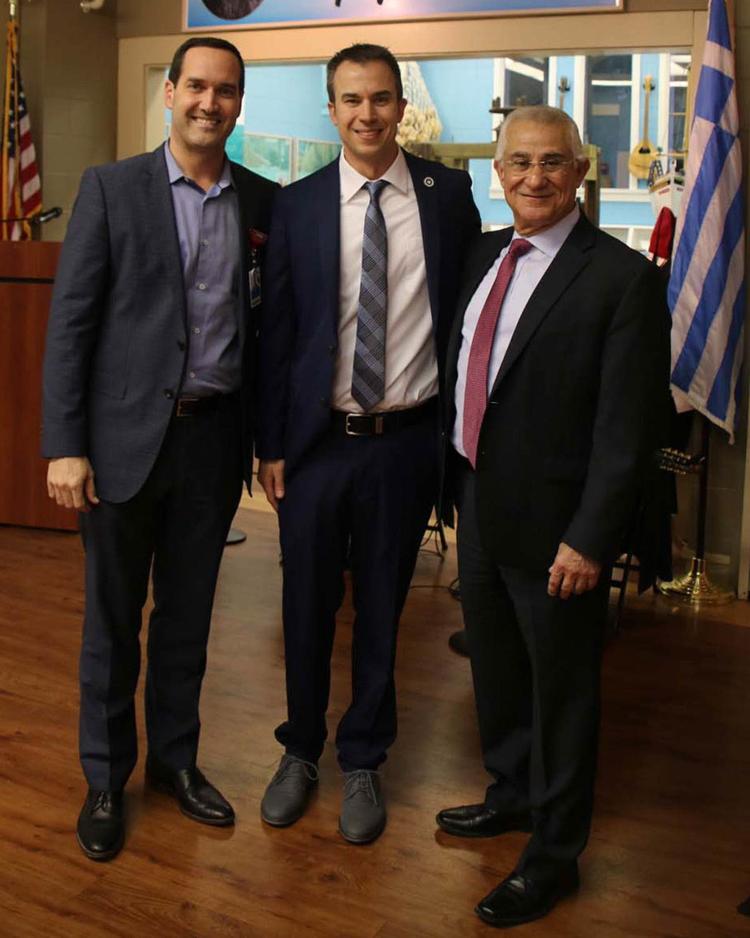 Following a live performance by the Parea Dance Group that had much of the room on its feet, Jurkovic and Dunkel explained their involvement with the sister cities program.
SPC has 180 students on F1 student visas from 55 countries on its campuses, and its study-abroad programs rank us in the top 10 in the nation, Jurkovic said. SPC doesn't have a student from Greece attending on an F1 visa, though it does have Greek students enrolled.
"With that in mind, we've been working with the University of the Aegean, in Rhodes, for opportunities to study abroad," Jurkovic said. As a result, he said, the college is "excited to announce" that on Feb. 19, SPC-Tarpon Campus Provost Rodrigo Davis will hold a signing ceremony with Greek university officials via Skype to officially announce a three-year agreement to "work side by side."
Jurkovic later explained the "Sister Schools" program, would feature a variety of educational opportunities for students here in Pinellas County as well overseas.
"The goal is to get students to expand their minds to global experiences and to allow travel to other cultures and vice versa," Jurkovic said, adding, "The Greek community in Tarpon Springs is very tight, so I'm sure many people would love to be hosts for students."
He also said they are tentatively aiming to make a trip to Greece with students next summer.
As for Dunkel, the hospital CEO spoke about the recent goodwill trip he took to Greece with renowned local artist Christopher Still as part of Still's research for the 9-by-9-foot mural he is working on for the facility's soon-to-be-renovated lobby.
"We traveled to a hospital in Kalymnos, and we have a lot of work to do to elevate the care there," Dunkel said, noting, "they need help with everything — supplies, equipment, medical training." The CEO said they would "also like to bring doctors here for additional training."
Dunkel, who was born in Tampa and took over leadership of the Adventist Health
System hospital on South Pinellas Avenue in June 2018, admitted he "wasn't sure what I was getting into" coming to Tarpon Springs. However, he said "it's been fantastic. I love this community. I think it's the best community in the Tampa Bay area."
A big part of the Adventist faith's mission is to extend the healing ministry of Christ, and one way is to get involved in the community, Dunkel added. "We want to connect to the community and embrace our culture and heritage."