TARPON SPRINGS — When Tarpon Springs High School principal Leza Fatolitis told city officials about special plans to honor the Class of 2020, she noted the community planned to hold a parade through town May 22, the original graduation date.
"That is a way to honor the May 22nd (graduation) date, celebrate our students yet again, and then hopefully by May 22 we'll be able to share with them a deferred graduation ceremony date," Fatolitis told the City Commission on April 12, noting Pinellas County Schools hopes to schedule a more traditional graduation ceremony later this summer as mass gathering restrictions are lifted.
She also thanked the commissioners and city officials for hanging signs and banners around town celebrating the school's seniors.
"It definitely set a good tone for the last two weeks of school," Fatolitis said.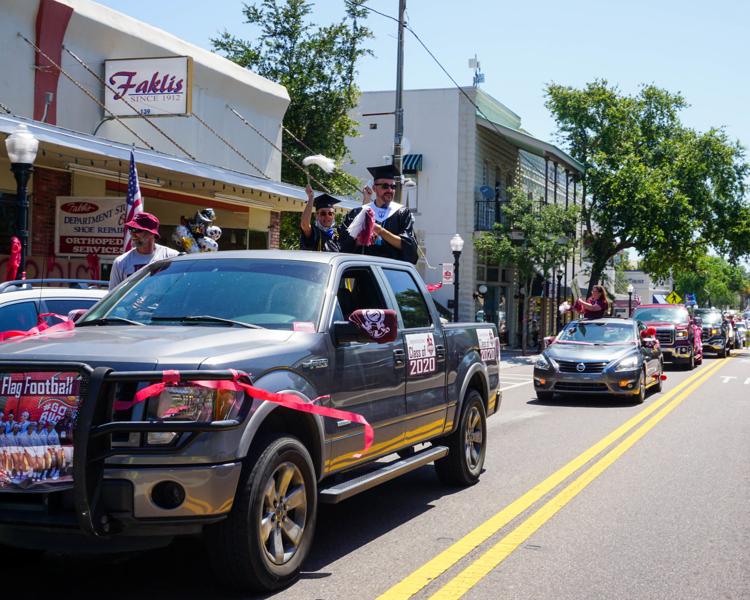 On the day of the parade, the TSHS Class of 2020 received an outpouring of support from the community, as dozens of supporters packed the parade route for the city's first big public event of the COVID-19 era.
"It's sad they can't say goodbye to their teachers and friends in the traditional way," Lisa Allen said as she sat on East Tarpon Avenue with her twin graduating sons, Kevin and Sam, who are headed to the University of Florida in the fall. "But they had a great experience in school, and it's nice to see everyone in the community come together to honor them like this."
When asked how she felt about seeing the downtown streets lined with well-wishers, she said, "I'm not surprised. Tarpon always turns out!"