TARPON SPRINGS – Sybil M. Corey took over the leadership of Tarpon Springs' United States Postal Service branch a few months ago. On Thursday, August 15, the U.S. Army veteran and Largo High graduate was officially sworn-in as Tarpon's 13th postmaster in a ceremony at the city's Heritage Museum.
According to Corey's biography, the Colorado native moved to Pinellas County when she was 5, and after serving an 8-year tour of duty as an Army telecommunications systems specialist, she began her career with the U.S. Postal Service in 2004 as a Rural Letter Carrier at the Largo Post Office. Corey has held a number of positions since, including city letter carrier, Supervisor Customer Services, Station Manager of the Cleveland Station in Clearwater and the Interbay Station in Tampa as well as the Postmaster of Port Richey-Hudson.
Following the presentation of colors by the New Port Richey-based Pasco County Young Marines Honor Guard and an invocation by Dade City Postmaster Robert Gaskin, Tim Dose, Postal Service manager of customer services operations, spoke highly of Corey's work ethic and leadership style.
"She leads with authority and she loves her job," Dose said to the crowd, which included Tarpon Mayor Chris Alahouzos several local, state and national Postal Service officials. "She's always figuring out ways to do things more efficiently, and she's always having fun."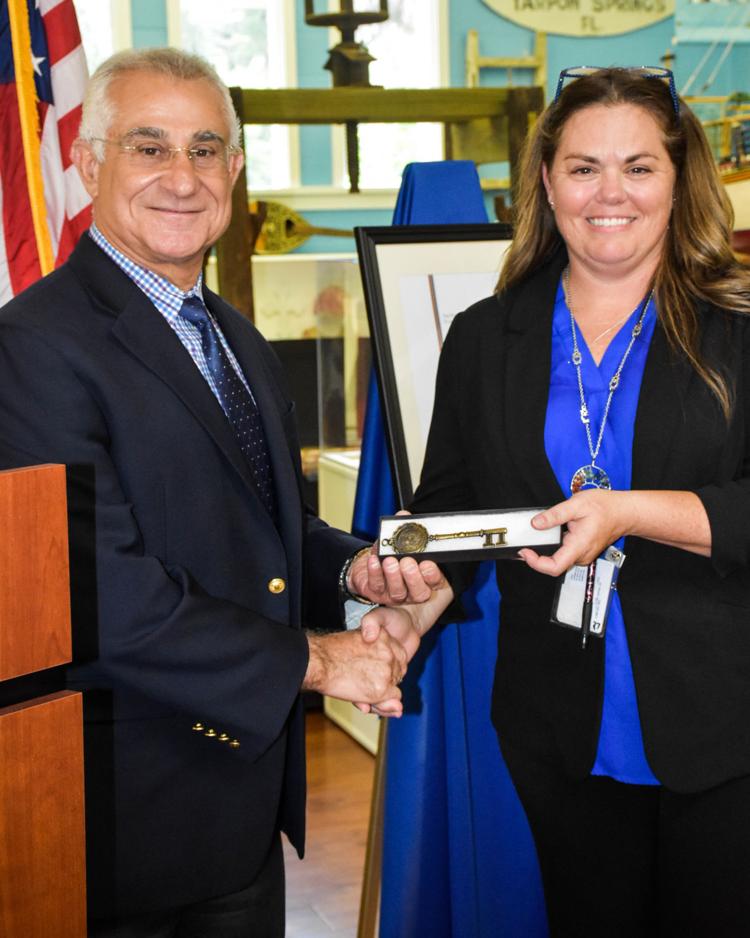 After citing Corey's many accomplishments, Dose concluded by stating, "Today is another big day for Sybil as she is installed as the 13th Postmaster of Tarpon Springs."
Alahouzos then welcomed Corey to town by giving her a key to the city.
"This is an exciting day to welcome Sybil to her new position as postmaster of Tarpon Springs," Alahouzos said. "We know how difficult the position is. It's a big commitment to the city."
Indeed, according to Debbie Gornik, a longtime Postal Service official and Corey family friend, the Tarpon Springs Post Office has a $6 million budget, "So, it's not a small job."
She added: "It's not something you just put any person in. They have a lot of responsibilities — making sure the facility is taken care of, the vehicles, the budget, the customer services. It's tough because if the customers don't like what they get they can go somewhere else."
After being sworn in by Valerie Deville, the Postal Service's manager of post office operations, Corey told the crowd she is "very happy to be postmaster of Tarpon Springs."
"It's a great city with great heritage and culture," she added.
"Everyone in this room has touched me in one way or another, molded me into the person I am today," Corey declared, before acknowledging she was ready to accept her new responsibilities head-on.
"Like any city, there are going to be challenges," she said, "but I have a great team in place."
After the ceremony, Corey spoke about reaching one of her lifelong goals.
"It's an honor to become Postmaster, to be selected from a group of peers to run all the postal services for the city," she said. "I believe my past experience, and the mentorship I've had coming up through the post office, has helped prepare me for this new role."
When asked how she would put her own stamp on Tarpon's branch, Corey said she wanted to "focus on the safety of the community and employees, making sure the employees are being safety-conscious."
As for her future, Corey said "I do plan on being here long-term, and I want to continue to grow."