TARPON SPRINGS – The city's Police Department held its 2019 fallen officers memorial ceremony outside the city's Public Safety headquarters last week.
The event, which is always held on Peace Officers Memorial Day, May 15, during National Police Week, was attended by representatives of several local police departments, city officials, including Mayor Chris Alahouzos and City Manager Mark LeCouris, and dozens of residents and family members.
In paying tribute to the five Tarpon officers who have been killed in the line of duty, from William Whitehurst in 1893 to Charles "Charlie K" Kondek in December 2014, Police Chief Robert Kochen spoke about the importance of honoring the lives of those who made the ultimate sacrifice while serving the community.
"It has been said that a hero is someone who has given his or her life to something bigger than one's self," Kochen said. "So, today, we pay tribute to our local heroes who answered the call to service with courage, honor and dignity. These officers are true heroes, and their sacrifice can never be forgotten."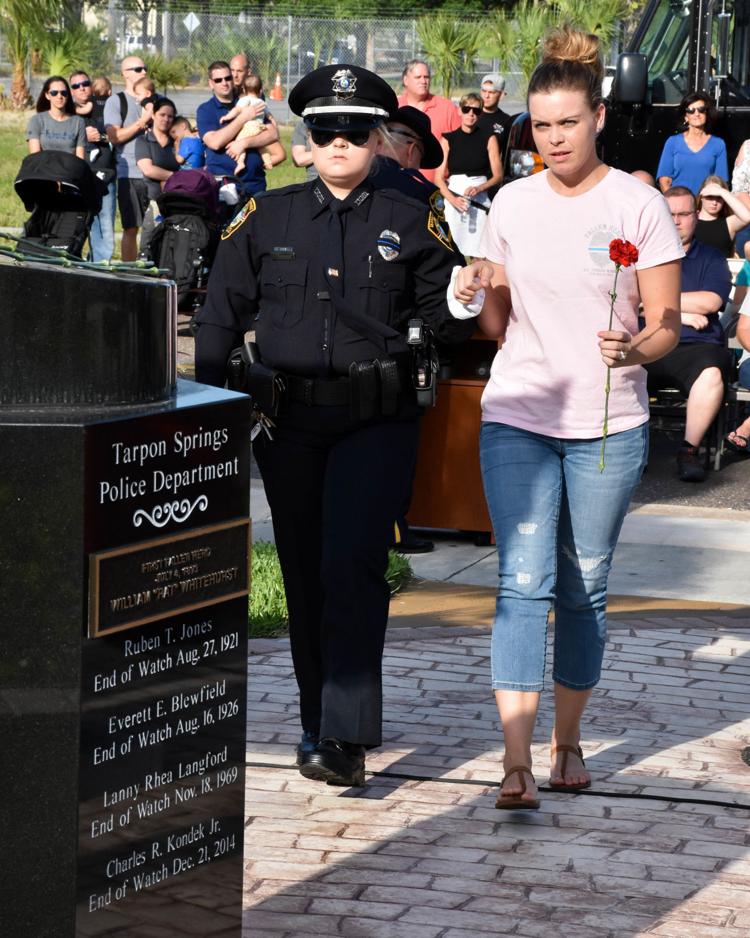 The chief then read the names of the five officers— Marshal Whitehurst, Marshal Rueben T. Jones, Patrolman Everett E. Blewfield, Officer Lanny R. Langford and Kondek—as Officer Christine Brinker placed a single red rose atop the granite memorial in front of headquarters and a bell tolled for each.
Following a moment of silence, the playing of "Taps" and a stirring bagpipe rendition of "Amazing Grace," the Rev. Milton Smith, the Police Department's chaplain, led a prayer.
"Lord, we pray your continued blessings for all police officers and their families," Smith said. "We pray your blessings upon the officers who protect this city. Guard and keep them under every watch."
Smith then recited the Police Officer's Prayer, which concludes with, "Dear God, grant these brave men and women your almighty protection and unite them safely with their families at the end of their watch. Amen."
After the ceremony, Kondek's father, Charles, spoke about the importance of the ceremony.
"It's important that we never forget, and it's nice to see so many people here to honor him," Kondek, wearing a T-shirt bearing his son's name, his end of watch and "Never Forget" on the back, said. "It's important to keep Charlies' memory, and the other officers' memories, alive. They deserve it as much as possible. It's a rough time to be a law enforcement officer right now. It's open season on them, and it's gotta stop."
Indeed, Kondek, who was shot and killed answering a noise disturbance call downtown four days before Christmas, is never far from the minds of many in the city, according to Alahouzos.
"All of us remember Charlie," the mayor said. "He was a terrific person and to see something like this happen is something we'll never forget. His memory will always be alive in Tarpon Springs."
Regarding the ceremony, Alahouzos added: "This is really an opportunity for all of us to remember and honor the police officers who actually lost their lives while protecting our lives and our property, and it's also a great time to express gratitude to the police officers for putting themselves at risk every day."
Chief Kochen agreed.
"This is all about honoring our fallen brothers because these officers lay their lives on the line every day," the chief said. "That's what the Thin Blue Line is all about. You never forget the officer and never forget the families. Ever."