TARPON SPRINGS – For years, city officials have been searching for solutions to the city's chronic stormwater and tidal flooding problems.
In addition, Mayor Chris Alahouzos has been sounding an alarm about the possible impact of sea level rise predicted as a result of global climate change might have on this waterfront city.
Earlier this year, the City Commission took steps to alleviate flooding and mitigate the effects of sea level rise, including purchasing three parcels of land in town to be used for stormwater drainage as well as approving the purchase of backflow prevention check values for stormwater pipes at the Sponge Docks.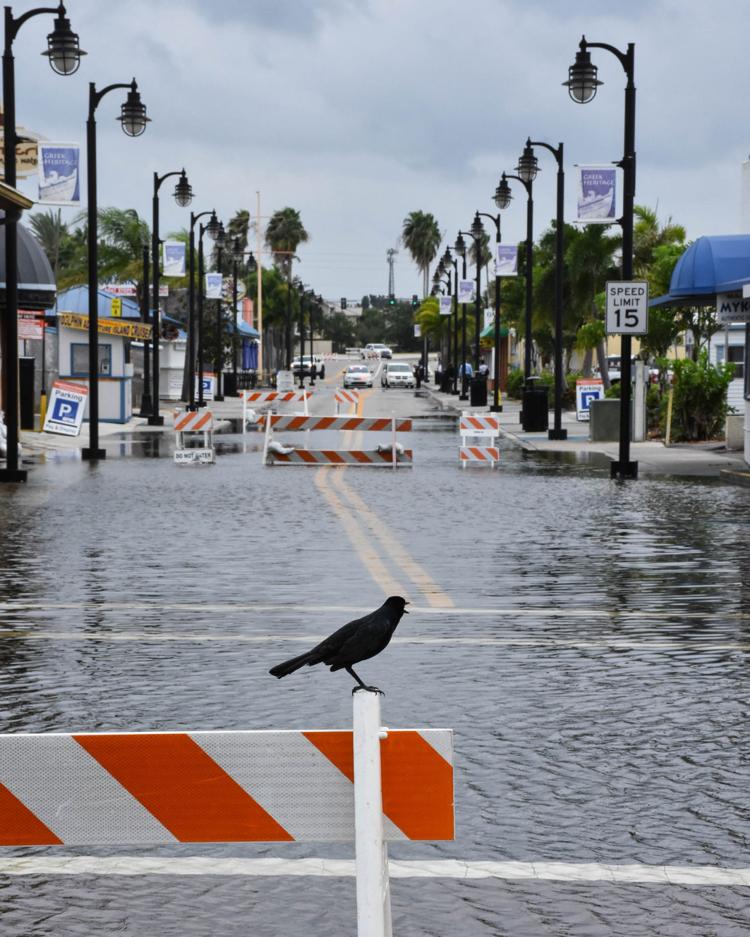 The flooding issue prevalent at the docks, Spring Bayou and other low-lying sections of town, reared its ugly head again last week when Hurricane Michael passed by the Suncoast on its way to devastating parts of the Panhandle.
Before Michael made landfall just west of the town of Mexico Beach on Oct. 10 with winds speeds estimated at 145 miles per hour, the churning Gulf of Mexico waters caused storm surge flooding in several Pinellas County communities, including Tarpon Springs.
While surveying the rising water at the docks on the blustery Wednesday afternoon, Alahouzos pointed to the rapidly growing pool at the intersection of Dodecanese Boulevard and Athens Street as proof that something needs to be done.
"This has been going on for years," the mayor, who was born in Greece, said as he chatted with Sponge Docks business owners, many of whom were lamenting a day of lost revenue. "I've lived here 51 years and it's always been like this. We can't sweep it under the rug. We have to fix this problem."
Alahouzos said the wastewater system check valves the city desperately needs have been on back order and are expected to be delivered this week. But he said even after they are installed, more needs to be done.
"The check valves will prevent the flooding, but afterwards, the water has no place to go," he said. "So, we want to put a vault with a pumping station near the lowest point of Dodecanese to help pump the water out."
Debbie Thompson, manager of Katherine's Linens and Gifts, at the corner of Dodecanese and Athens, agreed with the mayor's assessment.
"The flooding can happen in a regular rain storm," Thompson, clad in a yellow tee shirt, shorts and a pair of wading boots, said. A few weeks ago, there was water in the shop during a severe thunderstorm.
Thompson added: "But they're improving with getting (Dodecanese) blocked off. Before, when they allowed vehicles to come down here, the waves would cause ripples to rush into every business."
As several journalists and a few tourists navigated pools of water that measured a foot deep during high tide, Alahouzos met with U.S. Rep. Gus Bilirakis, who was born in Gainesville, raised in Tarpon Springs and lives in Palm Harbor, to survey the damage.
"I grew up here and I've seen this on a regular basis my whole life. So, obviously I'm going to do everything I can to help," the District 12 representative said. "Chris called me told me what needed to be done, said they want me to help with the (funding for) the pumping station, and I'll get to work because we have to fix this."
Sitting at a dock next to another low point where Dodecanese intersects with Hope Street, longtime Tarpon resident Wes Malek calmly watched the water rise.
"It came up quick," Malek said, pointing to a growing puddle in the nearby parking lot. "That wasn't up here an hour ago."
Despite all the concern and consternation, Malek, a longtime kayaker who loves to visit the boats in the channel, was resigned to let Mother Nature take her course.
"There's not much you can do about it," he said. "No matter what you do, Mother Nature always finds a way in."