SPRING HILL — Vanessa Quiroz couldn't wait to plan her first baby shower. She researched games and activities, chose a floral theme and sent out invitations on social media.
And on the big day, Vanessa, along with mother Laksmy and sister Tatiana, decorated, arranged the party food neatly on display tables and waited for guests to arrive.
Vanessa, 13 and a student at Gulf Coast Middle School, isn't pregnant. And the baby shower wasn't a way to celebrate an unborn child. Instead, she chose the project as part of a pay it forward assignment given each student in her 8th-grade class.
The event attracted friends and family to help, inspired by the organization that would benefit, Life Center of Hernando, a nonprofit resource for at risk young mothers and their infant children.
According to its website, The Life Center of Hernando is seeking to foster a "generation of young women who love and believe in themselves, who possess the Christian values, self-discipline, and courage needed to be productive members of their community and who will instill these traits in their children."
Vanessa chose Life Center of Hernando from a list of organizations that could use volunteer help the students were provided. Each organization on the list represented to the class what they did for the community in a presentation. And they provided information on what they needed to continue their visions. Students could either volunteer at the organization or raise money to be donated.
Vanessa decided to hold a baby shower and asked for nominal donations of money, gifts and gift cards for the young families being helped. She also provided a wish list that was given to her from Life Center. It included diapers, wipes, cleaning supplies, and children's toys.
She chose a shower over a car wash or other classic fundraising events because she knew many of the mothers likely wouldn't have the traditional experience of a shower. "It's like one of the first things of becoming a mother," she said.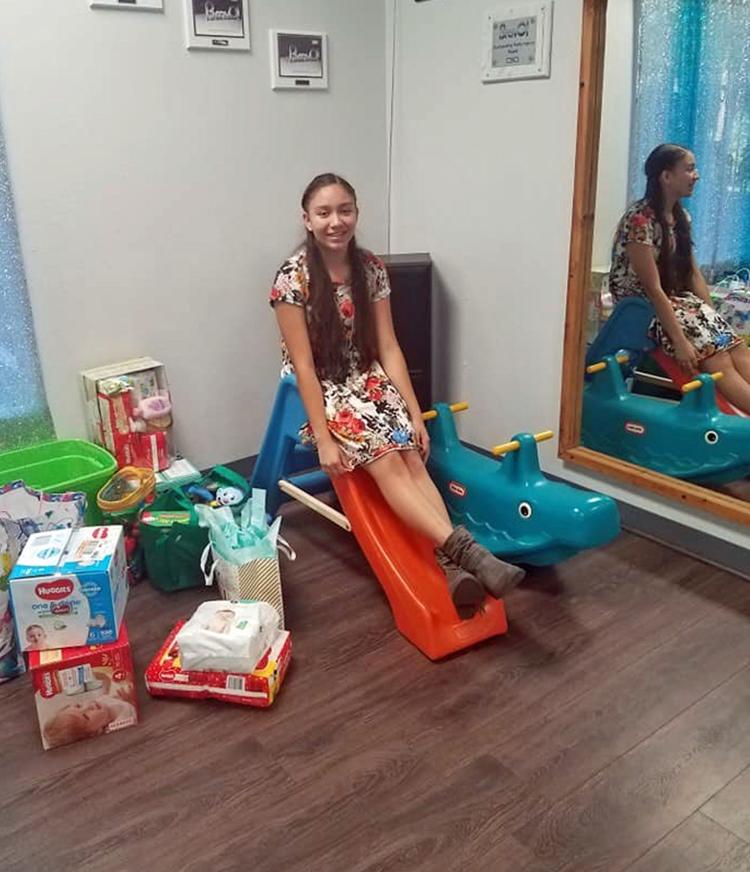 The community came through, almost immediately after hearing about Blossom Baby Shower. They donated decorations, food, and items requested. Others made cash donations. And guests who attended brought gifts.
The shower was held on Saturday, Oct. 13, at Spirit in Motion Dance Studio in Spring Hill.
Roughly 200 were invited. Only 22 showed up physically to play games and enjoy the festivities. But the event produced more donations in gift cards and certificates and cash donations than Vanessa could have expected. Local businesses also helped with sponsoring the shower so the costs to put it on didn't come from the cash donations. Many who couldn't attend volunteered their time to make and hang decorations.
Overall, Blossom Baby Shower took in far more than the goal Vanessa had set of roughly $250 total in cash and gifts. They collected more than $800 in items plus $200 in cash.
Vanessa said the experience so far has been amazing. She originally wanted to volunteer for Life Center because she enjoys working with children. But because her schedule is packed with school, dance, and church activities, crafting an event seemed more feasible.
She learned anyone can do something to help, even if they have no time to volunteer. "There are other ways," she said.
Her project isn't complete, however. She still must do a final presentation to her class in December.