ARIPEKA — It's the holiday season and people around these parts are known to get a little crabby. No, not the Scrooge kind of crabby but drenched in salty-sweet stone crab juice from fingertips to elbows crabby.
'Tis the season for stone crab, and for some the holidays wouldn't be complete without a stone crab feast, a fun and messy affair that requires claw crackers or hammers and plenty of napkins. The Aripeka Stone Crab Company is one of several local suppliers of the succulent crab claws during the season, which runs from Oct. 15 until May 15.
The company, which sits on the bank of Hammock Creek on the Pasco-Hernando county line, has been retail for about five years, selling wholesale in the 25 years prior. Mat and Karri Holliday are the husband-and-wife team who took over the property from Karri's dad, the original crabber. Mat runs the crab boat that supplies all the company's crab claws, said Karri Holliday, who runs the market, greets customers and promotes the retail business online.
The business is right at home in the old fishing village of Aripeka, and the old-Florida vibe of their waterside establishment — it was a fish camp in the 1960s — is part of its appeal. Families with visiting guests like to treat them to a stone crab dinner but enjoy the trip to pick them up at the market just as much, said Holliday, who 12 years ago quit her job as a Weeki Wachee mermaid to help with the business.
"It's a great experience, especially for people who want to see old Florida," she said of those visiting her store. "They love it."
They also love the claw prices, Holliday said, adding that her market keeps prices low to ensure its customers keep coming back. That's good, because stone crab, like lobster and other delicacies, command a premium price. That's particularly so this year, as supply is down due to red tide in southwest Florida, and hurricane damage in the panhandle, said Holliday. This season, seafood markets in the Dunedin area are charging about $26.99 per pound for medium-sized claws, she said, while her market is selling them at $17. Claw sizes range up to colossal and at Aripeka Stone Crab are fresh off the boat, which is something else her customers like.
"It's Gulf to plate," she said.
Customers also like the idea that stone crabs don't have to give up their lives—just their claws.
The larger of Menippe mercenaria's two claws is safely removed by the fisherman on the boat and the crab released to grow another, making it a sustainable resource. Holliday is thankful for that, as well.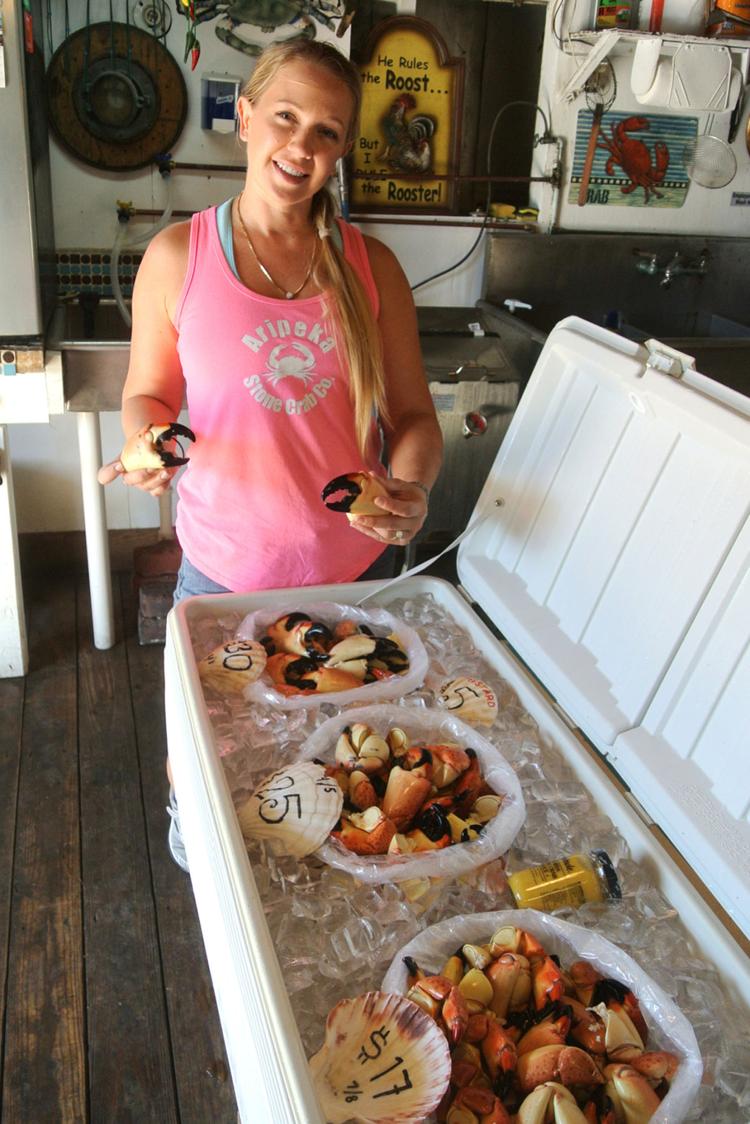 "We always say take care of the crab and they'll take care of you," she said, adding that the company baits its traps so well, once a crab is released, it often returns to the trap to feed some more.
Stone crab claws must be cooked right after harvesting and are sold ready to eat right from seafood markets. Stone crab claws can be eaten cold or warmed up in boiling water, then dipped in melted butter or a mustard sauce. It takes some effort to get to the meat, but it's well worth it.
"That's all part of the experience," said Holliday. "It's fun cracking them, and they look beautiful on the plate."
Holliday said there isn't a day that goes by she doesn't snack on some stone crab.
"I was raised with it," she said, adding it never gets routine.
Neither does the family's life on the water in the little town established more than 150 years ago. The Holliday's home is next door to the seafood market, and they have two young children. When Stone crab season is closed, the kids are out of school and there's lots of family time, she said.
What do they do for fun?
"We're in, on or under the water all the time," the ex-mermaid said.