SPRING HILL — Her mother is a first generation Colombian. Her father, a second generation Ecuadoran. And on Sept. 21, Tatiana Quiroz, 17, who was born in Dallas, took the crown for the 2019 Miss Hispanic Queen, presented during the third annual Hispanic Heritage Festival at the Lake House in Spring Hill.
Tatiana is a soft spoken, gracious beauty with very animated deep brown eyes. But her win was not based on surface beauty. Miss Hispanic Queen is not a beauty pageant but rather an experience that encourages young Hispanic girls to learn about and spotlight their culture.
The competition for Miss Hispanic Queen began in 2013 as an organization to educate local girls about their Hispanic culture. Girls ages 14 to 18 would compete for the title.
The experience, incepted by president and founder Vivian Rivera Hernandez, was intended to inspire young Hispanic girls to celebrate their cultures. It originally encompassed learning workshops over a period during the summer and a presentation to a board of independent judges.
The event tightened a bit in 2017 when Rivera Hernandez decided to organize a festival. Entrants were still responsible to present specifics about their cultures in an essay and represent that culture at the festival.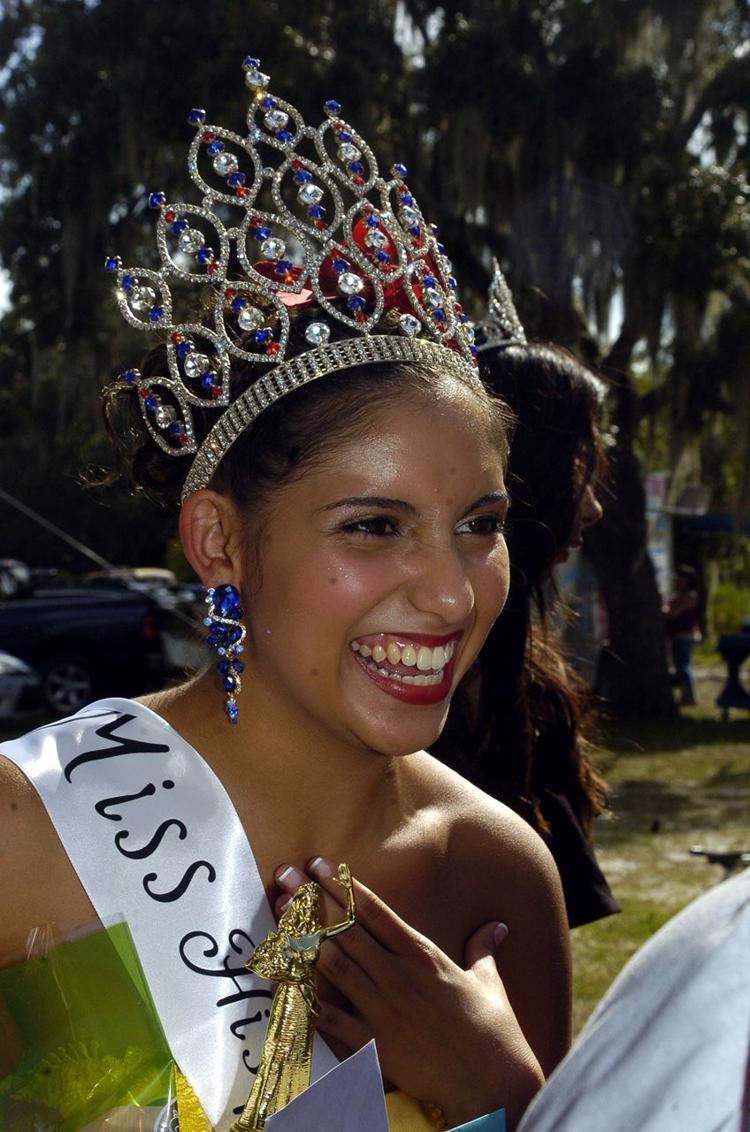 This was Tatiana's first time competing in Miss Hispanic Queen, which is open to Hispanic girls ages 11 to 18.
"We decided to wait until her senior year," said Tatiana's mother, Laksmy Quiroz, an early intervention therapist for Early Steps.
Miss Hispanic Queen contestants are required to represent their specific heritage. And Tatiana, having dual Hispanic loyalties, was in a bit of a quandary.
"I decided to go with Colombia because my mother grew up there," she explained. Laksmy and her family left Colombia at age 14 through political asylum.
Tatiana's father, Roberto, was born in New York. Both parents agreed when they married that they would incorporate the dual cultures when raising their children. Both Tatiana and her younger sister, Vanessa, 14, have strong Colombian and Ecuadoran influences.
For her winning essay, Tatiana included memories from a childhood that molded her love and respect for both of her Hispanic cultures. Laksmy was specifically touched by the written description that painted images of a strong family bond between multiple generations.
The girls learned to prepare authentic Colombian dishes, like the Colombian Christmas tradition of Buñuelos, with their grandmother. Tatiana mentioned the bond between herself and her grandmother as she learned the culture growing up.
Tatiana is a young woman with a stronghold on a very bright future.
She is a senior at Springstead High and expected to graduate third in her class. She is an IB student, a cheerleader, and involved in National Honor Society, Beta Club and the Spanish Club. She will also graduate with the bilingual endorsement seal for taking second language classes for her entire four years of high school. Tatiana also dances for Spirit in Motion.
She will carry the title of Miss Hispanic Queen for a year, representing her culture at local events, and return to the festival next year to transfer the crown.
She is applying to different schools for college, hoping to study either occupational or music therapy. But for now, Tatiana is enjoying her final year of high school.
Hispanic Heritage Month, Sept. 15 through Oct. 15, recognizes millions of Latin Americans who contribute to the nation. And many reside in Hernando County, one reason the Hispanic Heritage Festival and Miss Hispanic Queen are such popular events.