PALM HARBOR — Dozens of guests turned out for the 2019 Curlew Hills Memory Gardens' 9/11 Memorial Ceremony, an event that featured flyovers and stirring speeches, Sept. 11-themed artwork and poetry, all set against the backdrop of Curlew Hills' 9/11 memorial.
The event, hosted Sept. 11 by local news anchor Mark Wilson, is now in its eighth year and continues to grow in size and scope, according to Curlew Hills president and chief executive Keenan Knopke.
"Every year we're adding a little bit more," Knopke said, noting last year's addition of twin light beams shining high into the sky for four nights prior to the event has proven to be a big hit. "We keep adding things to make it more comfortable and enjoyable."
As the 9/11 Memorial section of Curlew Hills continues to grow — last year a Benghazi memorial was added, and a new wall honors those lost in the wake of the Sept. 11 tragedy — the event does, as well.
Several attendees said they typically travel to New York for the ceremony, but the one here has kept them home.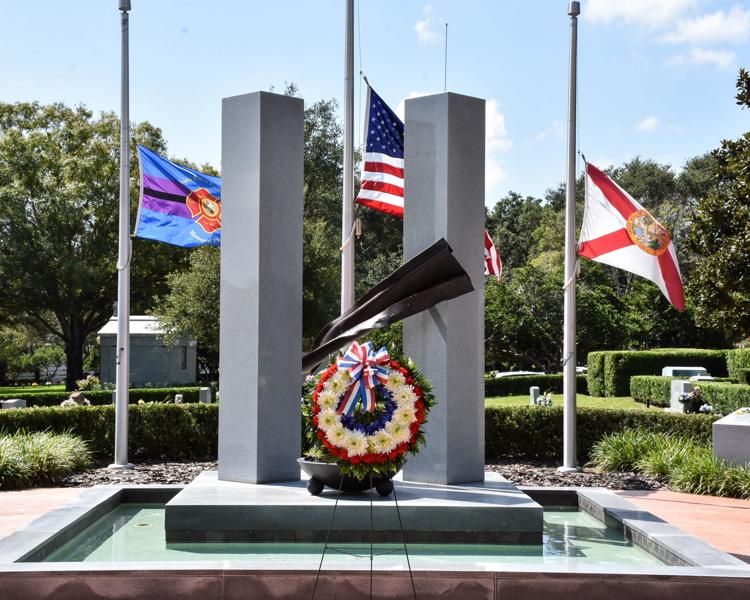 "This is absolutely beautiful," said Denise Reis, a Dunedin resident who lived in New York City during the attack, as she observed the memorial's 150-pound steel beam from the World Trade Center flanked by twin towers of concrete with an eternal flame at the base.
"I wish they had a ceremony as beautiful as this all around America," she said.
Reis, whose late husband, Frank, prevented her from boarding a train to the towers that morning in 2001 due to a premonition he had, broke down in tears when she recalled the memories of that day.
"He saved my life," she said. "And for them to have this ceremony to remember those who lost their lives that day is first-class all the way."