TARPON SPRINGS – The city officially dedicated a portion of Pinellas Avenue to fallen Tarpon Springs Police Department Office Charles Kondek Jr. last month with the unveiling of downtown road signage.
State Rep. Chris Sprowls, R-Palm Harbor, introduced House Bill 1169 in March 2017 to designate the stretch of Pinellas Avenue, as Alt. 19 is known in the city, from Tarpon Avenue to the Pinellas-Pasco county border, as Officer Charles "Charlie K" Kondek Jr. Memorial Highway. The bill was signed by Gov. Rick Scott on June 23.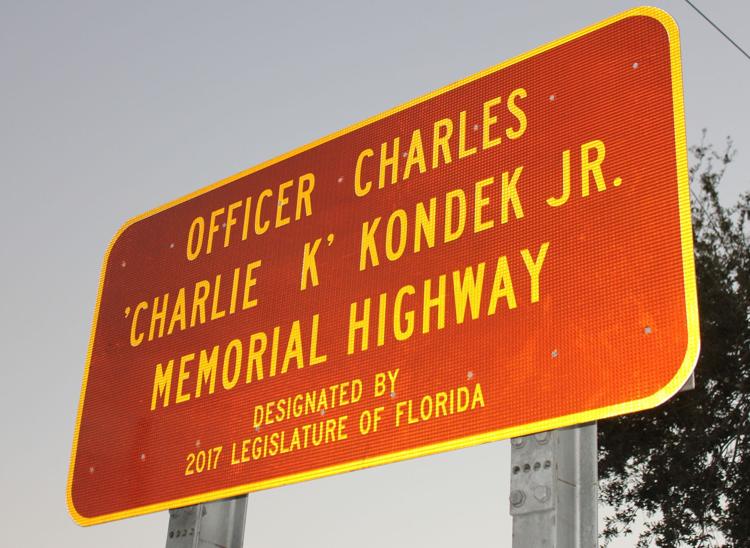 Sprowls, along with Tarpon Springs Mayor Chris Alahouzos, Tarpon Springs Police Department members, city officials, the Kondek family and many others, gathered downtown Dec. 21 to officially unveil the sign.
After the ceremony, Sprowls wrote this on his Twitter account: "Yesterday marked 3 yrs to the day that Ofc. Charlie Kondek completed his End of Watch in Tarpon Springs. Last session we passed a bill designating Alt 19 from Tarpon Ave to the county line after Charlie K. His family unveiled it yesterday. We will always remember his sacrifice."
Kondek was shot and killed in the line of duty during the early morning hours of Dec. 21, 2014, while responding to a noise complaint at an apartment complex. He served with the Tarpon Springs Police Department for 17 years and had previously served with the New York City Police Department for five years.
The City Commission issued a resolution last year in support of the state house bill, writing: "Officer Kondek sacrificed his own life to save the lives of others and demonstrated commitment, sacrifice and courage that serves as an example of an exemplary law enforcement professional."