BROOKSVILLE — Hernando County residents in the mandatory garbage collection zone, which includes most of Spring Hill east of U.S. 19, nearly doubled at the beginning of the year and now the county's exclusive trash collector, Republic Services, is looking for a bit more.
The proposed increase, which would amount to around $4 a year for Republic customers isn't much but coming on the heels of a substantial increase this year, some customers are grumbling.
A public hearing to discuss the proposed increase will be held starting at 9 a.m. July 30 in the County Commission Chambers, at 20 N. Main St., Room 160. Under its contract with the county, Republic Services may request annual increases based upon changes in the Consumer Price Index and the Oil Price Information Service.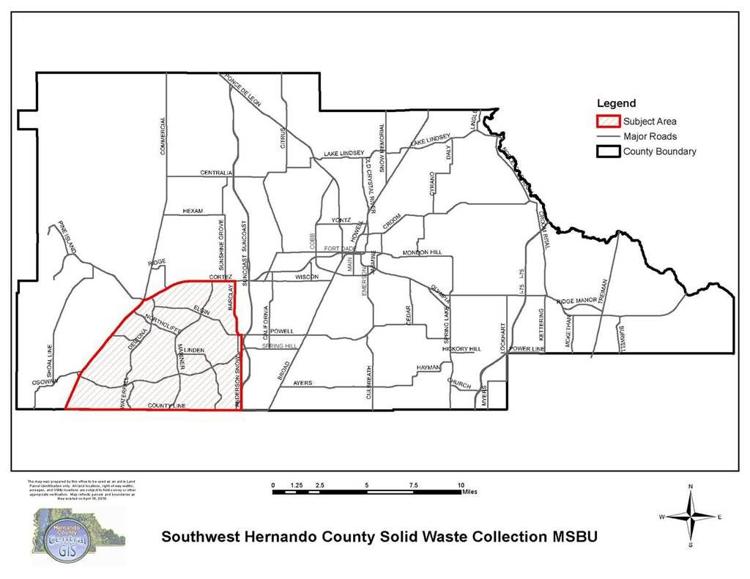 To add to the bite, the possible collection increase comes at the same time Hernando County is proposing an annual solid waste fee increase on all residents, to $69.40 per household from $63.05, to be charged on annual property tax bills. It would be the first time in 15 years the county has raised the fee, which is used to run its landfills and transfer stations.
A public hearing on that increase was held July 16 at which commissioners approved the county landfill-waste fee for year 2020. All county residents will see an increase in January 2020 from $63.05 per household to $69.40 on their tax bills. The increase covers revenue needed for ensuring dumping capacity into the future, county officials said.
Lynn Gruber-White, president of the Ridge Manor Property Owner's Association in east Hernando County, was a staunch opponent of the Republic rate increase in 2019, which went into effect on Jan. 1, raising rates for her and her neighbors from about $9.80 to $12.44 per month.
Ridge Manor is outside the Southwest Hernando County Solid Waste Collection Municipal Service Benefit Unit, also known as the "universal area." The rate in the mandatory zone went from $8.18 per month to $14.40, or $172.80 per month added to the annual property tax bills of homes in the zone.
Gruber-White says personally she has no gripe with the county solid waste fee increase, and while she has no problems with her own service from Republic, many of her Ridge Manor neighbors do. She's also tracking many online complaints on social media.
"Nobody's real happy," she said, particularly since rates jumped dramatically recently and Republic still has what she called "customer service issues." Residents still have pickups missed and many report getting a poor response from the company when they complain, she said.
John Roman, a resident of Hernando Beach, continued his Republic service after the rate increase in 2019, but said many of his neighbors dropped the hauler and now carry their waste to the nearby Osowaw Boulevard transfer station themselves, where they can dump for free.
"I'm going to keep it (Republic) for now unless the rates keep going up," said Roman, who said the proposed fee increase is small enough that he's not too worried about it.
"That could change in the future," he said.
Roman said his service has been generally good, though he's left brush by the road for Republic pickup and had it sit for up to three weeks. Under Republic's contract debris is picked up once a week.
Roman said he didn't report the problem to Republic, but instead took care of it himself since the transfer station is free and just 3 miles away.
"I end up hauling it to the dump myself," he said.
Republic representatives have told county officials manpower issues have been a problem in the past, but the new automated trash pickup system on trucks that began this year use a robotic arm to lift waste containers and automatically dump them into the truck. The system is expected to improve service reliability and reduce the amount of manpower needed for collection.
Virginia Singer, Hernando Public information officer, commented in January that the 2019 Republic increase may have seemed like a big jump but that Hernando remains "below average" for trash collection costs compared to neighboring cities and counties.