Pinellas County Schools' students, as well as students at St. Petersburg College and University of South Florida got an extra day off for the Labor Day holiday, thanks to Hurricane Dorian.
Classes resume on Wednesday as no adverse effects from the hurricane are expected in the local area.
The tax collector's offices, as well as the courts also were closed on Tuesday, but those operations also will get back to normal on Wednesday.
The weather forecast for Pinellas and Tampa Bay on Wednesday calls for only a 20% chance of rain and windy conditions with gusts up to 25 mph. Plenty of sunshine is forecast for Thursday-Saturday with breezy conditions continuing.
National Weather Service has issued a high rip current risk statement that remains in effect through Wednesday evening.
The county declared a state of emergency Aug. 31, which will remain in effect through Sept. 6. Gov. Rick DeSantis has issued a state of emergency for all of Florida
Officials remind residents that this is the busiest part of hurricane season, which continues until Nov. 30.
For hurricane preparedness information, visit www.pinellascounty.org/resident/disasters.htm.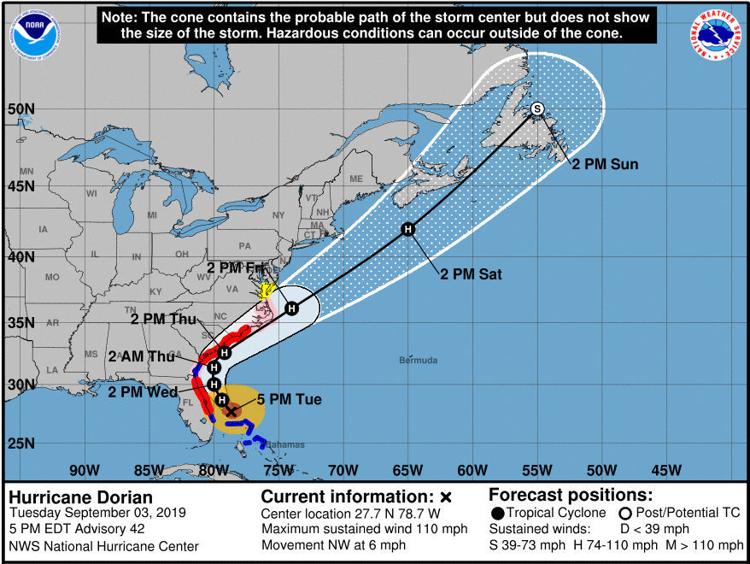 Dorian info
Hurricane warnings and watches, as well as storm surge warnings and watches were in effect from Florida's east coast to the North Carolina coast Tuesday evening. The tropical storm watch has been canceled for Highlands and Polk counties.
At 5 p.m. Sept. 3, Hurricane Dorian was about 105 miles east of Vero Beach and 125 miles east-southeast of Cape Canaveral Florida. Maximum sustained winds were 110 mph, making Dorian a Category 2 on the Saffir-Simpson Hurricane Wind Scale. Dorian was moving northwest at 6 mph.
Dorian is expected to speed up tonight as it moves northwest or north-northwest. A turn toward the north is expected on Wednesday evening, followed by a turn toward the north-northeast Thursday morning.
National Hurricane Center says Dorian's core will move "dangerously close" to Florida's east coast and the Georgia coast tonight through Wednesday night. Dorian's center is forecast to move near or over the coast of South Carolina and North Carolina Thursday through Friday morning.
Forecasters say Dorian will likely lose its hurricane status within five days.
Dorian has been growing. Hurricane-force winds extend outward up to 60 miles from the center and tropical-storm-force winds extend outward up to 175 miles.
Dorian has already proven to be a record-setting storm. It is the strongest hurricane in modern records to hit the northwestern Bahamas. When the eye of Dorian made a second landfall Sunday afternoon on Great Abaco Island near Marsh Harbour, maximum sustained winds were 185 mph, which tied Dorian for the record of the strongest Atlantic hurricane landfall on record with the 1935 Labor Day hurricane.
Other tropical systems
NHC also is issuing advisories on Tropical Storm Fernand, which will likely make landfall on the coast of Mexico late Wednesday night or early Thursday morning. Tropical depression 8 is located about 585 miles west northwest of the Cabo Verde Islands. It is not forecast to become a hurricane within the next five days and will not likely threaten the United States. A trough of low pressure located several hundred miles south of Bermuda has been showing some signs of organization. Forecasters have given it a 50% chance of becoming a cyclone within the next 48 hours. Interests in Bermuda are asked to keep an eye on this system.
How to help
Teams from Pinellas and Hillsborough counties headed to the east coast on Monday and local Coast Guard personnel have been sent to help.
Many residents have been asking how they can help, especially in the Bahamas where Hurricane Dorian made landfall twice as a Category 5 storm and spent many hours stalled over the islands wreaking havoc.
It is not yet known what aid will be needed along the east coast of Florida.
The governor has activated the Florida Disaster Fund. Anyone interested in helping can visit www.volunteerflorida.org or text DISASTER to 20222 to make a $10 contribution.
The Salvation Army, American Red Cross and Florida Baptist Disaster Relief will be providing meals and other assistance to those in need. Save the Children, Team Rubicon, Convoy of Hope and Crisis Cleanup are all gearing to assist victims.
Pinellas County Consumer Protection is advising citizens to wary of solicitations for charitable contributions. Officials urge residents make sure charities are legit before making a donation.
"All charities soliciting within Florida — excluding religions, educational and government entities — are required to register and file financial information with the with the Florida Department of Agriculture and Consumer Services," Consumer Protection said in a press release.
To check whether a charitable organization is properly registered, visit Check-A-Charity, a resource that provides the information reported to the department.
Consumer Protection offers some additional advice:
• Always be wary of people soliciting on behalf of victims of natural disasters.
• Do not judge an organization based solely on its name. Many organizations have names that sound like those of reputable organizations but may be fraudulent.
• Ask for a copy of the charity's financial report to determine how much of your contribution is going toward the cause and how much for administrative and fundraising costs.
• Beware of pressure tactics to give immediately. Don't let emotional appeals or photos persuade you into giving. Make sure the solicitation is legitimate.
• Some charitable groups employ paid solicitors, in which case, not all of your donation will go to the charitable cause. Check to see if this is the case.
• Ask if donations are tax deductible.
• Never give cash. Contribute by check made payable to the organization, never to an individual's name.
• For more information on how to protect yourself after a storm, visit Pinellas County Post-Disaster Consumer Tips. To report suspected fraud, call 727-464-6200.
The Better Business Bureau's Wise Giving Alliance is encouraging donors to support experienced disaster relief organization, such as the American Red Cross, Direct Relief, Global Giving, Heart to Heart International, Salvation Army and Save the Children.
Visit Give.org for more information.
"Donors should watch out for newly created organizations that emerge that are either inexperienced in addressing disasters or may be seeking to deceive donors at a vulnerable time," BBB said.
BBB also expects to see price-gougers and "storm chasers" looking to make a quick buck off of preparation and clean-up efforts. Consumers can report suspected scams to BBB Scam Tracker at BBB.org/ScamTracker.
Suzette Porter is TBN's Pinellas County editor. She can be reached at sporter@tbnweekly.com.