NEW PORT RICHEY — Pasco Pride held its first event for gay, lesbian, bisexual and transgendered people, and the Oct. 6 event appeared to be a success.
That success — and the relatively small negative reaction to it — came as a bit of a surprise to the event's main organizer.
The Sims Park event attracted as many 2,500 people, according to organizer Denise Johnson, the founder and president of Pasco Pride.
The event is thought to be the first of its kind in Pasco County, something Johnson, a transsexual woman, was told would not likely happen in the conservative county. By contrast, tens of thousands attend the annual St. Petersburg Pride events, the largest LGBTQ+ gathering in Florida.
"It was desperately needed here in Pasco County," said Johnson, who arrived in the county from Texas in 2017. "We have accomplished so much. People said we would never accomplish much in Pasco County."
The event attracted 70 vendors and two bands. It ran during the day, but an after-party was held featuring a live performance of the 1975 camp classic film musical "The Rocky Horror Picture Show."
Some protesters showed up to show their disapproval of the LGBT event. One man held up a sign suggesting the event was sinful. The sign declared: "Warning: Jesus Christ is Coming Soon. Are You Ready?"
The event, held from 10 a.m. until 4 p.m., had no major problems, Johnson said. Attendees didn't seem bothered by the picket signs, she said.
"People just walked around the protesters," said Johnson.
Johnson said Pasco Pride has turned from a social club of about 250 people to a festival-organizing organization. The group hopes to have annual events in the city, and Johnson said she hopes for a LGBT-friendly ordinance preventing discrimination in New Port Richey and Pasco County.
The U.S. government and the state of Florida have no official protections in the law for sexual orientation, as it relates to housing and employment. Private businesses can even decline service based on sexual orientation.
Only 18 states and the District of Columbia have laws that protect LGBT persons from job discrimination, housing discrimination or service-or-accommodation discrimination.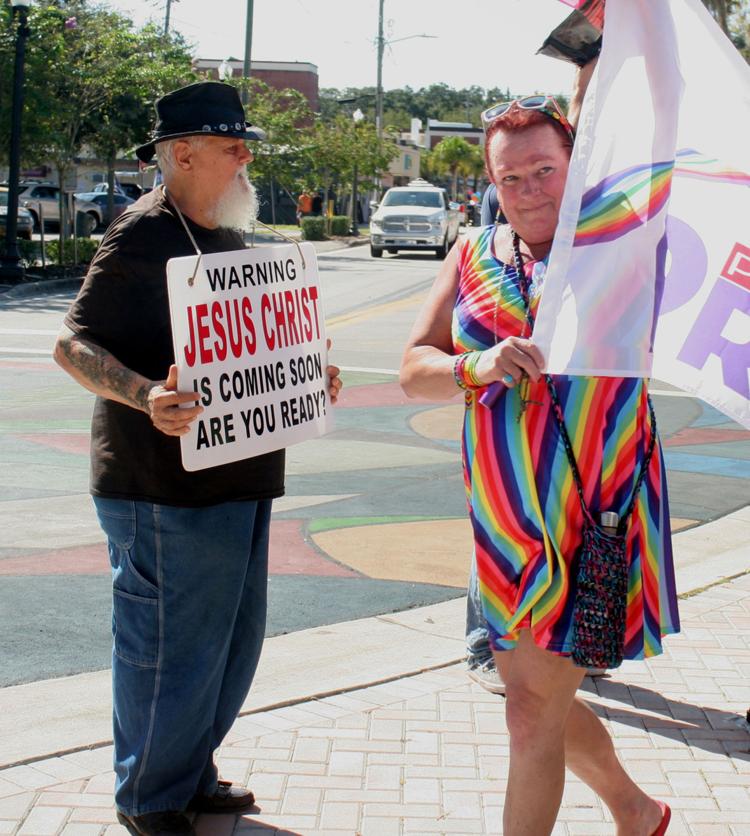 But the U.S. Supreme Court struck down all state laws in June 2015 that prevented gay or lesbian adults from marrying. In Florida, a business group named Florida Competes seeks to extend anti-discrimination laws to state code.