HOLIDAY — They sound like members of a rough-and-tumble motorcycle gang, but the Key Vista Road Warriors are only all about clean living.
"Nope, no motorcycles involved, but I wondered if people would think that," said Ellen Maracotta, leader of the group that was formed within Holiday's Key Vista community, west of U.S. 19-Gulf Coast Highway, to participate in Pasco County's Adopt-a-Road Program. "We're just people who want to see our road clean."
They selected a one-mile segment of Baillies Bluff Road, which runs behind their neighborhood. This is their ninth year with the program, which requires the group to perform at least four cleanups per year. Preferably, one of them comes on the day of either the Great American Cleanup, March 20, or National CleanUp Day, Sept. 21.
"I started this back when I was president of the home association and I've stuck with it ever since," Maracotta said. "I've had some oldies-but-goodies consistently help me over the years, plus plenty of newbies that have come and gone. On a good day, we'll have about 20 people out there.
"Sometimes, we'll recruit a high-school student to help. It's a great way for them to earn service points."
To help offset the grind of picking up litter, Maracotta holds a contest each time with an award for whoever finds the funniest or most intriguing item.
"We've had people find mattresses, refrigerators, sofas," she said. "One time someone found crumpled-up dollar bills. Go figure. In that case, that was their reward."
Laughs aside, most of what the group finds is disturbing.
"It's scary to see the number of alcohol containers we find. Are there that many drunk people driving around here?" Maracotta said. "And then there are the thousands of cigarette butts. Our road has no easement, so they are being thrown right into the brush. Think about how many burning bans we've had due to dry conditions, and then you see this.
"Then there are the dirty diapers. So rude. We also find tons of effluent and materials from construction crews. Huge concrete blocks that we can't move. I know people charge a lot to remove that type of thing, and I know the county dump is like 45 minutes away — but come on. It really hits you in the face when you go out and see all of this. It saddens me."
Then there are the sealed containers, whether they are bottles or buckets.
"I remind every first-timer to never open anything, no matter how tempted you may be," Maracotta said. "Nine out of 10 listen, but it seems there's always someone who learns the hard way. People use these things as mobile bathrooms before they throw them out the window. I've learned that a 5-gallon pail makes for the perfect traveling toilet."
The nitty gritty
Kristen King, the director of the county's Adopt-A-Road program, said there are many roads that desperately need volunteers. Applications can be found at www.keeppascobeautiful.org or by calling 727-856-7252.
"We are far short of what we need," she said. "Many roads need help and Pasco County has so many county roads that go for long stretches. We only ask that people take on one mile, so it's one mile at a time."
The program began in 1992 and has about 60 participating groups that come in a variety of forms: families, businesses, churches, schools, clubs, and social, fraternal and civic groups.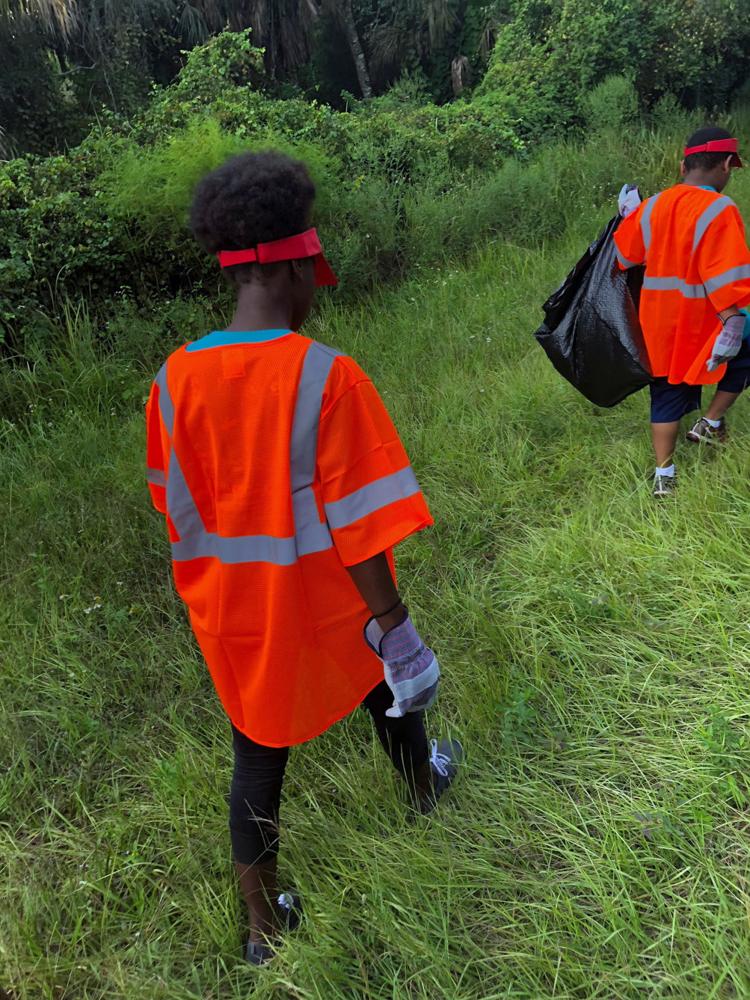 Last year, King said, 844 volunteers that worked for more than 1,500 hours collected 18,370 pounds of trash countywide.
The county provides safety vests, bags, gloves and other tools and asks participants to record the amount collected. It also provides pickup of all bagged trash at the location of where two recognition signs featuring the group's name are erected, one in each direction at the end of the segment. The county also offers training materials to ensure safety.
The roads that are eligible are county-maintained roads which serve as arterial or collector road, not neighborhood streets. The fact that parts of the region border estuaries and the Gulf of Mexico brings a heightened concern, King said.
"You can have a local impact on the environment by collecting trash from the roadways before it enters the stormwater system and quite frequently our waterways," she said.
Be careful out there
The Diva Angels are another group involved in the program, and unlike the Lake Vista Road Warriors they indeed are a motorcycle club. That said, the road is like a second home to the members.
"Yes, we love taking long rides on the open road and we want them to look beautiful," said Tara Londergan, a leader of the club's New Port Richey chapter. "But we also want it to be safe. Accidents can happen because of trash being in the road.
"Really, all debris is dangerous to motorcycles riders. Bottles and cans can fly up and hit those behind you. With plastic bottles and cups on a curved road, you can hit them just right and slide and fall. Then there are metal items we have found, like screwdrivers, that can puncture a tire. Just yesterday I found an open pocket knife on the road in front of my house."
The group is entering its third year with the program and works on a segment of New Port Richey's Osceola Drive. Londergan said she got the idea from her club's Brooksville chapter and others have followed, including the Sarasota chapter. Beyond the practicality of feeling safe, "It just feels good to give back to the community," she said. "Everyone benefits from this."
That includes Jackie Winright, who became curious when she often saw the recognition signs as she walked dogs along roads as part of her New Port Richey-based pet sitting business. She also wanted her furry clients to be safe from debris.
"I was already picking up litter as I walked, so I decided to give it a try last year," said the owner of Lilly Pad Pet Sitting. "I feel good about what I did. My first time out I was on my own and I filled three large trash bags,"
Her 10-year-old daughter Lilly chips in as they collect trash along busy Little Road. Her stretch runs past the River Crossing shopping center.
"On both sides of the shopping center there is wilderness, so it's important to keep it clean and beautiful," Winright said. "It's sad to see how environmentally unconcerned people are. It's quite shocking to see all the alcohol bottles. Apparently, there must be a lot of alcoholics in the area."
Worse yet, she has seen tangible evidence of how trash harms wildlife.
"I've come across birds with their beaks closed shut by the plastic holders that six-packs of soda come in. One bird had its beak wrapped up in some sort of mesh," Winright said.
One other benefit Winright hoped for was the free and positive advertising that comes with her business name being on two signs on a busy road.
"I've gotten three or four clients who said they saw the sign," she said. "That's been a nice plus."
A learning environment
On Plathe Road, just east of New Port Richey, sits the RAP House, a shelter for at-risk youths ages 10 to 17. For several years, the youngsters have participated in Adopt-a-Road along that stretch and it has become an important part of their program, Cayse Houston, the program director, said.
"We get a lot of support from the community, so this is a great way to teach them the importance of giving back," she said. "And the kids take pride in that."
So much so that Houston has witnessed some great reactions.
"One weekend we sent a group out and on the bus ride to school Monday morning, they all yelled when they saw a piece of trash on the road. 'We just got done cleaning that, and now look,' they said. Well, it served as a trigger. 'We do this, too,' they said, 'and we need to stop,'" Houston said. "It was a real nice message in which they could take ownership."