OLDSMAR — City officials recently unveiled Oldsmar's latest public art project on Dec. 8, as Mayor Eric Seidel led the ribbon-cutting ceremony for "Taking Flight," a sculpture featuring 12-foot-tall stainless-steel wings and a base comprised of used Oldsmobile parts in homage to the city's founder, automobile pioneer Ransom E. Olds.
The visually striking piece was created by St. Petersburg sculptor Donald Gialanella, who was chosen in 2019 by a selection committee following a nationwide call-for-artists that resulted in more than 40 applications from around the world.
After working throughout the pandemic on a piece that had to be "interactive, iconic and represent Oldsmar's uniqueness," according to the committee's criteria, the internationally renowned artist created what Seidel called a beautiful centerpiece for the downtown district.
"Incorporating public art into our community distinguishes the importance that Oldsmar places on culture," Seidel told the small crowd that gathered outside the Council Chambers building at 101 State St. W. on a chilly Tuesday morning. "Our city wants to cultivate a unique identity and emphasize the economic vitality that public art brings to our city."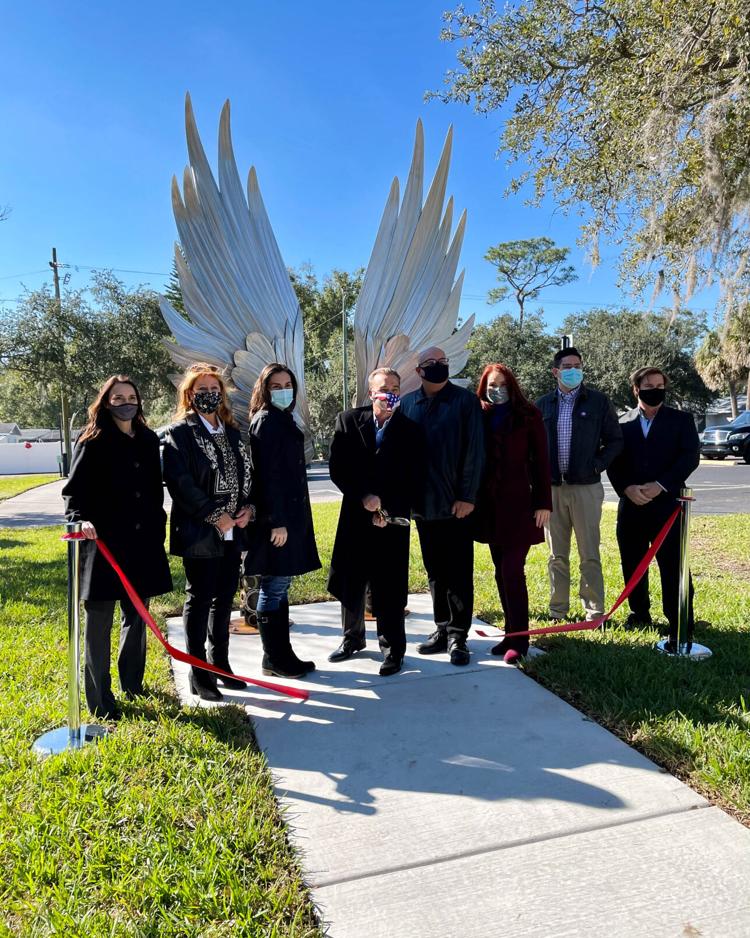 Seidel noted the interactive sculpture, which cost roughly $40,000 and is designed to keep its patina finish for 50 to 75 years, "demonstrates to our community the financial investment our city has made toward public art. In this day and age, our society continues to need to embrace culture that is accessible, meaningful and relevant to our lives today."
Gialanella, who couldn't attend the ceremony in person, called in and spoke about the process of creating such a unique attraction for the city.
"After many months of hard work, I'm overjoyed to see it standing tall and proud," he said. "Creating 'Taking Flight' was a journey and any journey takes time, diligence and patience."
Noting it was a "challenge to make the design elegant and graceful and at the same time strong and durable," Gialanella, whose works can be found in public gardens and private collections around the world, said "the most engaging feature of the sculpture is its interactivity. Visitors can pose for a photo of themselves 'wearing' the wings. Some amazing pictures have already taken, and I look forward to seeing many more at #takingflight."
As if on cue, Seidel dismissed the crowd and people began lining up for individual and group shots in front of the piece, with the cloudless sky and bright sunlight providing a perfect backdrop for the giant, shimmering wings.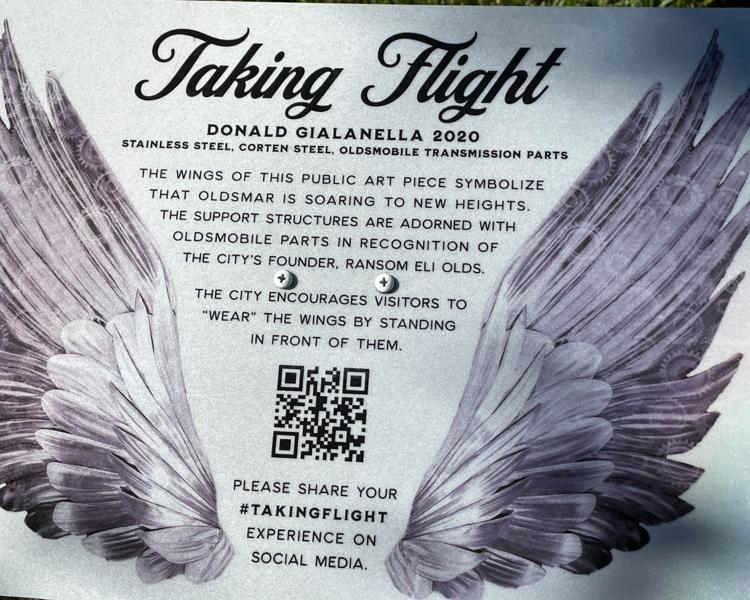 Afterward, Oldsmar Arts Director Lisa Schmid and fellow selection committee member, Council member Linda Norris, spoke about the city's latest public art installation.
"It exceeded my expectations," said Norris, who served as president of the North Pinellas Cultural Alliance and is credited with spearheading Oldsmar's first commissioned public art project, a pair of murals at R.E. Olds Park, in 2016. "I love it because it utilizes the old Oldsmobile parts as a tribute to our history, it's interactive and it's majestic. It's different from every other public art installation in Pinellas County and it's unique to Oldsmar, and that's exactly what we were looking for."
Schmid, who during her two years in the position has overseen several public art projects, including pop-ups and restorations, said she was "thrilled" to see the installation of "Taking Flight" come to fruition.
"It was a long process and the pandemic didn't help," Schmid said. "So, we're super excited it's standing here now." She noted the city is planning to unveil more public art projects next year.
Seidel added he was "very pleased with the way it turned out, and I think the committee did an excellent job in the selection process. It's been exciting to see so many people already posting pictures 'wearing' the wings. I think it's going to be a lot of fun and I think it's going to set the tone for the downtown for many years to come."