NEW PORT RICHEY — A day may come where dog owners are permitted to bring their four-legged friends along for walks in New Port Richey's James E. Gray Preserve, but not yet.
City Council discussed the matter at last week's regular meeting after a resident submitted a request to allow dogs in the 80-acre preserve west of Rowan Road. Dogs are not permitted there pursuant to city and Pasco County codes. After reviewing the request, city staff determined that the policy should remain.
Council told staff, however, to keeping exploring the issue.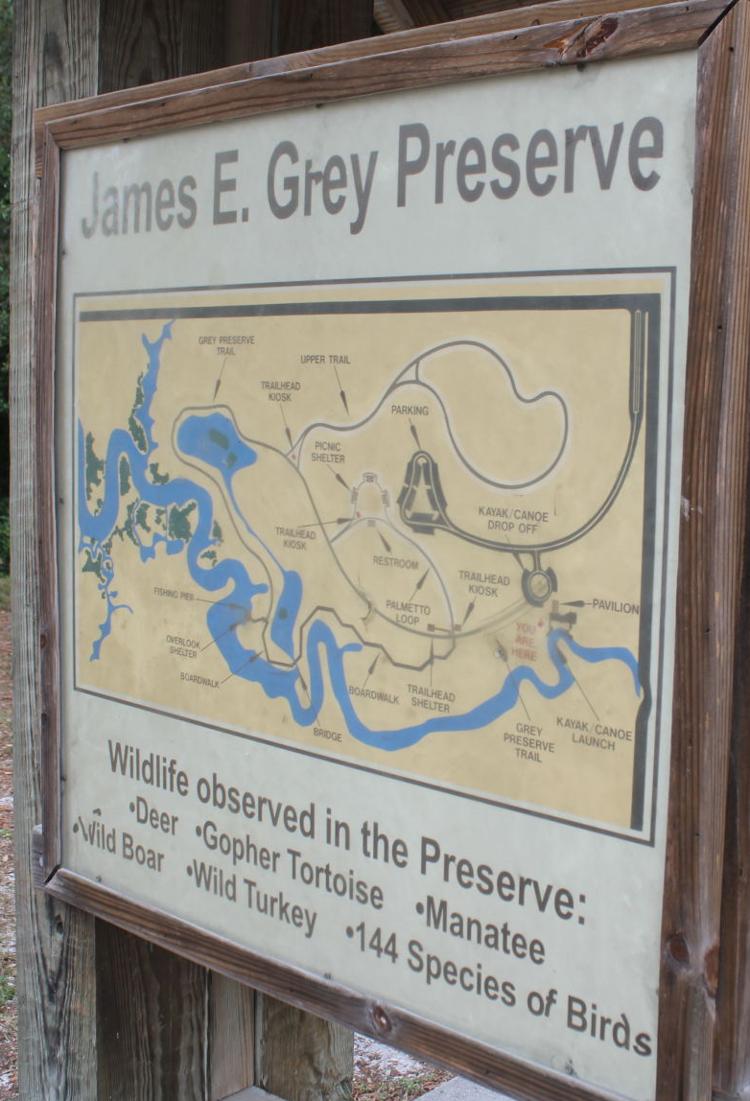 The city's parks and recreation director, Elaine Smith, in briefing council on the issue, said whether to allow dogs in Grey Preserve was researched when a roadway was built through it. After reaching out to other nature preserve managers, the city found that many of the preserves that allowed dogs wish they hadn't "because as soon as they did they did see a decrease of wildlife in the park," Smith said.
Staff from the preserves New Port Richey contacted said they received complaints about people letting their dogs run off-leash.
"They got a lot of complaints where citizens would be walking and they would come around a corner and meet a dog," Smith said. "Their concern was that once you allow dogs it's really hard to take it back."
Dog waste is another concern, Smith said. "Even if you do clean up after the dog, you're not going to get all of that material off, especially on the boardwalk."
After hearing staff's recommendations, City Council struggled to agree on how to move forward. Councilman Peter Altman motion to accept staff's recommendation to continue prohibiting dogs from the preserve failed for lack of a second.
Another part of the issue of dogs in Grey Preserve is the fact that the city code permits dogs in four other municipal parks: Orange Lake, Sims Park, Cotee River Park and the Meadows Dog Park.
Pasco County allows dogs in one of its three nature preserves. Dogs are permitted on a 6-foot leash at the Upper Cotee River Preserve, on designated trails. Dogs are not allowed at the Pasco Preserve and Jumping Gully Preserve. Dogs are also allowed in two of the county's three nature parks: Key Vista and Starkey Park, but not Eagle Point.
Dogs in Key Vista and Starkey Park must be on a 6-foot leash and only on hiking and paved trails.
Backup material for the agenda item stated that Key Vista, similar to James E. Grey Preserve, is unstaffed and that a county representative said there have been issues with people allowing dogs to run off-leash in the park since no one is there to enforce the code.
Some council members expressed an openness to the idea of allowing dogs in the preserve, but no consensus could be reached on how to do so.
"I personally think dogs on leashes are fine in the Grey Preserve," said Councilman Jeff Starkey, "but I do agree with staff a bit on the fact that it's because there is no staff in there. It does worry me a little bit that somebody's going to come and just start playing frisbee with their dog out in the open fields there and things like that, which makes some people uncomfortable. Some people are scared of dogs due to traumatic occurrences they may have had in the past. Some people are scared of certain types of dogs, certain breeds of dogs.
"But dogs on leashes, it's one of those things we're going to have to try out, I think, and then if we have a lot of negative feedback – people are going to the preserve not feeling safe, they see dogs off of leashes – then maybe reassess it."
Councilman Chopper Davis referred to Smith's statement that dogs are already allowed in city parks and other county preserves and parks. "Not only do we have parks that allow dogs, we also have a dog park. I think we're offering the public that chance at this time."
Davis also said allowing dogs in Grey Preserve could be revisited if council and staff have a change of heart.
Starkey didn't agree with Smith's comment that changing the policy to allow dogs would be difficult to reverse once put into motion.
"I don't think it is hard to take back," he said. "If we try it and we get several reports of dogs running wild and people don't feel safe, boom, no more dogs in the preserve. It's as simple as that. I'm personally OK with trying it out.
"It's going to be up to the responsibility of the dog owners as to whether or not this works if approved."
Starkey then made a motion to allow dogs in James E. Grey Preserve as long as they're on a six-foot leash, but that motion failed, as well.
The motion that did end up passing was for city staff to continue looking into the matter and come back to council with their findings. Council directed staff to see if there's a designated area in James E. Grey Preserve where dogs could be allowed and to provide aerial maps depicting those areas.