PALM HARBOR — The holidays are chock full of charities raising money, making meals and donating gifts to families in need.
But there likely is only one nonprofit group building and donating handmade beds for children, and more than 80 volunteers teamed up for Sleep in Heavenly Peace's latest build. The construction took place in the parking lot of the Florida Hospital North Pinellas Medical Center at 4705 Alt. 19.
According to Jim Baker, head of SHP's Pinellas County chapter, the charity, which was founded by an Idaho man in 2012, has quickly grown into a national organization with more than 110 chapters and thousands of volunteers, including the 80-plus who showed up for their latest build on Saturday, Dec. 1.
"We'll build close to 40 beds today and then deliver them next weekend," Baker said as he supervised a beehive of activity highlighted by sawing, sanding and branding wood. "Our chapter has been here four months, and we'll deliver our 100th bed next weekend. Everything is volunteer based, and everything is donated or bought with donations. It's a labor of love and our way of giving back to the community."
Baker, who learned about SHP after volunteering with the St. Petersburg chapter, said the organization stages builds on Saturdays once a month at several North Pinellas locations.
"We don't have a home base, because the rent could be going into the beds," Baker said. "So, we have a few organizations that let us build on their property." These include First United Methodist Church and Legacy Detailing, both in Tarpon Springs.
"But Florida Hospital was the first to step up, and they're always here for us," Baker said.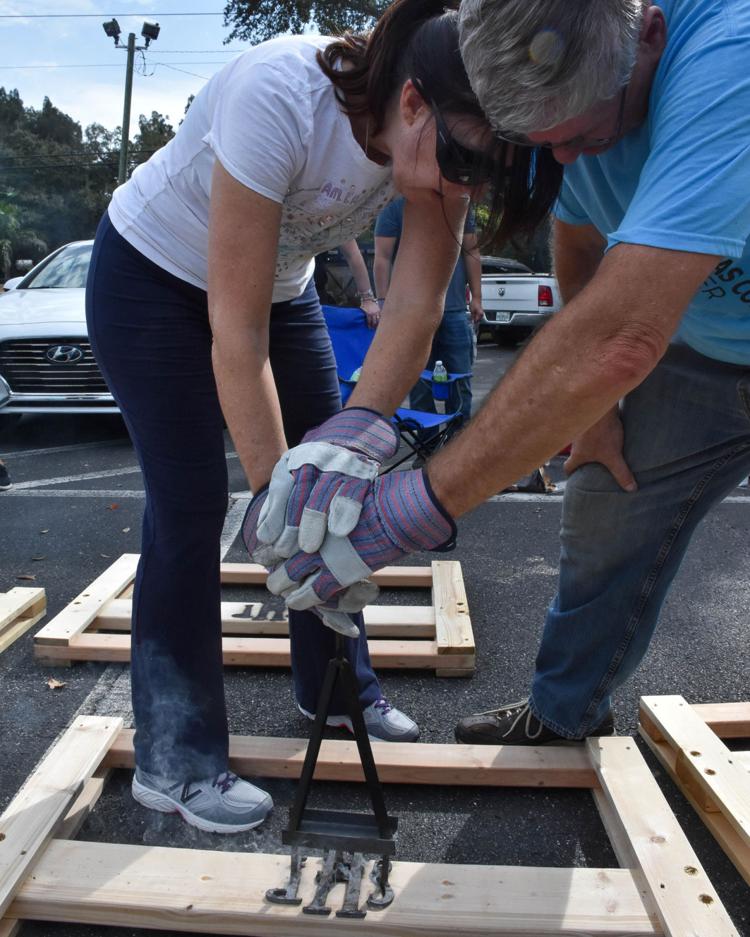 Indeed, the hospital's chaplain, Gregg Aguirre, said the project was a natural fit for the AdventHealth facility.
"This is really part of who we are as a hospital, part of our mission to extend Christ's healing in the community," Aguirre said. "When the project was announced we were looking for 20 to 40 volunteers, and we had 40-plus within two days.
"It's not about the financial investment — we're not profiting from this. The point is there's kids without beds, and people don't even know it."
Baker said the organization's guidelines to qualify for a free bed are looser than those of some charities.
"Basically, you have to be a child between 3 and 17 years old who doesn't have a bed," he said. "We don't go too deep into (income) or other requirements."
While the builds definitely foster a sense of community spirt, the deliveries are what keeps him going, he added.
"Building beds is wonderful," Baker said. "Delivering them, and seeing those kids climb into their own beds for the first time, is a life-changing experience."
For more information on Sleep in Heavenly Peace, which has chapters in Pinellas, Hillsborough and Pasco counties, visit shpbeds.org.