WEEKI WACHEE — Law enforcement is a tough job, and for some deputies with the Hernando County Sheriff's Office, even more so.
Take Deputy Steve Snell. Each duty day he has to hitch up a trailer carrying a Sea Doo. He straps on a pistol, but he needs even more protection: Avon Skin So Soft, a body oil that many people swear by as a bug repellant, for his bare legs. You see, he wears shorts to work and some days the biting gnats are out.
It's a tough job but somebody has to patrol the crystal-clear, spring-fed waters of the Weeki Wachee River all day.
Snell, the new river patrol deputy, gets some ribbing from fellow deputies over his latest duty assignment. Sometimes kayakers on the river yell out, "You've got the best job in the world."
"I agree," said Snell, a 30-year veteran with Sheriff's Office. He won the job after applying for the new position created recently as part of a contract with Guest Services, which runs the kayak rental concession out of Weeki Wachee State Park. As part of its deal to run the business, Guest Services covers Snell's salary.
The summer kayaking season hasn't kicked off yet, but Snell is on the job, getting his feet wet and gearing up for the crowds that flock to the river during the warm months. His previous job was as a school resource officer, but in the past, he's was a marine deputy and patrolled Hernando County waters for 10 years. He also has done patrols on the Weeki Wachee during school breaks. He has a U.S. Coast Guard captain's license, and that, along with his experience added up to make him a natural for the permanent river patrol job.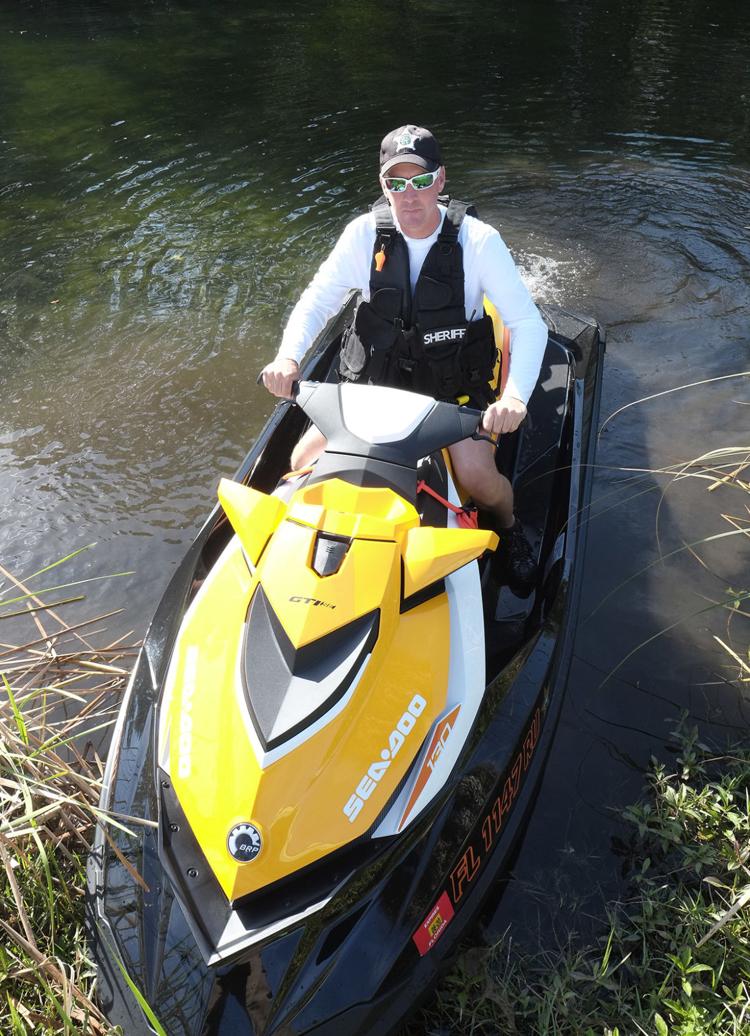 Snell said Memorial Day to Labor Day will be his busiest time, and he'll cruise between the head spring to Bayport, a trip that takes about 2.5 hours at idle speed. He'll be answering calls about trespassers crossing private property to get to the river, alcohol consumption on the river, which is prohibited, and safety checks to ensure everyone has the required floatation and signaling devices on board.
He'll also be checking on reports of overdue persons paddling the river and watching for power boats speeding in no-wake zones.
"They main thing is making sure everyone is safe," said Snell. He's also there to tamp down potential problems, which are not uncommon on the crowded river during the peak season.
"There's sometimes a little bit of friction between homeowners and kayakers," Snell said. "I sometimes get involved to mediate these conflicts."
This summer season those conflicts may be less of a problem, as the river may not be as crowded. The state reduced the number of paddle craft launched by Guest Services, and this season no more than 140 paddle craft launched by the concessionaire are allowed on the river at one time. In the past, the rule was a maximum of 400 launches per day and no more than 70 per hour.
"We should notice a significant difference," said Snell of the expected crowds, adding that less congestion on the river will improve the experience for paddlers and reduce potential problems overall.