TARPON SPRINGS – After spending more than a year in storage followed by months of wrangling over the design of the base, the Naiads sculptures have finally been installed in the roundabout at the west end of the Sponge Docks.
Sporting a foundation of rocks mined from a quarry in Kalymnos, Greece, and a small stone water fountain in the center, the four bronze water nymphs make an eye-catching attraction that's been drawing onlookers since they were installed last week.
"They still have to put the sunshades back up and finish the lighting and plantings and install new benches," Tarpon Springs Commissioner Rea Sieber said as a family from Michigan circled the statues on April 23. "But I'm totally pumped and excited to see them finally installed. Now there's more to look at than just a plain blue circle!"
Sieber, a longtime proponent of the project who owns a wine shop adjacent to the roundabout, explained how what began as an idea more than five years ago arrived at this point.
"This project was started by a group of merchants talking to the city manager over five years ago," she said, noting the original concept featured a sponge diver holding a mermaid.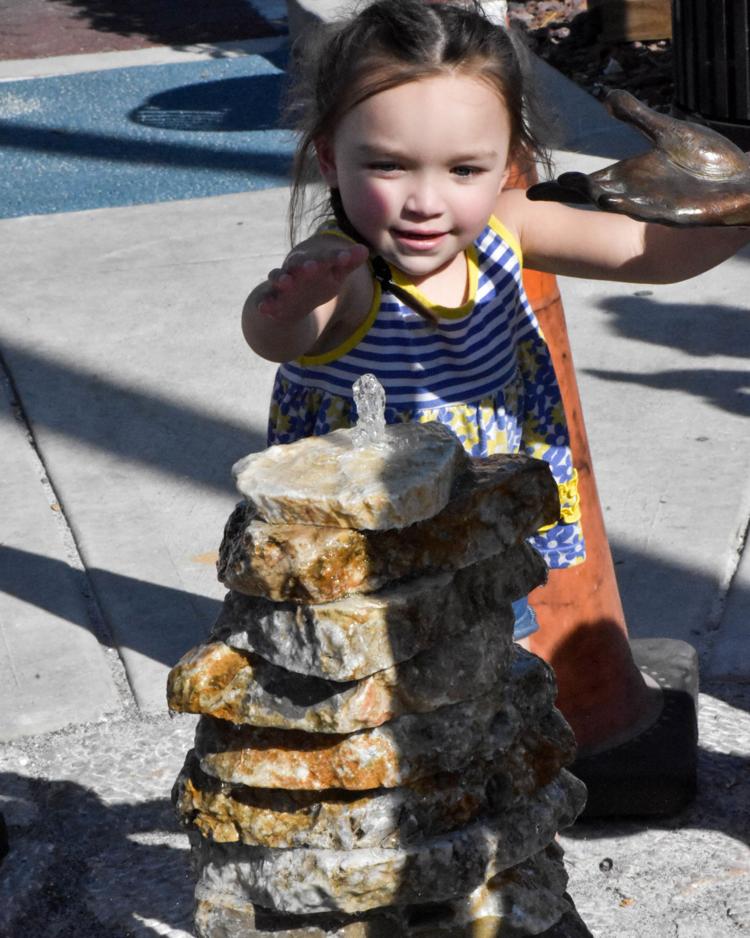 After the Public Art Committee purchased the four Naiads statues, as well as two others, for $175,000 from Texas sculptor Glenna Goodacre in 2017 and earmarked them for the spot, miscommunication between the City Commission and the Public Art Committee as to what the base of the Naiads should look like delayed their installation for more than a year.
"I feel after waiting five years for this project it's time we move on with it, and I'd really like tonight to decide which way we want to go," Sieber said during a January City Commission meeting.
The plans to place the naiads on an elaborate, expansive base were then scrapped in favor of a simpler, more natural surrounding that emphasizes the sculptures'' beauty.
"I know it's still not completed, but I'm happy with it," Sieber said as 3-year-old McKenna Hampton examined the statues and the fountain. "I feel it's an accomplishment for the Public Art Committee, who have been working on this for a while with the board. So, I want to thank Diane Wood and all those on the committee who worked so hard to make this happen."
Sieber said the city would hold an official ribbon cutting ceremony for the Naiads installation once all the additional work is completed.