TARPON SPRINGS – From the start Tarpon Springs' $30,000 multifaceted marketing campaign was designed to be a community affair.
In addition to developing a new website, Explore Tarpon Springs.com, purchasing billboards and other advertising space and revamping existing marketing materials, officials also commissioned a tourism video featuring dozens of local residents and merchants as well as held a photo contest encouraging people to submit shots of the city for use in the campaign.
On Tuesday, July 23, Economic Development Director Karen Lemmons previewed the spot for the City Commission, and she praised the community's participation throughout the three-month process.
In addition, Lemmons thanked Mayor Chris Alahouzos and the other City Commission members for allocating money for the marketing effort.
"All of the residents and visitors and everybody who came out the day of filming to be unpaid volunteer actors, and also everybody who helped lead up to it," Lemmons said.
She added: "We're proud to show this tonight and especially proud that this is all locally driven. Everything that you see in here is local and all the people involved in it are local."
The video, shot throughout the city over the course of an afternoon in May, features iconic scenes of the historic downtown district and the Sponge Docks as well as other places in town.
The 90-second spot was well-received by the audience and the commissioners.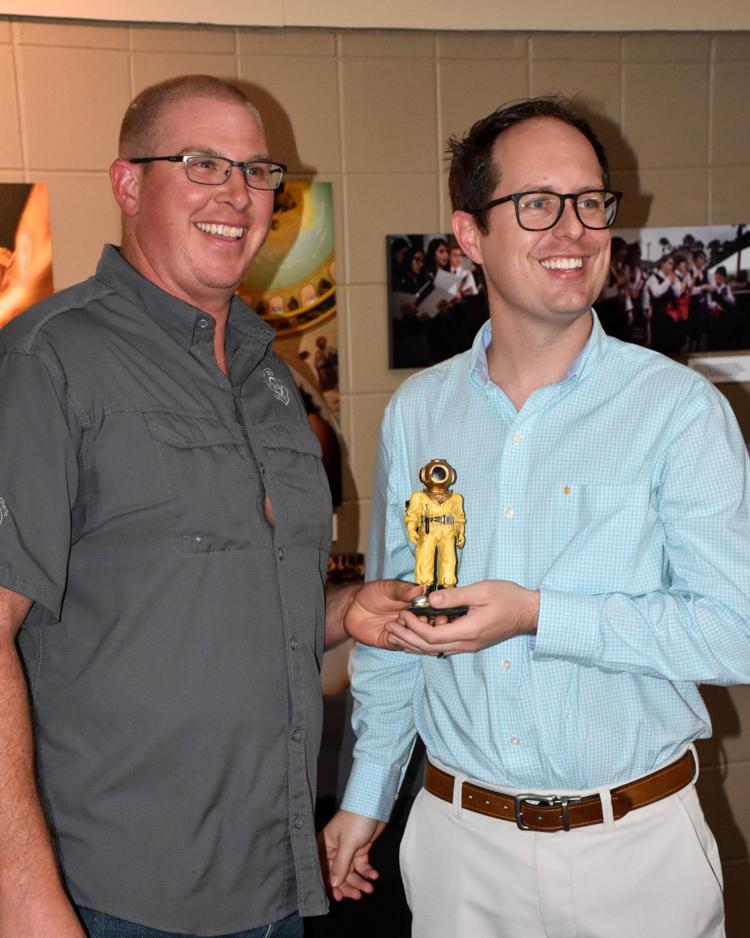 "Karen, congratulations not only on the video but on the whole tourism campaign," Alahouzos said. "All of the things that you guys are doing for the campaign is excellent."
Two nights later, the Tarpon Springs Heritage Museum was packed for the public unveiling of the video and the announcement of the photo contest winners. The photo competition received more than 300 entries, she said.
"One goal was to get the community involved and get people to explore Tarpon Springs, and we thought a photo contest would be a good idea," Lemmons said.
After Lemmons revealed the top-three finishers in each of the six categories, including Parks and Rec, Arts and Culture, Coastal Tarpon Springs and Landscape and Wildlife, she rolled the video, which was met with more applause and kudos.
Following the ceremony, Kevin Wodrich, a local firefighter who took home the Best in Show trophy for his shot of the Epiphany statue at dusk, spoke about allowing the community to participate in the campaign.
"I love the concept," Wodrich said. "I love the idea of local people doing local things."
Bunni and Scott Lefebvre, who moved to the area a year ago and participated in the video, agreed.
"It was a treat to promote Tarpon Springs and to be hosted for the day by our local merchants," the Lefebvres said via email, adding they think "the creativity that was promoted by incorporating a town photo contest into the new Tarpon Springs marketing campaign was smart."
Lemmons was also impressed by the level of community involvement.
"One of our goals with this campaign was community engagement, getting people involved in the city, and that was accomplished with the participation in the video and the photo contest and the turnout tonight," she said. "It tells you that people love our city. All you have to do is ask for support and you get it."