NEW PORT RICHEY — The race to represent District 5 on the Pasco County Board of Commissioners is a three-way race between four-term incumbent Jack Mariano, a Republican, Brandi Geoit, a Democrat, and Victory Rodriguez, who isn't affiliated with a party.
Two of the candidates — Mariano and Geoit — participated in debate Sept. 28 at the Greater Pasco Chamber of Commerce in New Port Richey discuss issues facing the county. Rodriguez was not present.
The debate, organized by the Chamber and the West Pasco Board of Realtors, featured candidates competing in five total races. Four of these involve districts reaching west of the Suncoast Parkway: Pasco County Commission Districts 3 and 5, and State House Districts 36 and 37.
All four debates will be featured in upcoming editions, and this is the second of those recaps.
District 5 covers northwest Pasco and much of the county's gulf coast.
The debate was moderated by Tampa Bay Times education reporter Jeffrey Solochek and the candidates shared views on a range of topics for nearly 40 minutes.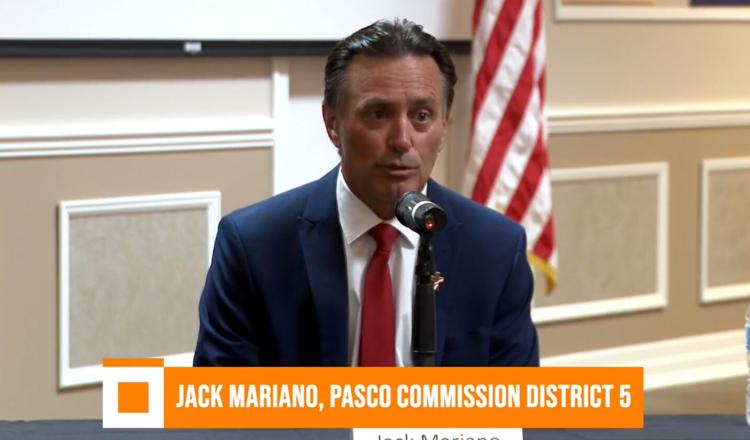 Balancing growth and development
Mariano listed economic development as one of his two primary platforms when he was first elected to the board in 2004. He pointed to the county's recent success luring larger companies, like Metter Toledo to Lutz and TouchPoint Medical to Odessa, as quality job creators.
"When I look at economic development for this area, it is about creating jobs and that will radiate its effects," Mariano said. "The jobs we look at are not just the ones that will be retail jobs but they're going to be jobs that are going to create more jobs around them. They're called target industries."
Geoit wondered aloud how many of the newly created jobs will actually go to Pasco County residents.
"The question becomes, how many were promised to residents of Pasco County? Or are we going to continue to recruit from other counties to bring in those people to fill those positions."
The candidates also touched on traffic issues and the Ridge Road extension.
Geoit said the county needs to create a comprehensive traffic plan and delayed doing so for years "so they could do Ridge Road through a nature preserve."
Mariano described Ridge Road's extension, a project that was stalled for decades, as being "critical" to alleviating traffic congestion along State Roads 54 and 52.
"The job of the County Commission is to try to bring wealth to the county so the people can have better jobs, spend less time in their cars and improve their quality of life by being able to spend more time with their families," Mariano said.
Renewing Penny for Pasco
Both candidates favor continuing the 1% sales tax when it hits ballots in the near future. The current 10-year renewal period, which was supported by 70% of voters, collects revenues through Dec. 31, 2024. They differ on how its revenues should be spent, however.
"We need to renew the Penny for Pasco, but at the same time we need to make sure we're paying attention to where it's being spent," Geoit said, stating that its revenues should not have been used to purchase a large park in East Pasco recently. She added that more Penny funds should be used on addressing substance abuse, mental health and homelessness, issues directly impacting West Pasco and the U.S. Highway 19 corridor.
The first 10-year Penny initiative passed during Mariano's first year on the county board. When it came before voters for renewal in 2012, he said it was his initiative to add an economic development element to how Penny money is spent. That approved concept designated $45 million to go directly toward economic development projects.
Sheriff's Office
Mariano expressed his full support for the Pasco County Sheriff's Office, while Geoit said the county should not be "automatically guaranteeing our Sheriff's Department 50% of our tax dollars if we're claiming that our neighborhoods are safe."
Geoit pointed to law enforcement shortcomings throughout West Pasco, including recent shootings in the Embassy Hills area. She added that sheriff's deputies are being forced to do social work that they're not trained for and shouldn't be dealing with.
"I think the sheriff's budget is well funded," Mariano said, citing a gradual increase in pay to help keep quality deputies from leaving to nearby counties. "We have our citizens so well protected, and we need to stand behind these guys every step of the way to tell them we back you, we stand behind you, we're with you. We're going to keep you funded so you can keep us safe."
Mariano also put his support behind the department's use of intelligence-led policing practices.
"They look at where the troublemakers are, and they will pester the troublemakers," he said. "They will go over again and again. If they think a crime's been committed in a certain one and maybe that person's committed the same crime six or seven times, that will lead them to go down that way. So maybe some people are going to get hassled by it, but I will tell you that the majority of good citizens that don't cause any trouble never even know about this program and never get affected by it."
Addressing homeless in Pasco
Getting people off the streets and into housing is a major priority for Geoit and she said a major step in the right direction would be opening "an actual homeless shelter here in Pasco County." This would allow social workers to better direct people into proper systems and programs, therefore increasing the odds they continue improving.
"If you want to actually solve the problem of homelessness, we need to actually start funding affordable housing as well as building a homeless shelter," she said. "When you have individuals into housing it actually boosts the economy and it's a lot cheaper to put them into housing than it is to put them in the Land O' Lakes jail."
Not by name, but Geoit called out Mariano's opposition to turning a former Boys and Girls Club in West Pasco into a homeless center. The commissioner said his stance hasn't changed. "I'd fight it again today," he said, adding that affordable housing options need to increase. Mariano pointed to a Habitat for Humanity project at Leisure Lane and Van Doren Avenue in New Port Richey as a recent success story.
Minimum wage increase to $15
Geoit is for it and Mariano is not.
"The fact that it's not at $15 an hour now to meet the cost of inflation is very, very concerning," Geoit said. "When we talk about everything else, and trickle-down economics has never worked, when you bail out the consumer the consumer bails out small businesses."
"It might cause your unemployment rates to go up because people can't afford to pay regular jobs $15 an hour," Mariano said. "What I like to do is try to work on what we can do to increase the number of jobs we have available, drive up the demand so it becomes more expensive to hire people because there's a better demand. Basic economics."
Coronavirus in Pasco
Mariano has expressed his skepticism toward wearing masks during commission meetings. He pointed out at the debate that it was his idea to make Pasco County's emergency mask order be "strongly recommend" rather than "mandatory."
Geoit said she's in full support of mask mandates, mentioning her past work in public health. "I dealt with individuals with tuberculosis and I can tell you that all the ICUs are currently using TB protocols."
"I actually support individuals that are in medical science and not Facebook memes for my actual knowledge of science," Geoit added.
"I think it's important to look at what's the safest way to go, what's the best way to go and at what point do we give people the choice to either go to a place that might be a little different as far as their restrictions go," Mariano said.
Geoit questioned Pasco's distribution of CARES Act funding and proposed the county look into its own internet service provider to help low-income families.
Mariano defended the county's CARES Act distribution efforts, including periodic online initiatives directed toward residents struggling to pay utility bills, mortgages or rent.
Working with the school district
Geoit believes the working relationship with the county and school district needs improved, "especially when they come to us and tell us what they need the impact fees to be raised to just so that they can actually provide quality education to our students."
Pressing issues include overcrowding and how redistricting is handled to make sure "schools are inclusive toward all students of all socioeconomic backgrounds," she said.
Mariano believes the current working relationship is in a good place. "The great thing is with the school board is we've got a great board, great superintendent doing a great job under very difficult times right now," he said. "And we do support them every step of the way."