SPRING HILL — Old wooden cigar boxes make great little storage chests. Coins, buttons, shiny stones, jackknives and all sorts of things are kept in them. A local woodworker has an entirely different use for them.
Michael Bianconi turns them into serious, playable guitars, and the diminutive three-string instruments give a whole new meaning to the phrase "smokin' hot" guitar licks.
The Brooksville guitarist of 40 years came across a cigar box guitar at a flea market a little over a year ago. The instrument fascinated him.
"I thought, I can make one of these," he said. "So I did."
Already a woodworker whose specialty is rustic farmhouse tables, Bianconi uses wood cigar boxes — cardboard won't do. He reinforces the inside corners, and sometimes adds metal bolters on the outside corners. He then adds the various parts needed to convert it into a guitar — a bridge, electric pickups and volume knobs, a wood neck, tuning keys and a few other touches. He puts holes in the boxes so they can be played acoustically.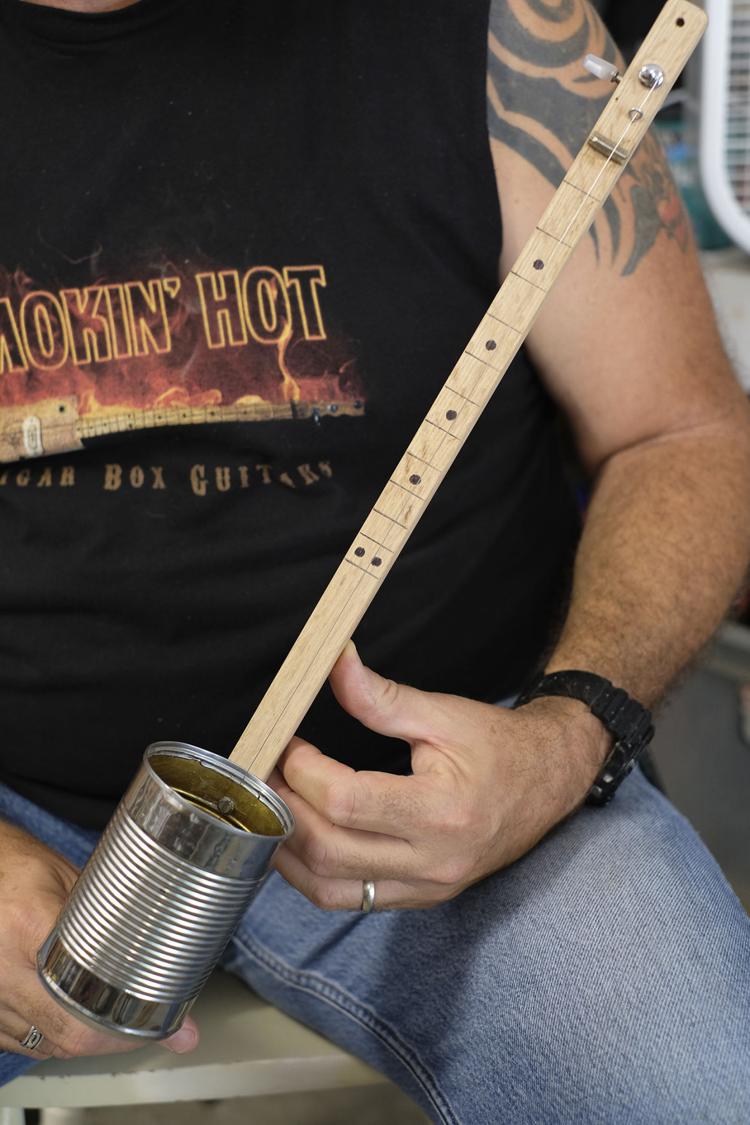 Hardwoods like oak and walnut are used for the necks and fingerboards, which have metal frets. Most of his creations have just three strings, though he's done a few with six. It takes about three to four days to complete one, he said, including the varnishing process.
One thing he doesn't monkey with is the colorful artwork that adorns the cigar boxes. Some of the boxes retain their hinges and latching clasps.
"I preserve the look and the art on the boxes," Bianconi said. "That's what gives them the distinctive look."
He finds the boxes at garage sales, online web sites and local classifieds, and he's always on the lookout for them. A shelf in Bianconi's garage workshop is stacked with them, each destined to become what some call a "hillbilly" guitar.
The history of cigar box guitars goes back to the 1800s, Bianconi said, as people with no money to buy a guitar built their own from discarded cigar boxes, cobbled together using broom handles for necks and fence wire for strings.
"They were pretty crude," said Bianconi.
Bianconi's creations are anything but crude, and he's built more than 90 to date, selling them from his website, www.southernfireguitars.com, for $165 to about $225. He's shipped them all over the country, and recently sent one to a buyer in Ireland.
"I just got hooked on building them" he said, adding that the instruments are not just "wall-hangers," and are fully playable.
So what does a cigar box guitar sound like? Bianconi picked up one from his inventory, slipped a slide he made from a bottle neck over a finger on his fret hand and began belting out some Mississippi-style blues while plugged into a small amplifier. He said his guitars are easier to play than a standard six-string, as they are tuned to an open G chord. Forget the fret board. Just strumming the open strings produces the chord, he said. They also can be tuned to an E, he said.
"A lot of old blues players used cigar box guitars," Bianconi said, adding that country and folk music players did, as well.
In later years, musicians looking for that special, distinctive sound, recorded records using cigar box guitars, he added.
Bianconi's latest project is the "canjo," a tin can with a simple, fretless neck and one string. He thinks they would be ideal for children and looks forward to getting some in the hands of children to see how they are received.