COVID-19 or not, life goes on, and so too does the band.
That's the story in the Heritage Lake retirement community in New Port Richey, where Chuck Schlaich and his Dixieland Garage Band have been playing semi-regular concerts for enthusiastic crowds lining the sidewalks and dead-end street in front of resident Pat Roguz's home.
The idea came about during the worst of the pandemic lockdowns as a way to provide some entertainment and a break from the worry and isolation in the summer, said Roguz, who got with friend Schlaich about playing some live music for the neighbors.
Schlaich took it further, calling on some fellow musicians, and it wasn't long before a band came together to hold top-notch, free concerts in the safety of the outdoors with mask-wearing and distancing practiced.
Schlaich plays keyboard and xylophone, while Wayne Pearson mans the clarinet and sax. Paul Hafer is on bass. Eddie Graham is the drummer.
All are seniors save Hafer, who is the "baby of the band." The others are longtime pros who've played around the world. Graham played percussion for Elvis Presley for a couple of years, as well as with jazz pianist Earl Hines.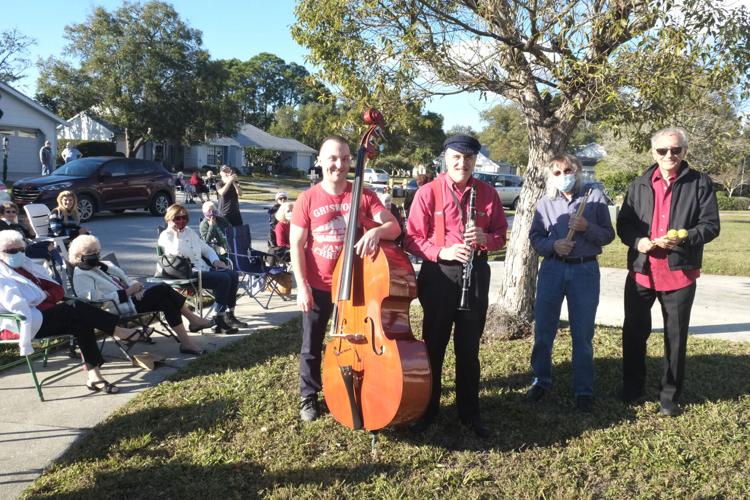 Schlaich said he thought it would be good to provide some fun for music fans but admits musicians must play, as it's "just in our blood." Since the players have been sidelined from their regular local venues, Roguz's garage is a place to play.
"For us it doesn't matter where we play, we just need to play," said Pearson, whose regular gig was playing at the Olive The World Bistro in Tarpon Springs before the virus descended. "We're all not playing as much now, and this is a good way to get together."
Drummer Graham, who at 83 continues to bang away on the skins like a teenager, thinks the neighborhood gigs are great for the mostly elderly audience that feels safer with entertainment coming to them outdoors, but also a morale booster for the players.
"It's about getting to play music," he said. "Music is my life; I can't quit music."
Linda Benton lives a couple of streets over and said she loves that the band comes to the neighborhood. A performance held Saturday was the fifth she's attended.
"It's great because of all the things we can't do now," she said. "We can't go out to a club anymore, but with this we get to hear music outside and get together and see the neighbors."
Liz Conlan lives next door to Roguz and doesn't miss a show.
"It's so nice of them (the band members) to do this," she said. "It's something everyone really appreciates."
Laura Arnold, a counselor who works with caregivers dealing with family members suffering from dementia, said the concerts are great for those who need a break from the demands of life, as well as the members of her women's social group, Friends for Fun, which like many groups in this troubled year are finding fun hard to come by.