TARPON SPRINGS — They say lightning never strikes twice, but don't tell that to the Sakadales family.
One year after 18-year-old Hunter Sakadales captured the cross during the 2020 Epiphany celebration, his 16-year-old brother, Colten, rose from the depths of Spring Bayou on Jan. 6 clutching the cross in his hand during the 115th edition of the Greek Orthodox Church's celebration of Christ's baptism.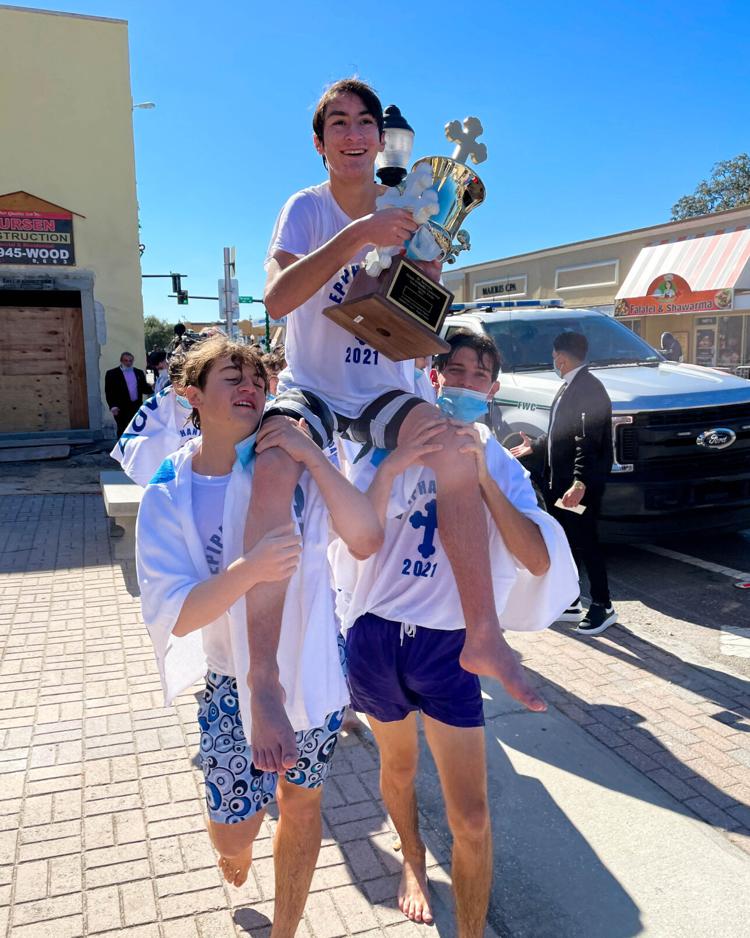 After being carried up the steps of Craig Park and all the way to St. Nicholas Greek Orthodox Cathedral on the shoulders of his fellow divers, Sakadales was inundated with questions from the media as he was surrounded by his older brother and the rest of his immediate family. When asked how he was able to find the cross in the murky water, Sakadales replied, "I just went under and looked and just saw it. It was kind of glowing, too. I didn't understand how that worked. But I honestly can't believe it. I'm very excited."
The unexpected surprise of having a pair of brothers retrieve the cross in consecutive years for what is believed to be the first time ever helped elevate the spirits surrounding this year's Epiphany, which was plagued by questions and controversy leading up to the event due to the ongoing COVID-19 pandemic.
Following a lengthy discussion in mid-December about whether it would be held at all, city and church officials agreed upon a scaled-back version, with fewer parishioners in the cathedral, no public admittance at the bayou and no Glendi feast at Craig Park following the cross dive.
Despite the downsizing and the more subdued feel one year after the largest Epiphany in the city's history, the event went off without a hitch, with no protests, no disruptions and a decent-sized crowd ringing the park by the time the 54 divers jumped in the water around noon.
"It's been a chaotic few weeks, that's for sure," Johanna Kossifidis, Epiphany's media and PR director, said earlier in the day. "But the waters will still be blessed. That's the main thing to remember."