As Floridians prepared for Hurricane Dorian, some deciding to forego their Labor Day plans, National Hurricane Center announced that the storm has slowed down. It is now forecast to make landfall as a powerful Category 4 storm Tuesday morning somewhere along the east coast.
In NHC's 8 a.m. discussion notes, meteorologists said, "The biggest concern will be Dorian's slow motion when it is near Florida, placing some areas of the state at an increasing risk of a prolonged, drawn-out event of strong winds, dangerous storm surge and heavy rainfall."
Dorian's maximum sustained winds had increased to 110 mph Friday morning, making it a Category 2 storm. It was very near to Category 3 (major hurricane) strength of 111 mph. As of 2 p.m., Dorian had maximum sustained winds of 115 mph, making it a Category 3 hurricane.
National Hurricane Center's new intensity forecast shows it becoming a Category 4 with wind speeds of 130 mph within 36 hours. Dorian is expected to be a Category 4 hurricane with winds of 140 mph at landfall.
Uncertainty still surrounds the track of the long-range forecast; however, NHC now says Dorian could make landfall somewhere along the east coast of Florida Tuesday morning as a very powerful hurricane.
Computer models continue to disagree on when and where Dorian will turn northwestward and northward on days four and five of the forecast period.
"Life-threatening storm surge and devastating hurricane-force winds are likely in portions of the Florida east coast by early next week," NHC said at 11 a.m. Friday. "But it is still too soon to determine where the highest storm surge or winds will occur."
Residents are urged to get their hurricane plans in place, know if they are in a hurricane evacuation zone and listen to advice from local officials.
"The source of the uncertainty can be attributed to challenges in forecasting the strength and orientation of the mid-level ridge over the southeastern United States in a few days, along with exactly where and how large Dorian is by then," a NHC meteorologist said in the Thursday night discussion notes. "As you can imagine, with so many complex variables in play, it is no wonder the models have been having a difficult time nailing down the path of the hurricane."
Users are reminded not to focus on the exact forecast track, as typical forecast errors at days four and five are around 155 and 205 miles, respectively.
The intensity forecast shows additional strengthening as Dorian moves through a favorable environment of low vertical wind shear and warm sea surface temperatures.
Gov. Ron DeSantis has issued an emergency declaration for the entire state.
"Due to Hurricane Dorian's uncertain projected path, I am expanding the state of emergency to include all 67 counties throughout Florida," the governor said in a press release. "All residents, especially those along the east coast, need to be prepared for possible impacts. As it increases strength, this storm has the potential to severely damage homes, businesses and buildings, which is why all Floridians should remain vigilant. Do not wait until it is too late to make a plan."
Pinellas prepares
Reports were coming in Thursday afternoon of bare shelves at local grocery stores and water shortages. Many gas stations had lines as people filled up ahead of the possible tropical weather.
Pinellas County Emergency Management is monitoring the storm. The Citizen's Information Center is open from 8 a.m.-8 p.m. for preparedness questions. Call 727-464-4333. The county's public works employees are monitoring flooding hotspots.
The National Weather Service predicts that tropical storm conditions are possible in Pinellas County and Tampa Bay on Labor Day and hurricane conditions are likely on Monday night and Tuesday, bringing the potential for high winds, heavy rains and flooding. Latest projections show the possibility of up to 4-inches of rain or more.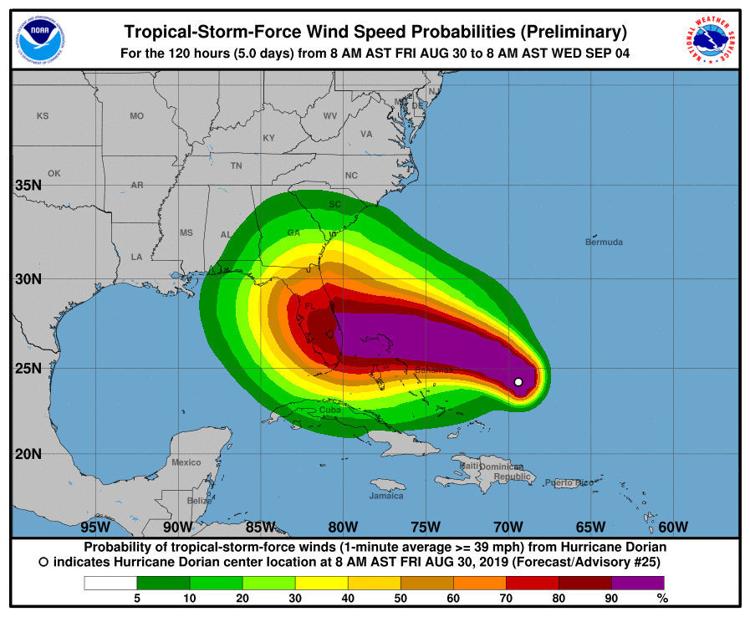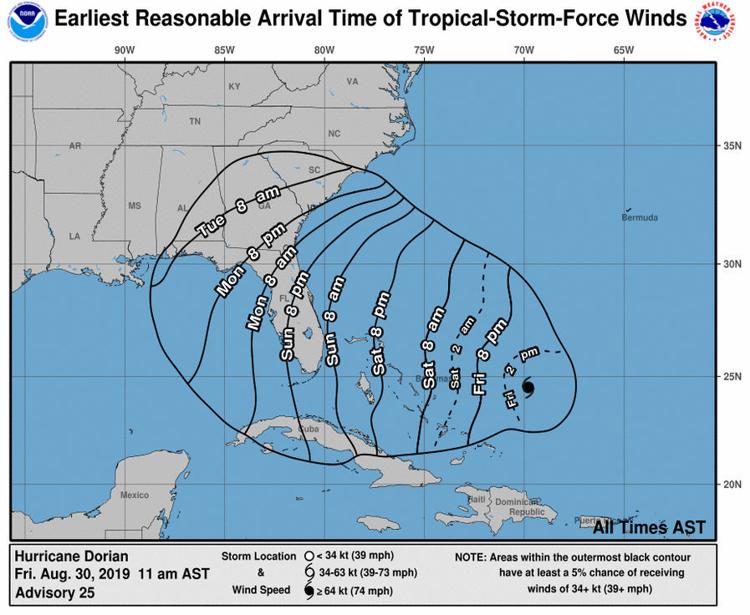 NHC's tropical-storm-force wind speed probability map shows a 70% chance of wind impacts to Tampa Bay and Pinellas. The "earliest reasonable arrival time" of tropical storm winds is forecast to be Sunday night or early Monday morning.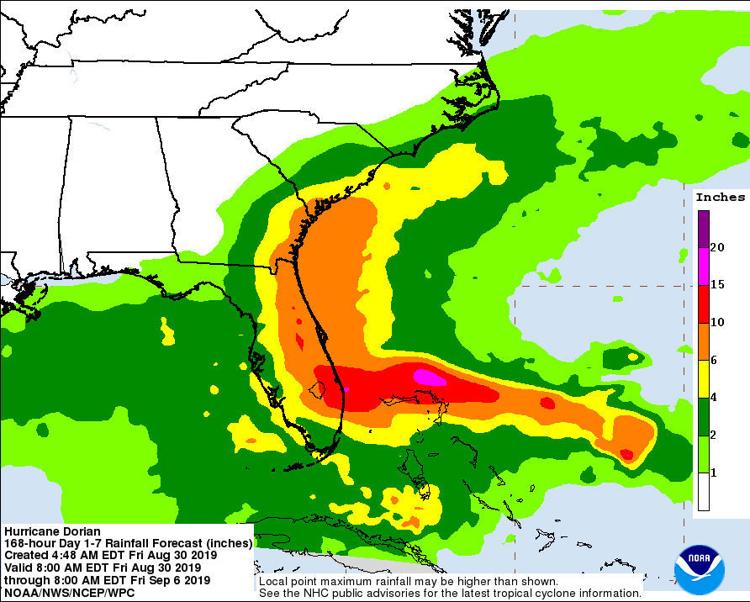 Sandbag locations
Initially, Pinellas County had said it was not offering sandbags; however, it announced Thursday afternoon that several locations were opening in unincorporated areas. Sandbags will be available from noon-7 p.m. Thursday and from 7 a.m.-7 p.m. on Friday-Sunday or as long as supplies last.
Sandbags are limited to 20 per person. Materials will be supplied, and shovels will be available. Staff will be available to assist residents that need help.
Sandbags are available at John Chesnut Sr. Park, 2200 East Lake Road in Palm Harbor, Walsingham Park, 12615 102nd Ave. N. in Largo and Lealman Exchange, 5175 45th St. N. in St. Petersburg.
The city of Pinellas Park has opened multiple self-service sandbag sites for residents only. Residents can get up to 10 sandbags each. Residents must show a water bill and/or valid driver's license indicating they are a resident of Pinellas Park in order to receive their sandbags.
Sandbags are available at Helen Hogarth Park, 6401 94th Ave N., on Friday, 9 a.m.-7 p.m.; Pine brook Park, 7202 118th Ave N., on Friday, 9 a.m.-7 p.m.; and Broderick Park, 6101 66th Ave N., on Friday, 9 a.m.-7 p.m. Times also have been extended to include Saturday and Sunday from 9 a.m.-5 p.m.
Pinellas Park also asks its residents to help limit potential sewage issues from Dorian by taking fewer showers and refraining from doing laundry. Residents also are reminded to secure outdoor materials that could become debris in high winds. For more information about sandbags, call 727-369-5617.
The city of Madeira Beach has activated a self-serve sandbag station at Archibald Memorial Beach Park, 15100 Gulf Blvd. The self-serve sandbag station is available 24 hours day. Madeira Beach Public Works staff will be available to assist those unable to fill or lift sandbags into their vehicle each day from 7 a.m. - 6 p.m.
The sandbag station will remain open in advance of Hurricane Dorian, which is currently forecast to make landfall on Florida's east coast late Sunday or early Monday. For more information, call Curt Presser, public information officer at 727-391-9951, ext. 299 or email cpreisser@madeirabeachfl.gov.
The Sandbag Station for Oldsmar residents and businesses will open on Friday, Aug. 30, at noon, in the east parking lot of City Hall, 100 State Street West. Sandbags also will be available Saturday, Aug. 31, and Sunday, Sept. 1, 8 a.m.-5 p.m. Limit is 15 bags per address. Photo ID or Oldsmar utility bill required. You will need to fill your own bags and transport to your vehicle. Bring assistance if needed. For more information, call 813-749-1136.
The city of Dunedin will have a sandbag distribution center for residents and business owners behind Fire Station 61 at 903 Michigan Blvd. It will be open Friday, Aug. 30, from 8 a.m.-7 p.m. and Saturday and Sunday 7a.m.-7 p.m., weather permitting. Limit is15 bags per vehicle. Proof of residency or business address required.
Latest information
As of 11 a.m. Aug. 30, Dorian was located about 480 miles east of the northwestern Bahamas and 660 miles east of West Palm Beach, Florida. Maximum sustained winds were 110 mph. Dorian was moving northwest at 10 mph.
NHC says Dorian is expected to continue moving to the northwest on Friday. A west northwestward to westward motion is expected to begin Friday night and continue through early next week.
The core of Dorian is expected to move over the Atlantic north of the southeastern and central Bahamas today and tomorrow and be near or over northwestern Bahamas on Sunday. Dorian is expected to then move near the Florida peninsula late Monday.
A hurricane watch is in effect for northwestern Bahamas.
Dorian is expected to become a major hurricane today and remain so through the weekend. The intensity forecast call for maximum winds of 140 mph. According to the Saffir-Simpson Hurricane Scale, a Category 4 hurricane has winds of 130-156 mph.
Hurricane force winds extend outward up to 25 miles from the center and tropical-storm-force winds extend outward up to 105 miles.
Prepare now
Pinellas County officials are encouraging residents to finalize hurricane preparations not just for Dorian but because September is historically the most active month of the hurricane season.
Residents and businesses are urged to make sure they are following the three critical steps: Know your Risk, Make a Plan and Stay Informed. Registering for Alert Pinellas and downloading the Ready Pinellas app for iPhone and Android will help with the process.
Sunday, Sept. 1 marks the first day of National Preparedness Month, sponsored by FEMA to promote family and community disaster planning.
"It is important for everyone to be prepared in case our area is impacted by a hurricane this season," said Cathie Perkins, Pinellas County Emergency Management Director. "This is the perfect time to look up your evacuation zone, get whatever supplies are needed to complete emergency Go Kits and Stay Kits and sign up for Alert Pinellas."
The county's free mobile application, Ready Pinellas, will help you create a personalized supply list to help you keep track of the supplies you need to finish a kit. You should gather enough supplies to last seven days.
Some essential items include:
• Water – at least 1 gallon of water per person per day
• Non-perishable food
• Non-electric can opener
• Medications and copies of prescriptions (you can get a 30-day refill once an Emergency Declaration is declared for Pinellas County.)
• Flashlight or lantern
• Battery-operated or hand-cranked radio
• Cell phone with charger, extra battery and solar charger
• Contacts in mobile device and in print for backup
• Extra batteries
• Cash
• Insect repellant
• Sunscreen
• Tarps
• First aid supplies
• Portable toilet
• Books, cards, board games
• Full tank of gas in vehicle
• Gas tank; extra gas if you have a generator
• Emergency Access Permit (for beach residents and businesses. Obtain one at city halls or online at pcsoweb.com/emergency-access-permit.)
For more information on disaster preparedness, visit the Pinellas County Emergency Management website at www.pinellascounty.org/emergency, or email to ema@pinellascounty.org. The county sends urgent safety notification through Alert Pinellas. Residents can sign up at www.pinellascounty.org/alertpinellas.
Register for special needs shelters by calling the Citizens Information Center at 727-464-4333 or by contacting local fire department. Visit www.pinellascounty.org/emergency/specialneeds.htm for more information.
Mobile and manufactured homes residents must prepare to always evacuate when an evacuation is ordered. Mobile homes, manufactured homes and recreational vehicles are not strong enough to withstand the strong winds of a hurricane.
Sign up for pet shelters now by visiting www.pinellascounty.org/emergency/petpreparedness.
In addition, residents are encouraged to remove anything in their yards that could become airborne from high winds.
Prepare now is the message of the day.
"All indications are that by this Labor Day weekend, a powerful hurricane will be near or over the Florida peninsula," NHC meteorologists say.
Suzette Porter is TBN's Pinellas County editor. She can be reached at sporter@tbnweekly.com.