TARPON SPRINGS – Dozens of Tarpon Springs officials, residents and visitors took shelter under a tent at the Shepherd Center on May 17 for the groundbreaking ceremony for the facility's new Hope Center.
The 1,160-square-foot Hope Center will enable the Shepherd Center, a food pantry and homeless outreach center at 304 S. Pinellas Ave., to provide hot meals, showers and laundry as well as medical and social services for the area's homeless and those in need.
Before the Rev. Athanasios Haros, dean of St. Nicholas Greek Orthodox Cathedral, blessed the crowd and the building, the Shepherd Center's marketing director, Fred Howard, spoke about the new addition.
"Just think, anyone in the area who needs a hot meal or requires a nurse, a hot shower, a place to do laundry, now has one, seven days a week," Howard said of the Hope Center, which in addition to a kitchen, laundry room and shower area will also feature office space, a community room and an outdoor patio fronting West Boyer Street. "There's no place like this in Pinellas County. Our town can be extremely proud of that."
After Haros' blessings, Mayor Chris Alahouzos, project architect Ed Hoffman, Shepherd Center board president John Consolino and Executive Director Ada Del Gais each said a few words about the Hope Center and the lasting legacy of the Shepherd Center, which was founded in 1974 by "a small group of concerned citizens," according to their website.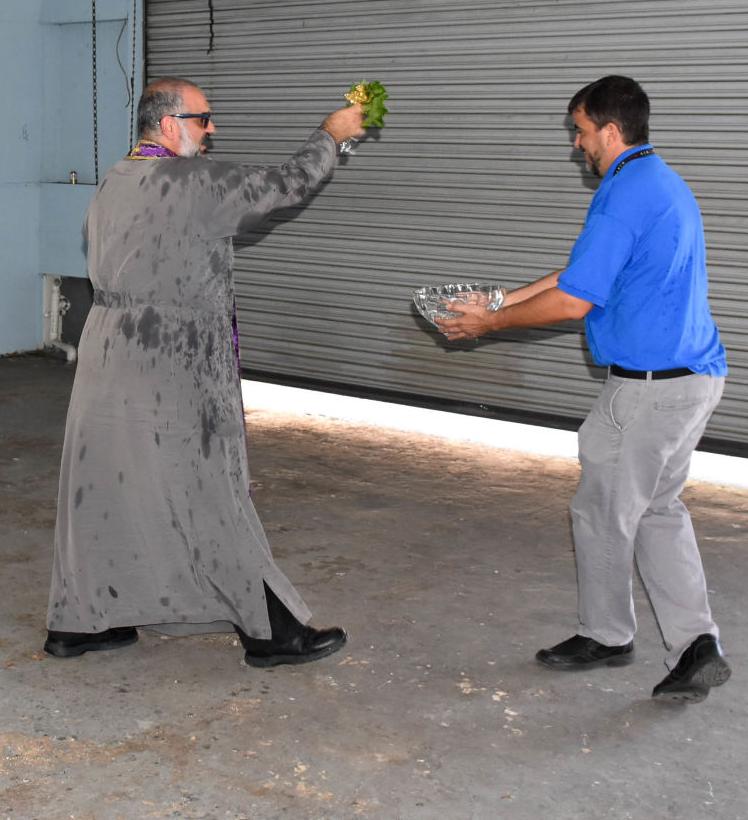 "Two-and-a-half years ago we had a vision of remodeling this building to provide the needs for Tarpon Springs' most vulnerable community members," Del Gais said. "And there was a time when it was almost impossible, and people said it was impossible. But we turned away from them and turned to God and put our faith in God. Without him, none of this would be possible."
Architect Hoffman became emotional when talking about the project.
"My love for the Shepherd Center began many years ago, when it was in a little house next to the Methodist Church on Tarpon Avenue," he said, adding "working on this project has been such a blessing."
After noting the project had been "challenging," Hoffman added, "we have more challenges to come, but I'm sure we will make it all happen."
After Consolino, past board president and former Mayor Beverley Graham and City Commissioner Connor Donovan spoke, the group gathered for a photo in front of the future home of the Hope Center. Following the photo, one of the Shepherd Center's founding members said she was amazed to see this day come.
"It's like the biggest dream we could ever have," Naomi Patterson said. "I never knew it would be so huge, but I knew because of our faith in God it would grow and with Ada's and all the volunteers' help, it has come to this."
Alahouzos said the Hope Center would be "a really nice addition to our community because it will provide services and help to people in need." The mayor thanked Del Gais, Hoffman and Howard and "everybody who worked on this project."
He added, "Homelessness is an issue not only in Tarpon Springs but nationwide, and I'm looking forward to seeing this project completed."
Del Gais thanked the many individuals, businesses and organizations involved with the center, including Hoffman, First United Methodist Church, AdventHealth North Pinellas and the Carl and Phyllis Dalton Foundation, and she reiterated who she felt was responsible for seeing their dream come to fruition.
"Matthew 19:26 reads, 'Jesus looked at them and said, with man this is impossible, but with God, all things are possible,' " she said. "I have felt the spirit guide me throughout the struggles to bring these dreams to fruition … and I remembered Jesus' words and agreed — with man alone, this would not be possible. With prayer, every roadblock to the Hope Center project became an answer in God's perfect timing."