TARPON SPRINGS – After dismissing a suggestion in March from Duke Energy Florida about where to install the city's fourth electric vehicle charging station as part of the energy provider's Park and Plug pilot program, the City Commission provided several other possible locations.
The commission's alternatives included the Sponge Docks, Sunset Beach and Mother Meres parking lot, at the intersection of North Pinellas and East Tarpon Avenues.
Project Administrative Department Director Bob Robertson reported on May 28 that Duke Energy found only the Sunset Beach location was feasible, leading to another round of debate about where the final charging station should be located. The first three have been installed at City Hall, the Splash Park, on Live Oak Street and a public lot on East Court Street.
Commissioners Jacob Karr, Connor Donovan and Rea Sieber, however, all objected to installing the fourth charging station downtown. Sieber and Donovan also excluded the docks and Karr and Donovan expressed support for the Sunset Beach location.
Commissioner Townsend Tarapani suggested looking into public-private partnerships as well as installing a station at Tarpon Springs High School, which like Sunset Beach is on Gulf Road.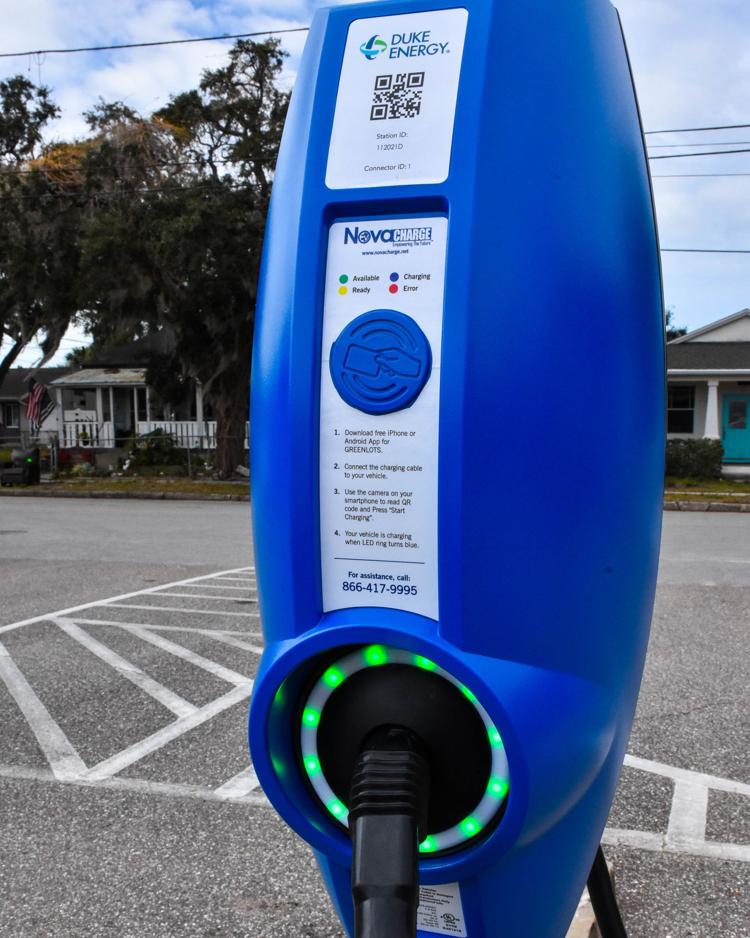 While commissioners couldn't come to a consensus on the fourth location, they did agree on two things: to see the user data on the existing charging stations before installing another one and to capitalize on the opportunity provided by the free program.
"I would like to see some type of report on how these stations are being used," Sieber said. "I don't think we should take up any more parking spots downtown, but I would like to see the results of the study."
Karr asked Robertson if there was a timeframe for them to decide on the final location.
"I sense there is because Duke Energy has a very long waiting list now for people wanting to take advantage of their grant program," he said. "They haven't given me a timeline, but I feel we should take advantage of it as soon as we can to lock in that fourth spot."
Mayor Chris Alahouzos asked what it would cost the city to install a station later, outside of the Park and Plug Program, and Robertson said Duke's cost is roughly $5,000 per installation, though he wasn't sure what the city's cost would be. "We're just trying to take advantage of a great program that Duke has available to us," he said.
Public comments on the item fell on both sides, with some stating they don't want valuable downtown and docks parking erased in favor of the lighter-used EV spots, while others decried a possible missed opportunity.
"To miss this opportunity would be a very wasted opportunity," said Dory Larsen, leader of Turn the Tide for Tarpon Springs sustainability group and the EV program coordinator for the Southern Alliance for Clean Energy.
Larsen said she would "heavily, heavily recommend" keeping the station downtown.
"We need to be doing everything that we can to encourage electric transportation to be reducing our emissions," Larsen said, "and we need to be trying to encourage people who drive electric vehicles to come to our city and shop in our shops."
Larsen, a driving force behind recent creation of the city's Sustainability Committee, said technology advances happen quickly and Tarpon needs "to be at the forefront and prepared" for it.
After instructing Robertson to bring the data and additional information back to the commission, Alahouzos spoke about the issue.
"We decided to hold on for now and find out when the offer expires because we don't want to lose the offer," Alahouzos said.
Electric vehicle charging might not be in big demand now, Alahouzos said adding, "We're also looking into installing it on private property and have the public use it, as the vice-mayor suggested. But we need to make sure there was an agreement that the public could use it."
Regarding the potential window of opportunity closing, Alahouzos said the number of electric vehicles is on the rise and "we'll see more in the future, so it's a good opportunity for us because we don't have to pay for the installations and we want to take advantage of it."